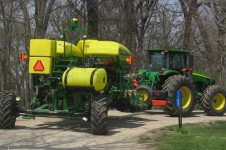 At InfoAg 2007, Iowa farmer Clay Mitchell gave a talk about the "practice" of farming. His main point was that like the athlete that practices to improve his skills and achieve better results, the grower "practices" farming in order to develop the best possible techniques for achieving higher yield and greater efficiency.
Every year we've visited Mitchell since 2003, innovative, game-changing ideas and practices have been conceptualized, developed and tested at The Mitchell Farm.
Implement steering has been a focus of innovation, but in 2011, one of Mitchell's projects was to fit his fleet of implements with finely tuned active automatic steering systems that deliver reliable, high-accuracy steering results both in the field and in transit. Manufacturers such as Case, John Deere, Topcon and Trimble offer passive and active steering systems with equipment, but "from the factory" offerings weren't where Mitchell wanted them to be.
"We wanted to have the steering control acting on the wheel, and moving the implement like a rudder on a boat," says Mitchell. "It's common in potato farming, where you absolutely need to keep that implement on the row, but in grain farming it is still to come. I think it will be common eventually, but it's not something manufacturers do yet."
The enhanced steering is helping Mitchell two ways. From the storage shed to the field, maneuverability that used to be challenging if not impossible is vastly simplified when the implement steers in concert with the tractor and follows its every move. In the field, the implement sets up at the front of the row faster and with less error, and holds the row consistently throughout the field. In hilly terrain, it corrects more smoothly than its less responsive counterparts.
Mitchell says that once these more capable steering systems hit wider market, it will make it much more appealing for growers to employ strip till or no-till practices on their farms. "It's especially true if you are doing corn on corn, and you need to go down bet old rows," he says. "If your planter is drifting all over, the practice is not going to work well."
And the bigger the planter, the more potential for gremlins in the steering. So when the Mitchells invested in their 24-row planter, Mitchell says now that he "could not even use it without implement steering. I know guys with really flat ground that claim to do fine without it, but I don't know how they are really doing."
Implements have become more "friendly" to making the steering modifications that Mitchell has designed. Some come with hinges that are steerable, while others feature wheels affixed to metal axles that can be removed and replaced. Unlike the old experimental days at the Mitchell Farm, Mitchell is custom building designs that can bolt on, rather than being welded on. "We were losing a lot of resale value by changing equipment permanently," he says. "Now we build things that simply replace what's there, so we can easily swap it out for the original equipment if we decide to sell it.
Solid axle designs have been swapped out for what Mitchell calls an "automotive" design, which puts the steering pivot at the end of the axle next to the tire. Wheels with hinges, like the Case planter, can be steered by ganging the wheel control with bars attached to a hydraulic pump that responds to a GPS signal when in the field, or manually in transit. The steering control is plugged directly into the tractor's hydraulics, providing coordinated steering.
Mitchell sees more accurate implement steering as a technology that will be virtually standard issue in implements in the next couple of years, and farmers will get tremendous benefit from the agronomic and efficiency benefits that the technology provides.