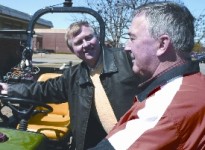 Toiling away at Jackson State Community College in Jackson, TN, Tim Sharp accomplished the impossible — he put a viable, field-based precision agriculture program for cotton on the map, and he did it in the community college environment. His work got the attention of Cotton Incorporated, the Cotton Foundation, cotton seed producers, and technology manufacturers for its groundbreaking discoveries about the potential input and cost savings technology could deliver to "making cotton."
In the end, it was not enough to convince the powers that be at Jackson State that it was an investment they needed to sustain, so Sharp packed his bags and looked for greener pastures. After careful consideration, Sharp hitched his wagons and headed for Oklahoma State University's (OSU) Okmulgee campus to test the mettle of his precision vision in a new location — and even with some crops beyond cotton.
"A land-grant university understands what you are doing and you don't have to explain everything to everybody," says Sharp of OSU. "People don't ask why you need to do research or why students need to be in the field."
Research is only one aspect of Sharp's new role at OSU. The bigger task has been creating a comprehensive precision agriculture degree, something he's been working on since he got full approval to move forward earlier this year. His first class of 10 students have been "thrown to the wolves," Sharp notes, because so much ground work needs to be done.
"You really rely on your upperclassmen," he says. "They are really your workforce that you need to train before you can expand your research efforts. So our freshman class is getting force-fed more stuff they would not normally do until after the first year, but I think they are handling it well."
The precision program is really going to get the chance to spread its wings, says Sharp. The hours requirement is higher, and two engineering courses have been added — Introduction to Ag Electronics, and Precision Agriculture Systems.
"We teach agronomy and GIS (geographic information systems), but there was no way to deal with the hardware like yield monitors, controllers, troubleshooting, and things like that without more engineering technology," says Sharp. "We added that component — and fortunately, OSU is a school that is steeped in engineering expertise."
Sharp has carried over some of the industry backing he received in Tennessee, including the National Cotton Council and Cotton Incorporated, as well as manufacturers Ag Leader, SST, and Raven Industries.
Adapting The Research
Along with creating a new course of study, the other big challenge will be determining how much of the research he conducted in Tennessee will transfer to Oklahoma.
The foundation of Sharp's research into cotton production revolves around the idea that every field can be broken down into zones of production based on plant vigor. In the Mississippi Delta, three distinct zones emerged, which Sharp identified as high, medium, and low.
In high zones, plants will tend to produce more vegetation and less boll yield, whereas in low zones the plant will grow more slowly and mature earlier.
Through use of remote imagery, field scouting, and ground truthing during multiple seasons, these zones not only can be identified, but remain stable from year to year, based on four years of research Sharp conducted in Tennessee.
Using this information, Sharp altered insecticide and plant growth regulator applications and varied seeding rates to take best advantage of the properties of the different zones, and the results were dramatic — lower inputs and higher yields.
"Moving forward, we need to establish the facts in this area — what is different and similar when we change to Southwest cotton," says Sharp. "I don't think we will have near the level of work that we did in the Delta, but we do hope to show economic value of our methods in this region."
Sharp was fortunate to find a farm of similar size and scope on which to test his system. "It's Southwestern furrow irrigated cotton as opposed to the Delta — it's a different farming system but the general science of establishing vigor zones, using imagery, taking the first fall image shots, ground truthing, drawing field boundaries, etc. has so far worked well."
In the Southwest, Sharp has found what he calls "high zone syndrome" — there's not a true low vigor zone like he commonly found in the Delta. "You have medium high and very high. Soils are more uniform mere, and even appear so from simple observation but when the imagery is applied and ground truthed, it's not."
There's a big economic issue with high vigor zones because a lot of yield is lost, he explains. "In Tennessee, there was 20% to 25% reduced yield from excess vigor, and I think vigor will be an equal or greater component in Oklahoma and Texas. We need to transfer the technique to a new climatic cropping system — there are lots of commonalities but also significant differences — and work with them. It appears we will get a similar outcome with similar economic responses — but it will be next year before we can talk about it for sure."
Beyond cotton, there are additional opportunities for Sharp and his young precision class. Canola looks to be a strong possibility as a "precision agriculture crop" because it is a high input-high return crop that responds well to nitrogen optimization and sucking pest control, and vigor zones play a similar part in determining yield. The second opportunity is in developing precision practices for growing switchgrass to be used in bio-ethanol production.
Editor's note: This article first appeared in the Winter 2005 issue of PrecisionAg Special Reports.