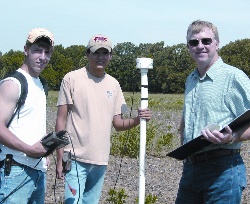 Precision agriculture technology and cotton. For years, experts have speculated that this would some day become a marriage made in heaven for growers throughout the Delta, bringing profitability and stability to a beleaguered market.
And yet, the "precision revolution" has been slow to come to these parts, as only a handful of believers have really managed to take agriculture technology and push it to its limits. One of the visionary Meccas that has emerged for precision practices, Jackson State Community College (JSCC) in Jackson, TN, has been toiling away at this marriage of technology and cotton production since 1998.
And, along with producing some outstanding and precision-savvy graduates, the college is busy melding old-school cotton cropping practices with technology and helping growers make more money.
A Man With A Vision
JSCC's journey into precision was visualized by its current leader, Tim Sharp, in 1998. Sharp had spent more than a decade working at DuPont before taking a management position at an ag dealership in 1994. By the middle of the decade, it was becoming clear that biotechnology was about to revolutionize cotton production and take a bite out of his business, so he started running some numbers.
"It hadn't yet hit, but I looked at what was going on with Roundup Ready and Bollgard, and I started figuring out the impact of these on our company profits," recalls Sharp. "That's when I thought, 'well, maybe it's time to get into a new business.'"
Taking on an opportunity to be a professor at a community college wasn't first on his list, but part-time teaching work at Jackson State eventually evolved into a full-time opportunity to mold a fledgling ag technology program into what he saw as the future of cotton production.
"I basically said that if we are going to have an impact, then we need to go where the technology is going to be, not where it is today," says Sharp. "So we decided to remake ourselves into the world's best precision agriculture program — that's been the goal from the time we started, and we've tried to stay that course and create a research and education presence here at JSCC."
What really started Sharp visualizing the potential of precision agriculture technology was some consulting work he had done 10 years prior on plant growth regulators (PGRs). "We started experimenting with different timings and applications, and it became apparent that there were distinct zones within fields that could be managed using different strategies," says Sharp. "So when precision agriculture technology started to come on line, we began to look for ways it would work for cotton."
Getting Started
The program was launched by Sharp and 15 students in 1998 with the goal of bringing cotton growers greater profitability. "We always said that if the growers can't make money from it, we won't do it." Sharp explains.
There certainly was no glamour or overnight success story at Jackson State, but Sharp's previous experience in the business world certainly paid dividends in the first year.
"Precision agriculture programs are brutally expensive to operate, and really cash hungry when you are ramping up, because you are buying everything and everything is expensive," recalls Sharp. "So, you need to fund it like a startup company — beg, borrow, find grant money — it took better than $1 million for us to really get started."
Early supporters of the program included retailers Helena Chemical Co. and MFA, seed company Delta & Pine Land, precision manufacturers SST Development Group and Starlink (now owned by Raven Industries), as well as the Cotton Foundation, Cotton Incorporated, the National Science Foundation, and USDA.
Its biggest break in the first year, though, was a contract JSCC won to create the cotton boundary database for the Boll Weevil Eradication Program (BWEP) for western Tennessee. "We boundary mapped 600,000 acres using imagery techniques that gave our students a lot of real-world experience, and put the program on a solid footing," says Sharp.
A key relationship starting out in 1998 was Karcher Farms, with whom Sharp had a consulting relationship in the past. Also, one of the farm family's sons, Brandon, was a student.
"We provided tech support and they gave us use of the land and the tools that let us take our concept and put it in a working farm environment," recalls Sharp.
Image Is Everything
Sharp based the program's path forward on a key fundamental assumption about making cotton — every field can be zoned into high, medium, and low production areas that, when approached using a consistent agronomic regimen, maximize yields and reduce inputs within the zones.
To prove this assumption would take three years of grunt work, including intense soil sampling, use of aerial imagery, and a ton of ground truthing.
Sharp and his students began their work on the Karcher farm by creating a soil sample database. In 2000, they brought in an aerial imagery company to shoot the fields — then, the real work began.
"This was the key step — figuring out how to interpret the imagery in a way that would allow us to zone out the fields," says Sharp. "We had to determine whether the high, medium, and low zones we were identifying were stable temporally and spatially, and we spent 2000 and 2001 working on this question."
If the zones did prove stable, Sharp explains, then it would be possible to create "mission plans" — basically, the variable-rate prescription for non-fertilizer inputs — for all future years on that base piece of imagery.
Sharp says that the high, medium, and low producing zones have proven to be stable 96% of the time. The remaining 4% are field areas especially susceptible to weather extremes such as excessive moisture.
Something Old, Something New
With a clear handle on zone identification using base imagery and a large base of field data, Sharp and his students went to work developing software "mission plans" for the Karchers to use for in-season applications. This meant taking new learnings from the imagery and sampling and applying tried and true cotton production knowledge to develop a sound, workable plan.
"There is nothing we are doing agronomically here that's new, other than the tools that are letting us do it more accurately and with greater confidence," Sharp asserts. "We are taking what we should be doing — classic trap cropping, spot spraying, managing seed populations — and doing it at a much higher management level. Lots of folks have forgotten that we can do this stuff, but it still goes back to good management practices and using technology to accomplish it."
The mission plan sets parameters for planting, insecticides, and PGRs, some intuitive and some against the grain of common practice in cotton production. For example, variable-rate seeding under the JSCC plan calls for denser planting in high zones than low zones.
"We recommend half the recommended rate — two seeds per foot — in low zones, three in medium, and four in high," says Sharp. The seeding regimen included selecting a stacked Bollgard/Roundup Ready variety treated with either Cruiser or Gaucho, which runs about $70 per acre. "So you're getting a $35 per acre reduction in cost in the low zones."
Zone identification then carries over to insecticide and PGR plans. Imagery paints a picture of insect hot spots by identifying areas of lush growth where key pests such as plant bugs and stink bugs will colonize first before expanding to the rest of the field. In two years of scouting and spraying, only 20% of the field was sprayed and control was achieved.
"This approach also is a major benefit to the bollworm-budworm complex," notes Sharp. "Because by only spraying 20% of the field, 80% is untouched, and you end up with really high levels of beneficial insects that can rapidly flow in behind a spray application and colonize where you did spray.
"You've got to remember that bollworm is big game, and it takes full grown assassin bugs and praying mantises to take on full grown bollworms. If you keep spraying everything, you don't get large, predatory insects."
PGR applications also fall in nicely with the high-medium-low zone identification. PGRs are applied in the high zones to keep plant size down and encourage boll production, meaning that it often can be tank-mixed with the PGR, increasing efficiency and reducing application cost.
Delivering The Plan
Once the mission plan is finalized, it is delivered on a compatible memory card to the farmer. In the Karcher program, the first year took a lot of training and consultation with the family to get through. By the end of the second year, though, the Karchers were working largely on their own once the plan was set.
Eventually Sharp sees it moving off campus and into consulting operations and retail agronomy departments — but he does not see a way for growers to do this on their own.
"This program has to require a consultant at some level," says Sharp. "There are some things a grower needs to do, and some a consultant needs to do. Writing the mission plans and managing the GIS database is the consultant's world.
"The grower does not have time," he continues. "The learning curve is brutal, staying on top of the technology is a constant challenge, and someone has got to provide the technical service."
In the Cotton Belt, where the consultant still plays a prominent role, can the retailer-based agronomist carve out a piece of the new precision pie? Sharp says yes, but with greater difficulty.
"The retailer can play both roles, but the consulting organization cannot be perceived as a sales organization," says Sharp. "And Lord knows that it's hard to keep those two apart. The mission of the retail organization is pounds on the ground, but the mission of this precision program is keeping pounds off the ground — to make money by not spending it."
"The retailer can do it, if he can get around that trust factor with the grower. Because to do this, you really need to get into the grower's business and he has to trust that he is getting sound advice."
In the end, Sharp says he believes the cotton growing infrastructure will support both consultants and independent retailers, giving growers multiple service options.
Editor's note: This article first appeared in the December 2003 issue of PrecisionAg Special Reports.