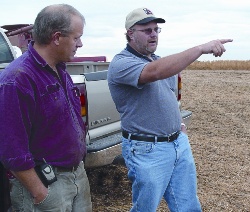 Precision agriculture technology should be a means to an end, not the end itself. Early in the precision "revolution," though, fascination with technology led to big investments by retailers in the "stuff of technology" — pretty machines delivering pretty maps and diagrams that delivered plenty of sizzle but precious little steak.
Today's retailers who survived the initial precision learning curve are applying their knowledge and creating programs that balance the grower's needs with best practices, efficiency, practicality, and — imagine this — profitability.
Tim Norris presents an example of someone who's learned many of the lessons of precision programs past, and is getting the chance to start something from scratch.
Due south of Mansfield off the old Lincoln Highway in north central Ohio, Norris has been molding his precision program for Central Ohio Farmers Co-op, Inc. (COSE), headquartered in Marion.
Norris was himself a farmer from 1984 until 1992, when he went to work for Mount Vernon Farmers Exchange, during which time he achieved certified crop adviser (CCA) certification. He left the exchange and went to Sunrise Co-op in 1996 where he cut his teeth in precision ag, helping to develop its successful site-specific program.
After three years at Sunrise, Norris came back to the Farmers Exchange to serve as the precision agriculture coordinator for the location. Shortly after being named location manager in 1999, the Exchange consolidated with Marion Landmark to form Central Ohio Farmers Co-op, Inc., and Norris began serving the dual role of branch manager and precision agriculture coordinator.
In the spring of 2003, he was named full-time precision agriculture coordinator for the entire organization, which led to the launch of the cooperative's Ag-Knowledge program.
Ag-Knowledge is a branded precision agriculture services program that acts as an internal independent consulting firm within Central Ohio Farmers Co-op. The services are available independently of the products that a grower purchases from the co-op. Indeed, services are available to any grower in the region whether they buy all, some, or none of their input needs from the cooperative.
Not many retailers are willing to take the leap to create a separate division, but Norris says that to say no to a more independent-minded grower is to say no to a loyal, solid core of potential business.
"There are some growers that will gravitate toward doing more of the work themselves, and frankly, we need to find ways to do business with these people," says Norris. "Often they are some of our best customers and more willing to try new things."
Inside The Service
The Ag-Knowledge service is pretty straightforward. The concept is to provide growers a broad range of data analysis tools to meet virtually every need and desire of the inquisitive grower-customer.
"Growers have been collecting incredible amounts of data over the past decade, from seed varieties to inputs to tillage to yield and soil type, as well as many others," says Norris. "The question we ask is, how have you utilized all this data that you worked so hard to collect and store?"
Norris presents the end game to growers in his definition of precision agriculture: "The practice of managing each acre of your farm to reach its highest economic yield through the use of various tools and practices." In other works, knowledge plus technology equals yield.
In order to get there, the Ag-Knowledge program encourages collaboration and partnership both from farmer to retailer and from farmer to farmer.
Norris developed his program using SST Development Group's SSToolbox geographic information sysyem (GIS) software as the backbone of his data analysis work. As he tells growers, this powerful software allows for myriad analyzes of data for whatever the grower is interested in learning about his fields.
Of course, discussing analysis is actually starting the story from the end, and Ag-Knowledge also plays a critical role with the grower on the front end of planting season.
"We stress fundamentals with growers in the beginning, such as ensuring they use a certified lab for sample analysis, knowing and understanding their source of soil type data, and calibrating equipment properly," says Norris.
He also stresses the benefits of growers "sharing"e SST package.
Ag-Knowledge has succeeded because it's geared toward getting the grower whatever data collection and analysis is desired, rather than sticking to a strict menu of options.
"Growers that enroll in our program need to answer this question first: "What do I expect to get from my data?" says Norris. "Then, we develop a plan to put their products and techniques to the test."
Variable comparisons possible in this program are virtually limitless, but special attention is given to variety performance testing against inputs and soil types.
In addition to making the retailer the central point of data analysis, the Ag-Knowledge program also gets the grower more directly involved by providing clients with PDAs loaded with SST Stratus software.
The unit has the grower's fields loaded into it, and allows the grower to collect data on any field task performed, from applications to scouting to tillage. Using a docking station attached to an office computer, the grower may download all the data to Norris for storage and analysis.
Collaboration Is Key
Beyond pure data analysis, Norris is adding new services and programs under Ag-Knowledge that allow growers to try new technology and deepen the collaborative farming relationship between producer and retailer. COSE is an authorized retailer of Ag Leader yield monitors and, more recently, Beeline automatic steering systems. Norris serves as a Beeline authorized dealer in Ohio.
The automatic steering systems caught the eye of Ag-Knowledge clients and Ohio farmers Tom and Fred Miller, who quickly could imagine the possible efficiencies and agronomic benefits the system could provide. Norris was able to offer the system and provide training and support for the unit.
2003 was the brothers' first season with the Beeline system, which required the installation of a static transmission unit on one of their buildings, a control box on the floor of the tractor, and an in-cab computer display. The initial installation cost just under $60,000 to equip three tractors, says Fred Miller.
The decision to move forward with the purchase was a no-brainer after taking pencil to paper and hashing out the details, says Tom. "We do strip-till on corn, and we determined that we'll save 10% to 20% on time spent going through the field," he notes. "That's not only time, but fuel costs and wear and tear on the equipment."
The next step will be to add automatic steering to their combines, delivering greater harvest efficiency, says Fred. "We expect to see between 16% and 20% increased efficiency from using autosteer in harvesting, as well as tillage, in beans." The cost will be about $20,000 per unit, but it's well worth it, they say. "We figured out that between all the cost savings and gained efficiencies, we will pay for the equipment in two years," says Tom.
For Norris and the Miller Farm, trust and collaboration are clearly the keys to improved efficiency and better yields.
Editor's note: This article first appeared in the December 2003 issue of PrecisionAg Special Reports.