Go Feed Yourself.
That's the catchphrase of my favorite ag Twitter personality, Shark Farmer (@sf28430), who besides bringing plenty of LULZ to the ag twittersphere also hosts "The Farmer and the City Girl" podcast alongside unabashed loudmouth and Wisconsinite Carrie Zylka.
Recently, Zylka and Sharkey tackled the always-fun subject of the proliferation of "Agvocates" on social media.
Deploying an impressive arsenal of non-farm kid friendly language (NSFW), Zylka masterfully blew holes in what she (and many others) view as a troubling trend where anyone who participated in FFA in high school or logs onto Twitter and retweets a couple pro-ag articles, feels like they deserve to label themselves an "Agvocate."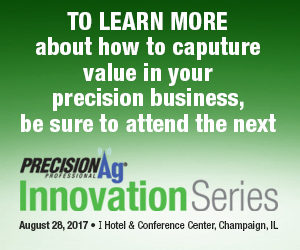 Full disclosure: I personally couldn't agree with Carrie more. It takes a whole lot more buy-in than bickering with some former-high-school-classmate-turned-soccer-mom on Facebook to be considered an advocate. Advocates put themselves out in front of the greater public and educate the masses on a topic they live day-in-day-out, 24/7, 365. Sorry folks, but you're not an advocate by pushing an agenda from your self-curated social media safe space.
Unfortunately, that doesn't move the industry forward in any tangible way, it just adds to all the noise. And we've already got enough noise. Our story needs quality, not quantity.
Besides, there are already many folks in the industry that truly embrace the advocate role. On our recent California Ag Tech Trip I was overwhelmed by the generosity of our hosts, who asked for nothing more in return for their time showing us around California agriculture than our open ears and open minds. Topcon's Michael Gomes, Simplot's William Johnson III, these guys put their money where their mouth is when it comes to advocating for California agriculture.
So, if you love this industry and you fancy yourself an agvocate, my advice is to put your Bitcoin where your Status Update Bar is (see what I did there?) and get out there and advocate.