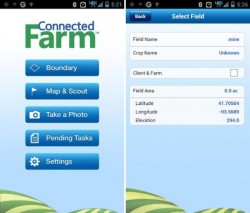 Perspective   Last week, I shared some information and thoughts on Monsanto's big move into agronomic recommendations using precision agriculture tools that were shared at the Farm Progress Show. But that was certainly not the only interesting news on the technology front we found at the event.
Manufacturers are filling in their lineups of products to fit specific customer needs, and building a connective tissue of software between equipment, offices, and service providers and themselves. Here are 5 key tech takeaways from the 2012 Show.
1. Trimble continues to build on its precision agriculture offerings with some cool new tools at Farm Progress. The slickest was the announcement of an app for the Android and soon, the iPhone that brings key tools and connectivity to the Connected Farm system to the smartphone.
The app delivers some valuable capabilities for growers and agronomists to record georeferenced field information, such as electronically marking the location of weeds and insects, drainage issues, obstacles, or anything else a user would like to mark. A handy "camera" button allows a picture to be taken and referenced with the GPS coordinates and notes that are recorded.
In addition, the app can mark field boundaries and calculate area, then send all the information wirelessly via Trimble's Connected Farm web solution.
On the hardware side, Trimble introduced a portable topography surveying system called WP-Topo. The unit can be carried into areas where even ATVs can't reach, such as ditches, muddy fields, and sites with mature crop cover. The unit collects and delivers data either on a USB storage card or via wireless download through Connected Farm, where three dimensional models can be produced to help plan grading and drainage activities.
Last, Trimble introduced yield monitoring for its CFX-750 display, providing both instantaneous feedback on yield performance in the field and stored yield data for use in rating crop performance and future planning.
2. Hemisphere made a name for itself in the early 2000s when it began marketing Outback Guidance systems, a product that dramatically dropped the price point for guidance and brought a significant wave of growers into the world of precision technology.
The one thing they'd lacked since that time was a high-end in-cab display, a deficiency Hemisphere addressed with the release of Outback MAX. The unit features a 10.4-inch touchscreen display that was very responsive and intuitive in my test run in an ATV during the event.
The other significant development at Hemisphere is the improving integration of AgJunction, the wireless connectivity system it purchased from GVM last year, with the Hemisphere lineup of products. At Farm Progress they announced the availability of ConnX, a data management system that is designed to deliver real time data access and field operations management. With seamless data transfer capabilities the end user can can import and export data, simplify connectivity between field, office, and trusted partners, and simplify the ability to connect to RTK GPS systems.
I got a chance to chat with long time precision aficionados Dave Nerpel and Jeff Dearborn, who are working on the integration of AgJunction with Hemisphere's suite of hardware products, and they're making impressive progress. Combined with the new monitor, I think Hemisphere is now well positioned for the future.
3. Mosaic Co. legacy company IMC had for years supported fertilizer education efforts that benefitted retailers and growers. In the wake of the Cargill-IMC merger that created Mosaic, much of that demonstrative educational focus went away. But since Cargill's divestiture of its share of Mosaic, the fertilizer manufacturer has been returning to its educational roots.
For a few years Mosaic focused its efforts on examining the benefits of intensive field management in an effort to show how carefully managing nutrients and soil variability can result in increased yield. This effort was more formalized in a program launched at Farm Progress called "The Pursuit of 300."
This summer, Mosaic selected six growers to participate in the program. Each of the six farmers will set aside 100 acres, and will have the opportunity to work with their own agronomists, as well as local and national experts from around the industry to try out and discover strategies and practices that will increase yield on that plot of land. You can follow their progress at www.pursuitof300.com.
I got a chance to catch up with Todd Prinz, a western Nebraska grower who is participating in the program this year. Prinz farms 2000 acres and runs a 4000 head feedlot with his father, Joe. He's looking forward to working with Mosaic and to putting the resources they bring to work on his farm. Should be an interesting program to watch in the years ahead.
4. Ag Leader displayed the fruits of its March 2012 acquisition of water management technology manufacturer Soil-Max with the new availability of Intellislope field drainage tile installation functionality within the INTEGRA display. The new functionality provides tile plow control for installing field drainage tile that's built into the INTEGRA.
Growers have been expressing keen interest water management techniques and technology the past few years with the extreme volatility in weather, combined with available cash to spend on land improvement, so there were plenty of folks taking a look at Ag Leader's new offering at the show.
5. About a month ago I got to spend some time with Raven employees, dealers and customers during a meeting in Sioux Falls, so  I figured I had seen all the newest stuff. Not so fast.
During that meeting, engineers and marketing people got a loud and clear message from end users that while they liked the Envizio Pro, they really desired the same unit with a larger screen. Fast forward to Farm Progress and voila! On display is the new Envizio PRO XL, featuring a 10.4 inch touch screen display. Talk to your Raven dealer for more information.