Slingshot Fleet View Offers Economical Logistics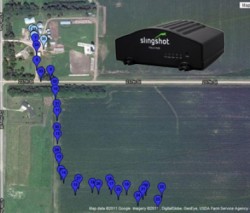 Raven Industries has released Fleet View applications on its Slingshot platform. This feature will allow for simple and affordable tracking of all types of machines, assets and support vehicles used for various farming applications.
A new Fleet View only version of the Field Hub, coupled with free access to the new Fleet View Basic application on Slingshot, provides a cost efficient and upgradable version of the Field Hub currently used to deliver RTK, file transfer and remote support services.
The Fleet View Basic online application gives managers visibility into their fleets, allowing users to track vehicle locations from the home, office, or anywhere with an internet connection. Users will be able to view a vehicle's current status, speed, direction of travel, latitude, longitude, wireless signal strength, and even historical maps to track where vehicles have been.
MORE BY MATT HOPKINS
Digital Farming
June 24, 2019
Market Intelligence
September 10, 2018
Farm to Fork
July 2, 2018
"These new applications allow users to leverage the superior technology of our Slingshot platform," said Program Manager Clint Mundt, "for affordable support vehicle tracking where RTK and Field Computer File transfer capabilities may not be necessary." The single low profile combo antenna can be installed out of sight and is great for use in any support vehicles. Like the Slingshot RTK Field Hub, the end user will need to subscribe to a data service from a wireless service provider.
The Fleet View Field Hub can also be used as an Ethernet connection to run a laptop, PDA or tablet allowing users to stay connected anywhere.
The Fleet View Field Hub, priced at $995, offers upgrade options that include a high performance antenna system for enhanced performance and signal strength as well as a Slingshot RTK upgrade kit for full RTK and Online capabilities. Once the remote upgrade is complete users will be able to utilize the RTK services, data transfer, remote support, API and all of the other capabilities provided by Slingshot. Customers interested in Fleet View, or other Slingshot product offerings, should contact a local Slingshot dealer. Visit www.ravenslingshot.com for more information.