Inside the Key Strategies For Selling Precision Ag Services
In its earliest manifestation, the motive for developing precision agriculture service was entirely pure. Agronomists knew that crops were responding variably across fields for a variety of reasons, and emerging technology was going to provide a pathway to understanding — and reacting to — the variability.
Georeferencing of fields, soil testing, fertility prescription writing, scouting, yield monitoring, and scorecarding quickly emerged as agronomists bolted on emerging technologies and worked hard to keep up with the massive inflow of data.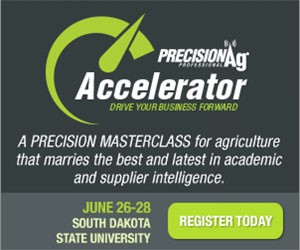 Of course, the wide range of technology and growing requirement for expertise was not going to come at no additional cost, so the question quickly emerged: "How can we do all this, demonstrate clear value, and get paid for the value we create?"
Some two decades later, for many retailers the pursuit of precision program-generated profitability persists.
Approaches To Value
If the struggle sounds like the one you face down every day, you're not alone. As they say, "if it was easy, everyone would be doing it." Many precision managers battle to create and capture value for their grower-customers, but there are a number of obstacles that keep us from reaching the Promised Land.
During times of tight and sometimes negative margins like we are presently experiencing in production agriculture, producers and retailers need to evaluate every line item and justify the value it brings to their operation.
We typically give new technologies a "free pass" while they are in their infancy phase. However, as these technologies mature and become mainstream they must prove their worth to both the buyer and the seller.
Precision agriculture services and technologies have predominately been given a pass as we let them evolve from novelty into a category production agriculture now relies upon to effectively operate and produce present-day yields.
The value of precision ag technologies and services varies widely based on multiple variables, including the following:

The role you play in the value chain– i.e., producer, retailer, agronomy services provider, equipment dealer, manufacturer, software provider, commodity sales, input provider, seed production, fertilizer producer, etc.
Geographic location
Type of crops grown
Farming practices (tillage model, crop rotation, etc.)
Size of operation
Skill sets of employees and customers
Business strategy — high volume and low margins vs. lower volume and high value of services provided.
Obstacles aside, all agricultural retailers in general are in the business of selling the commodities of chemicals, nutrients, and seed to regional producers. For the most part these are the same commodities their competitors are selling. So, precision ag technologies and services can differentiate a retailer's products and services from that of their competitors. The key is in how they are packaged and sold to the grower.
Pricing Model Options
For the sake of simplicity, we'll outline the four most common pricing model methods currently being deployed by retailers who offer precision programs in the table below:
Pricing Model
Advantages and Benefits
Disadvantages and Challenges
Bundled Per Acre


Flat per acre rate with all "precision services" offered by the retailer included in the plan.  

Ease of billing
Farmer knows cost up front
Separates customers into two separate groups (participating in precision program or not).
Allows for easier analysis of yield trends within each of the two groups.
Allows group data analysis to be presented to entire group in the program to improve production within the group.
Likely to create a closer relationship for all inputs with the grower (less shopping around).
Easier to build in a call center/service center fee.

Large upfront commitment for producer
Potential to be an expense that is cut during low profit margin years
Each additional service outside of package requires surcharge
Difficult to "dabble" with just a few acres.
Farmer usually must commit to all or none.
Machinery limitations of grower may not allow full implementation of program
Accurate data analysis requires trustworthiness of grower and operators to properly adjust/calibrate equipment

Per pass or service


Each pass across the field or individual service has a price associated with it.  

Able to charge a higher total price vs. bundled model due to less "sticker shock"
Allows producers to pick and choose their individual needs
Allows company to analyze margins of each individual service
Ease of entry/exit from use of specific services
Grower and retailer work together to develop best plan for each operation

Bookkeeping becomes more challenging as each service needs to be tracked separately.
Harder to prove benefits of the service as there is no "Large group" of producers doing same practices.
Requires higher effort from salesforce as each individual product or service must be "sold"
Easy for grower to say "not this year" on certain services

% of yield bump/gain


(example: a ten bushel/acre yield bump was added to a grower's average and they share four of those bushels with their service provider)  

Places accountability with the service provider to deliver results.  "The saying put your money where your mouth is" applies here.  Grower is more likely to commit as it is obvious that they only pay if they receive a yield gain
Potential for higher adaptation by grower and producers
Keeps service provider in closer contact with grower throughout the year as their paycheck depends on the grower's success!
This is a unique approach, sure to make conversation as farmers talk to farmers, making for self-advertisement.

Delayed collections as retailer must wait for harvest to be completed
Determining baseline yield establishments
Weather variability
Measurement of yield (yield monitor, grain cart, certified scale tickets?), Is a yield monitor calibrated by the grower accurate enough?
Determining a market price for the grain
Risk of negligible or no yield bump equates to no payment to service provider
May "discourage" growers to shoot for higher yields
No consideration for reduced inputs.
Model may not be sustainable long term

Per unit of product sold


Service is bundled with each unit of fertilizer, chemical, seed, etc.  

Ease of bookkeeping
Services buried within the price of a retailer's commodities
Spreads the overhead cost of precision ag professionals and technologies over all customers

Encourages growers to cut back on inputs
Easier for competition to undercut a retailer's price if grower doesn't see value of buried service charges
As you can see, and as we're sure you have experienced, each system has its own set of advantages and disadvantages, but retailers are not necessarily beholden to strictly one approach to value expression.
For example, one possible approach to consider would be a combination of the bundled and per-pass model. For example, a retailer could offer grower customers an "all-in" per acre plan, and for those who balk or would prefer a "get their feet wet" program allow them to pay on a per service or per pass system. Most of a retailer's income may come from the "all in" customer who purchase more products from the retailer, delivers more grain, etc.
If obtaining more grain for your operation is of importance there are a couple of methods in which this model could benefit you. First is improved customer loyalty resulting in growers delivering a higher percentage of their bushels to a retailer's grain operation. Second, growers should be growing more grain as result of a retailer's precision ag service, hence they will have more grain to deliver.
Finally, you may be able to look to the future through the data and relationships you have built through your precision ag program, and identify which producers will be growing more grain in the future — and therefore have the potential to deliver more acres to your ag retail operation.
This is but one example — no one size fits all, and no method provides a complete solution. But understanding the potential directions available for your precision program, and objectively comparing the strengths and challenges of each system, are important for maximizing profits from your precision offerings.