Growers Share Their View of the Future of Precision Agriculture
We know precision agriculture is going to be a key component of the future of the fruit and nut industries. It's no secret that labor is becoming harder to come by and growers are increasingly turning to automation to simplify tasks and improve their operation's overall efficiency. In its 2019 State of the Industry Survey, American Fruit Grower magazine takes a closer look at precision agriculture use on the farm.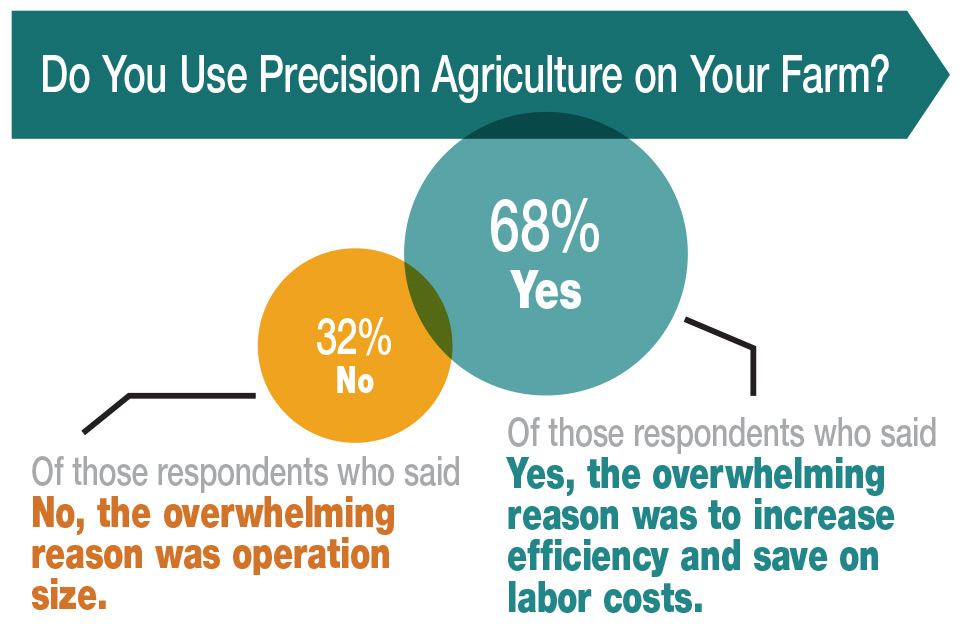 We asked growers, how advanced are you now, and how advanced do you envision your farm getting, i.e. do you see robots, artificial intelligence, or other more advanced technology in your farm's future?
"I would like to employ robots for mundane tasks and reposition labor for marketing and distribution Ai scares me. People should touch the soil more than once in life so that feel what gives us life." – Grower from Southwest
"I can see automation advancements and spraying technology to eliminate a driver spraying chemicals, also mowing." – Grower from Midwest
"We use a drone, frost fans with automatic temperature sensors, a hail cannon, etc. I'm 32 and confident during my career there will be a higher prevalence of self-driving tractors and automated harvesters for apples." – Grower from Midwest
"We're pretty advanced in technology, except in harvesting our fresh market crops, which is still done by hand." – Grower from West
Read more at GrowingProduce.com.
MORE BY PRECISIONAG
Analytics
November 1, 2019
Market Watch
September 30, 2019
Drones | UAVs
August 20, 2019