GreenPoint AG: Dealing in Ag Tech Down on the Delta
Precision-farming veteran Ben Carlisle is the Agricultural Technology Manager for GreenPoint AG, LLC, a retailer with locations in Arkansas, Louisiana, Mississippi, Texas, Kentucky, and Missouri (with headquarters in Memphis, TN). He additionally pulls double duty as a WinField AnswerTech "Expert" that uses FieldAlytics, WinField's R7 Tool and NutriSolutions platform, Farmobile, and Climate FieldView, all in the name of providing GreenPoint's many customers a higher level of service in his day-to-day role.
According to Carlisle, when you talk about row crops in his region, typically you'd be referring to corn, soybeans, cotton, grain sorghum, rice, or sugar cane. Although he readily admits that when it comes to technology integration down in the Delta, "we're still seeing the highest ROI in corn and beans. It's where we can really move the mark."
No big surprise here, but return-on-investment drives everything for GreenPoint AG's precision farming customers, and Carlisle estimates the company is sitting on about 650-700,000 acres of field boundaries in its systems currently. He says customer expectations of him and his crew vary widely among the different tiers of adoption among GreenPoint AG's patrons, whether it's someone just doing a little around fertility management or looking at yield data for hybrid selection, or they go the full-service route.
"At a WinField Answer Plot, I had a grower tell me 'I want someone to take the seven hundred pages of data I collect, take the information, and tell me what to do in one page' which I thought was really interesting," Carlisle remembers.
MORE BY MATTHEW J. GRASSI
Drones | UAVs
May 21, 2019
Drones | UAVs
May 6, 2019
Drones | UAVs
May 2, 2019
IMAGERY WOES
With many of the specialty crops grown in his region not having yield monitor capabilities and the lack of new equipment, it's natural to assume imagery is a big deal down on the Delta. Not so fast, Carlisle cautions.
"When you look at imagery there's a couple different challenges we face," he explains. "One is, when you decide to go with a single imagery provider for the year and then it turns out the imagery is inconsistent as far as acquisition, it's hard to know when you'll be able to deliver it to a grower.
"When it comes to fixed wing, so far we've found that it's almost cost-prohibitive — although we've recently met with some companies in the last year, we've seen costs per acre greatly reduced. Basically, what I am trying to say is, guys are still hesitant in this economy to invest in imagery programs."
Where GreenPoint is doing some work with imagery is, like others, in directed scouting, soil, and tissue sampling programs. And Carlisle hopes a recent use-case will bear more profitable fruit this summer.
"I think for us where imagery could really come into play is in cotton," he says. "When we put down defoliant, it's a challenge to get that field defoliated evenly due to varying biomasses across the field, and when we're looking at when we defoliate, the timing of it, imagery could help us out a little bit there too in making a data-driven decision. And it could potentially keep another trip into the field from happening."
Carlisle also anticipates the launch of John Deere's RFID-powered cotton Harvest Identification product, which one of GreenPoint's customers got to Beta trial this past season. The system consists of an RFID reader on board the JD 7760 cotton picker and it reads the RFID serial numbers embedded in the module wrap, documents 11 of the most important data points during module formation to improve traceability of cotton modules.
"When you think about yield monitors in cotton, there'd been no way to associate this bale came from this plan. With this new RFID system, if they get it developed properly, it's going to help us to an extent that we can take just one bale and associate the yield to one point (in the field)."
STRUCTURING SERVICE
Carlisle helped develop and launch GreenPoint AG's in-house precision ag services brand, dubbed Incompass. He says the branding effort came about because GreenPoint was deploying so many different precision technologies it needed an umbrella term to use when referring to its precision agriculture department.
"In Incompass we use FieldAlytics for writing prescriptions, WinField's R7 tool for in-season imagery, Farmobile to capture the machine data and Climate FieldView Plus, and we're live with the WinField Data Silo," Carlisle says. "I think the data silo will really help us in moving data from program to program."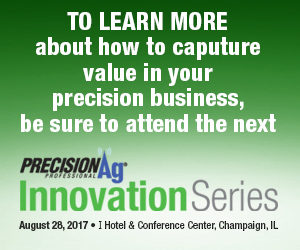 GreenPoint is also deploying one of the more popular technologies to be introduced in recent years — 360 Yield Center's 360 SoilScan portable soil nitrate tester.
"It gives us a good reference of 'Yes, you need to apply more, or no you don't,'" Carlisle shares. "It's not as good as a lab test, but it is good enough to let us know if we need to make another pass or if there's enough N there to get us through the season."
And, last but certainly not least, integration between GreenPoint's FieldAlytics software for writing agronomic prescriptions and the ERP platform, Merchant Ag, allows the them to save resources on the back end that can be directed elsewhere.
"We're just starting to sync those two together so when we write a prescription in FieldAlytics it automatically creates a batch in Merchant Ag, eliminating the need to print and re-enter fertilizer quantities. Future possiblilities are endless with the integration of these two systems."
So, as Carlisle and his crew of nine ag tech specialists flung throughout GreenPoint's 50 retail locations around the Delta region prepare for another season selling precision ag technologies and services at the farm gate, he agrees now is as good a time as any to be a precision agriculture professional.
"Something I picked up at your Innovation Series events, and I'm seeing the same thing in our trade area with our growers, is that there's so many tools out there and they're really looking at the trusted advisor to tell them what's good and where would they be getting their ROI from technology, which is something that I haven't seen in the past.
"I would say that, as we stand today, there is a very unique opportunity to bring a new level of service to that customer."