AgIntegrated Bringing The Cloud To Agriculture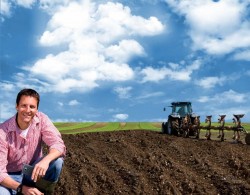 Ready or not, the Cloud is coming to agriculture. And while much of the Midwest might prefer rain clouds to data clouds this summer, the potential benefits of computing "in the cloud" is generating a lot of buzz.
Last week at an Iowa technology conference, State College, PA-based AgIntegrated demonstrated the abilities of Onsite, a cloud-based offering that promises to make data movement and exchange between equipment and individuals significantly less stressful and more streamlined than the current state of affairs. The offering is set to be released later this month, and the demonstrations are confirming that there's significant pent up demand for something that improves data movement.
"We got a fantastic reception," says Mike Santostefano, director of marketing and business development, who was able to demo Onsite to a mix of growers, consultants and agricultural retailers. "They are telling us that it is exactly what they've been looking for, that they have people using Dropbox now but it's not ideal for their purposes."
MORE BY MATT HOPKINS
Digital Farming
June 24, 2019
Market Intelligence
September 10, 2018
Farm to Fork
July 2, 2018
At its most basic, Onsite will allow a subscriber to move any file onto the Onsite cloud service, and allow any other authorized Onsite subscriber to access that file on any computer, tablet or mobile handheld device like a smartphone.
At the next level, Onsite is working with software and equipment manufacturers to tie into their API, which will provide more functionality and flexibility in handling and managing the data for the end user.
Once Onsite becomes available, individual users will be able to register for the subscription and begin working immediately. The business plan for Onsite is "consumer driven" at this point – only individual subscribers can be customers. The data is encrypted and secure, and only individuals and entities authorized by the subscriber can access the data. AgIntegrated does not have any access to or ownership of a subscriber's data.
"It really solves significant issue that consultants and retailers are struggling with right now," says Santostefano. "They need the variety of systems and software they are using, but they are simply not connected. Onsite provides this service."
The other thing that Onsite does not do is convert or otherwise manipulate files. "We do not wish to be a competitor to other software packages out there, we're simply helping to make connections."
For more information on Onsite, visit www.onsiteag.com.