17 Field Scouting Apps For Precision Agriculture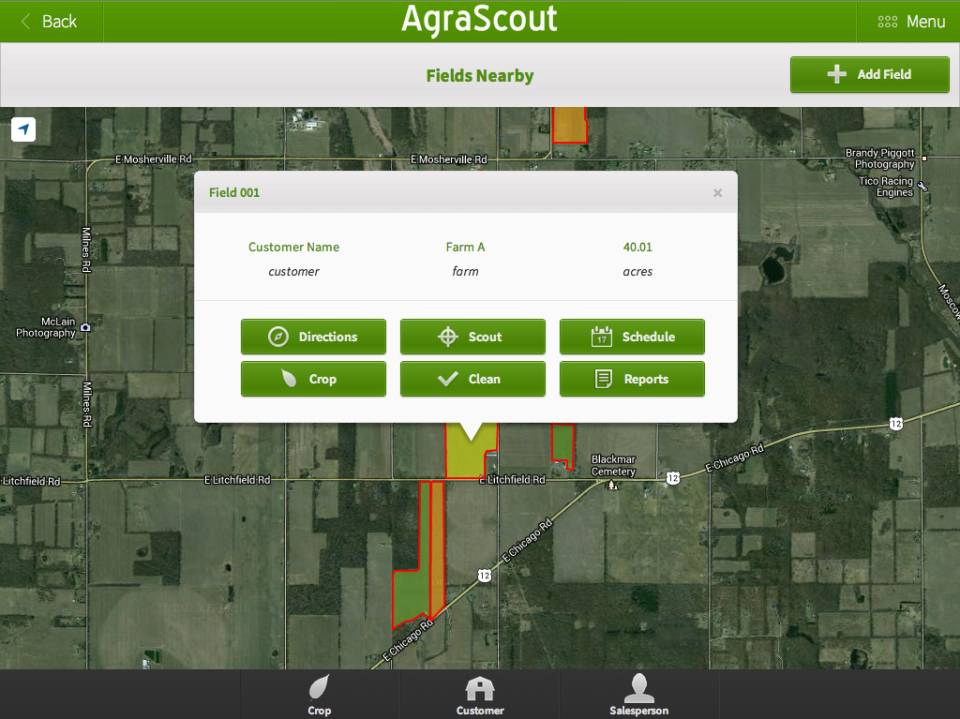 There are dozens of easy-to-use mobile apps that are ideal for every day field scouting tasks. From record keeping and note taking, to real-time crop condition maps and in-field decision support, today's apps help make scouting as fast and efficient as possible for ag retailers, consultants and agronomists. View the slideshow above for a list of some of the best mobile apps for scouting available in the apps stores.
If you have a favorite scouting app that is on my list or one that is not, tell me about it at [email protected] or post a comment below.
More Scouting Apps Worthy Of Downloading (Updated: March 16, 2017)
Landscout 2 | SatShot
Landscout 2 is a cloud-based app, built to analyze high-resolution imagery. Access your personal archive of data for scouting and reporting while you work your field. Landscout 2 is also offline-capable, meaning that once you look at a field's data, it's locally stored and viewable with no internet connection. One of Landscout's fundamental features is 'Events'. Record everything you do from planting to harvesting, as well as soil-testing and scouting. Every event is linked to your field boundary so they're always accessible for viewing, editing and PDF exports. iPad
Mavrx Scout | Mavrx Inc.
Achieve total field awareness all season long with Mavrx Scout. Take the power of imaging and analytics to the field with automatic issue detection and prioritized alerts delivered to you and your team anytime, anywhere. With this app, you can easily prioritize fields to scout, navigate to any areas at risk, and record scouting observations with just a few clicks. Check in on your high-resolution crop performance imagery and integrated data layers online or offline. Android, iPhone and iPad
MORE BY MATT HOPKINS
Digital Farming
June 24, 2019
Market Intelligence
September 10, 2018
Farm to Fork
July 2, 2018
Croptivity Scouting Solution | Decisive Farming
Croptivity automates the work flow between the crop scout, agronomist, applicator and grower so that crop issues are solved quickly and all data is available for full traceability on the farm. A field scout or grower can work offline with pre-populated dropdown lists and GPS observations with pictures. A designated agronomist can receive reports from multiple scouts/growers and complete recommendations in one-third of the time, resulting in more acres serviced. Android, iPhone and iPad
AgFiniti Mobile | Ag Leader
This app for the iPad puts your data at your fingertips, making it available wherever you go. HD quality mapping, detailed summaries, and the ability to query specific locations or drawn areas on your map gives you the ultimate tool to get more out of your data. With the AgFiniti Mobile app, you can now add notes and pictures to your maps for scouting. Just tap and hold anywhere on your maps to add a text note. Easily add a picture to your notes for added detail. These notes seamlessly sync to AgFiniti Cloud with the rest of your data, so no matter where you're at, or what device you're using, you have the most up to date information. iPad
Agworld Scout | Agworld
Agworld Scout offers a flexible, simple and efficient way to collect your infield data on your iPad and iPhone. This farm monitoring app enables you to create and complete in-field assessments to monitor crop health, pest pressure and more. Take full control of the entire scouting experience. Create and share your templates with colleagues, collect data and report on farm scouting activities quickly and efficiently. Perform crop monitoring and bug counting tasks without the complexity of spreadsheets or the frustration of paper-based forms. iPhone and iPad
CropRecords | CropRecords.com
Ideal for farmers and crop consultants, the CropRecords app is a user friendly tool for crop planning, field scouting, record keeping and report preparation. Create jobs for spraying, seeding, fieldwork, and harvesting. Track when these jobs are completed. Enter data in the field and sync to the croprecords.com servers when Internet service is available. Android, iPhone and iPad
Agrian Mobile | Agrian Inc.
Agrian Mobile was one of the first apps developed for creating GPS-based field maps, while also capturing transferable crop data and scouting reports directly from the field in real time, with offline access. Agrian introduced the app in 2009 as a mobile extension of its web-based ag data software platform. This pioneering technology provided growers, crop consultants, applicators and farm managers the ability to record field events and scouting reports, upload them to a secure, private account and then share data with appropriate partners from a wireless, mobile device. It also gives users access to the largest manufacturer-indemnified crop protection label database featuring more than 7,000 product labels. iPhone and iPad
Agworld Scout | Agworld
Agworld Scout is a farm monitoring application that enables you to create and complete in-field assessments to monitor crop health, pest pressure and more. Take full control of the entire scouting experience. Create and share your templates with colleagues, collect data and report on farm scouting activities quickly and efficiently. Perform crop monitoring and bug counting tasks without the complexity of spreadsheets or the frustration of paper-based forms. iPhone and iPad