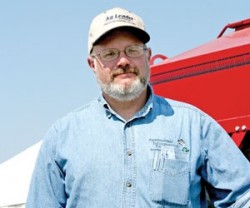 In most high-tech markets, there are distinct stages of growth. Early on, new products are plentiful as manufacturers vie to see what technologies will gain market acceptance. Next comes a shake-out, when the more widely accepted products begin to build their market presence. Finally, there is widespread acceptance, as some of these technologies evolve from occasional options to everyday standards.
According to Tim Norris, owner of Agronomic Information Technologies, Gambier, OH, precision agriculture technologies have largely undergone this same pattern of market growth during their 10-plus years. As evidence of this fact, he points to the adoption curve taken by one of the newest "hot" areas within the industry, automatic steering.
"Three years ago, when I was at some industry trade shows trying to promote automatic steering products, people were laughing, asking why would they ever need these systems," says Norris. "Two years ago, no one was laughing anymore and they were starting to ask questions about how automatic steering could help their operations. Today, everyone wants to have automatic steering products on their equipment as a standard offering."
This movement toward automatic steering adoption is so prevalent right now, he adds, that one of the newest products in his company's line-up ties directly into it. Since March, Norris has been offering the AgGPS EZ-Guide 500 guidance system from Trimble to his customers. This features a lightbar, color display, and a built-in precision dual-frequency L1/L2 GPS receiver. "My automatic steering clients like the EZ-Guide 500 because it helps them hold a much tighter line in their fields than was possible before," says Norris. "I've sold 70 units since the spring."
No More Strip Tease
With automatic steering on its way to a prominent place in the precision agriculture market, Norris foresees "spin-offs" of this precision technology gaining ground with other farming practices, such as strip-till.
When PrecisionAg Special Reports spoke with Norris in 2006, he was in the midst of constructing a real-time kinematic (RTK) global positioning signal tower network throughout central Ohio. With this network at his disposal, Norris has started partnering with Orthman Manufacturing, Inc., Lexington, NE, promoting the company's 1tRIPr pre-plant tillage and precision nutrient placement system. "We are combining the 1tRIPr unit with Trimble's Auto Pilot guidance system and our RTK network to help customers achieve incredibly high one-pass accuracy within their fields," says Norris. "Even performing deep fertilizer placement is made easy using these systems."
The second area where Norris is seeing precision activity involves waterways. As water conservation has moved to the forefront among state and federal agencies overseeing farming, growers have become increasingly active in proper water management practices, including the installation of waterways and drainage tiles. "Many of my customers getting involved in this area are growers with tractors that want something to do during their slow times of the growing season," says Norris.
However, he adds, doing this kind of work typically involved setting up and moving lasers within fields to map out where waterways need to be placed. "A common complaint in this work is that customers spend up to 40% of their time moving the lasers around because each section of a waterway has its own slope," says Norris.
"Lasers are directional," adds John Downey, water management business segment sales manager for Trimble. "But using GPS, you can put a grade on a waterway in any direction you want in the field without stopping to adjust something physical to do so. This saves an incredible amount of time."
As an alternative to lasers, Norris offers Trimble's Water Management products. "We can plug Trimble hardware into the customer's tractor hydraulics, put one of our controllers and AgGPS FieldManager displays in their cab and go point-to-point without messing with lasers," he says. "Instead, the user just plugs in the slope they want and the system will automatically give you the correct grade numbers using the RTK signal as a guide."
Looking ahead, Norris believes that many more precision agricultural applications will potentially come out of the automatic steering trend. "Automatic steering growth is still not at its peak, in my opinion," he says. "There are plenty of new areas that could utilize this technology to improve efficiency and increase crop yields."
Editor's note: This article first appeared in the Winter 2007 issue of PrecisionAg Special Reports.