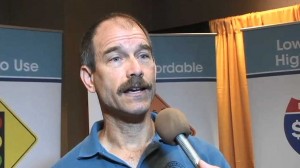 A professor of Agricultural Geospatial Technology and Production Management at Kirkwood Community College in Cedar Rapids, IA, Terry Brase, has been named our 2012 Educator of the Year.
Brase, who received both his bachelors and master's degrees in Agricultural Education from Iowa State University, has been teaching at Kirkwood CC for 13 years, having come to the community college after a 15 year stint at Hawkeye Community College in Waterloo, IA.
According to nominator Harold Reetz of Reetz Agronomics LLC, Monticello, IL, over that decade-plus at Kirkwood, Brase has positioned himself as a nationally recognized leader in ag education instruction.
"Terry has been a leader for many years in teaching precision agriculture technology and its applications in the real world," says Reetz. "Through his leadership, Kirkwood has become one of the preeminent institutions for training young people to work in the various technologies related to crop production."
At Kirkwood, Brase's curriculum includes both traditional classroom instruction as well as hands-on laboratory training, ensuring that graduates of his program have the real world experience employers are looking for.
"Terry's program gives real, hands-on experience to his students. They not only learn about technology, they learn how to use it with real experience," says Reetz. "I have attended some of his classes and seen him in action with the students, and I have seen the impact of his approach to giving students experience in really working with the technology."
"There is probably no better way to advance technology than through a successful education program that gives students the experience and confidence to go out and use it on their farms or in their related careers," adds Reetz. "Terry has also shared his ideas and methods with other educators, thus multiplying the impact."
Brase's efforts aren't confined to the world of Academia, however. He also was an early leader of the National Science Foundation (NSF) funded AgroKnowledge project. While his role has been reduced in that project today, he was a main driving force for about 10 years as the project carried the concepts of precision ag to community colleges across the country.
"Terry is definitely a leader among precision ag educators," concludes Reetz. "And he is very well-deserving of this recognition."