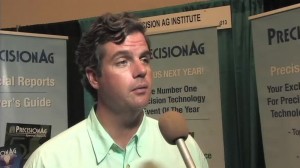 Having dove head-first into precision agriculture some 30 years ago, it should come as no surprise that third and fourth generation farmers Byron and Darrington Seward have been awarded the 2013 PrecisionAg.com Farmer Of The Year Award, to be presented at InfoAg 2013 in Springfield, IL.
Operating two planting companies, Seward & Son Planting Co. and Seward & Harris Planting Co., spanning 18,000 acres across four counties in the Yazoo-Mississippi Delta, the Sewards entry into the precision ag world began with Byron's work on variable-rate fertilizer applications. Today, the operation is generally looked upon as a yard stick that other area precision ag adopters can measure themselves upon.
According to award nominator Reed Trusty, the Sewards have been remotely managing and tracking tractors, combines, sprayers and fertilizer spreaders on their farming operation for several years, using the technology to improve logistics and employee management. They also evaluate real-time engine diagnostics with their laptops (Byron being a trained mechanical engineer) and make daily management decisions with live tracking info.
Recently, the operation has implemented Precision Planting technology and become a local dealer for the company. And Byron's and Darrington's early work in variable-rate fertilizer has naturally progressed into variable-rate applications of defoliants and plant growth regulators using aerial imagery, a practice that has proven effective. The Sewards also currently make variable-rate applications of nitrogen.
Locally Darrington has served as a deputy commissioner on the Yazoo County Soil and Water Conservation District and as a member of the flood control committee of the Delta Council, while Byron was quoted in a 2011 New York Times article concerning the ramifications of the spring flood in the Mississippi Delta.
The Sewards were also awarded the 2011 Precision Ag Farmers of the Year at the National Conservation Systems Cotton & Rice Conference in Baton Rouge, LA, and Darrington is scheduled to present on Telemetry and Fleet Management at the 2013 InfoAg Conference.