PrecisionAg Institute Whitepaper Library
Welcome to the PrecisionAg Institute Whitepaper library! Here you will find free whitepapers and case studies from the PrecisionAg Institute Partners to download to any device.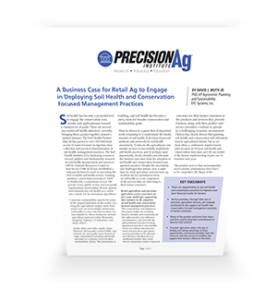 These authoritative reports cover a wide range of topics in precision agriculture and showcase the latest strategies, research, and best practices in the industry. Here are the whitepapers currently available:
A Business Case for Retail Ag to Engage in Deploying Soil Health and Conservation Focused Management Practices (EFC Systems)

Supporting Ag Retailers as Technology Experts: A Case for Connected Offerings (WinField United)

MORE BY PRECISIONAG

Market Watch

September 30, 2019

Drones | UAVs

August 20, 2019

Market Watch

August 14, 2019

Technology in Row and Specialty Crops: Finding Common Ground in Digital Agronomy (J.R. Simplot Company)
Complete the form below to download these FREE whitepapers today!