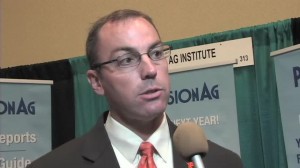 The PrecisionAg Institute is proud to announce that nominations are now being accepted for the 9th Annual PrecisionAg Awards of Excellence.
The Awards were created to celebrate exceptional adoption and use of precision technology, dedication to research and education in the field of precision agriculture, and professional dedication to precision ag as a whole. Nominations will be accepted until May 15, 2015.
Nominations will be accepted in four categories: Educator/Researcher, Crop Adviser/Entrepreneur, Farmer, and Legacy.
"Since 2007, the Awards of Excellence have afforded us the opportunity to tell great stories about dedicated individuals and organizations who have been working to improve precision agriculture use and adoption," says Paul Schrimpf, director of the PrecisionAg Institute. "Their dedication and hard work serve as an inspiration to everyone in agriculture, and drives continuous improvement in crop production, farm efficiency, and environmental stewardship."
Recipients will be honored at a special ceremony during the 2015 InfoAg Conference in St. Louis in July.