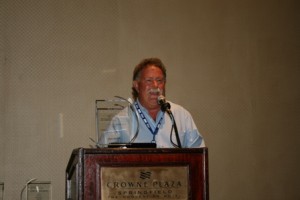 Dave Nerpel of Wilbur-Ellis Co., Warden, WA, has been named the 2011 Crop Adviser/Entrepreneur Award winner for Precision Ag Excellence.
Nerpel translates industry innovations into services for Wilbur-Ellis. With his understanding of services, web-based record keeping, and telematics, he became the foundation of its AgVerdict program.
Nerpel has a vision for the future which is coming into play as the industry recognizes that the concept of singular tools on one computer is being trumped by web-based systems that can be accessed simultaneously from multiple locations for system-wide program. Wilbur-Ellis' AgVerdict is driving a new level of integrated solutions to a variety of needs. From proof of concept to commercial adoption, Dave has contributed to the development of multi-product rate control, software, hardware, the proliferation of high-accuracy GPS applications and steering control, moisture sensors, desktop to web-based geo-spatial records, and telematics.
Nerpel is able to distil issues into incremental steps because of his understanding of cropping systems which includes not only soil and crop science, but farm business practices and the companies that serve agribusiness. His program at Wilbur-Ellis grew as Dave built a workable model in the Pacific Northwest, and then built similar programs across Wilbur-Ellis operational units.
Nerpel's contributions to the advancement of Precision Agricultures predate his time at Wilbur-Ellis. At Cenex, he shared his fresh perspective on the challenges of agronomy, fertility, and crop protection with his clients. He also contributed to the development of SOILECTION multi-product control at Cenex, and furthered this technology at AgChem Equipment. He also worked at Precision Farming Enterprises (PFE, Inc), an entrepreneurial systems integrator and distribution leader.
"Dave has been in the background of every key idea and innovation for the last 25 years," says Karol Aure Flynn, an industry colleague.
In accepting the Crop Adviser/Entrepreneur Award, Nerpel urged the industry to focus on the challenges ahead.
"I don't need to tell you that I have great respect for this group, and I am honored by the recognition," said Nerpel. "There's definitely been a lot of water under the bridge since the mid-1980s, and even since this particular conference started back in 1995. But what we need to do is focus on the future, and this conference really gets at that — what are the opportunities for the future."