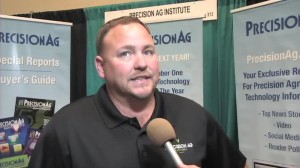 Laserplane Arkansas Inc. has been named the 2013 PrecisionAg.com Crop Advisor/Entrepreneur Of The Year. The Trimble authorized dealer, which has serviced over 10 million acres and approximately 1,500 customers in the Arkansas Delta since its 1978 opening, has recently widened its focus from strictly lasers to all aspects of precision ag.
According to nominator Silvia McLachlan, marketing specialist for Trimble's Ag division, the company helps educate farmers on the best practices that can help farms run efficiently, while increasing profits and helping to protect the environment, and a key characteristic of all Laserplane employees is a desire to take care of the customer.
Laserplane is reportedly at the forefront of a new land leveling technique in agriculture designed to move less dirt (cause less land disturbance) when leveling a field for irrigation purposes. The new practice (only six to eight months old) allows farmers to conduct minimal cuts and fills to allow row watering instead of leveling an entire field. The technique is cost effective for the farmer because less dirt is removed, and less money is spent rebuilding the topsoil. Plus, it's better for the environment since less topsoil is disturbed.
As a result, the practice is allowing farmers to turn previously non-irrigated farmland into irrigated farmland at a reportedly reasonable price. Laserplane is one of the few precision ag dealers in the country that is implementing this practice. In the six to eight months since they've been implementing Row Water using Trimble's FieldLevel II system, the company has seen 40-50 farms begin using it.
Another aspect of Laserplane's operation that sets it apart is the fact that Laserplane is one of the first Trimble-certified GPS and laser in-house service and repair centers in the United States. With employees specifically staffed for this center, they can do in-house repairs to any GPS units, rather than have to send them elsewhere for repair.
In addition, Laserplane helps farmers with their flow and application needs, including section control and variable-rate application control. This helps prevent overlap and controls the rate of material applications. As a result, Laserplane is helping to ensure that farmers do not over-apply fertilizer or chemicals, and that no input is applied in restricted areas, thereby helping the environment."
Finally, Laserplane's work helping farmers turn data into decisions that improve their farms represents the future of precision ag farming. In order to help farmers better understand and utilize the data their machinery has been gathering over the years, Laserplane formed a committee consisting of the largest and most progressive farmers in its area. The purpose was to find out how they could best help farmers with their precision ag needs, including how to help with data management and analysis. The answer they received back from the committee is that they do not have the time to analyze their data. As a result, Laserplane hired an employee who is solely focused on helping farmers with their data needs, and they are in the process of hiring yet another employee who will focus on this same area. Laserplane is using Trimble's Connected Farm solution to gather field data, monitor fleet performance and create productivity reports from which it is analyzing and providing farm management recommendations for customers.