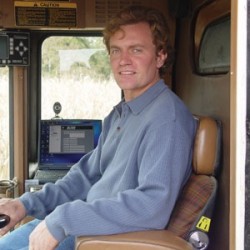 Iowa farmer Clay Mitchell continued down the logical path toward greater efficiency, accuracy, and automation in 2007.
When we first visited Clay back in 2003, he was already three years into using a real-time kinematic (RTK), sub-inch accuracy GPS system, which has been the basis for most of his farming practice improvements through the years. Two years ago he embraced strip intercropping, the practice of planting alternating rows of two different crops in the same field. The pinpoint accuracy of RTK, along with proper hybrid/variety selection, allowed Mitchell to plant, treat, and harvest the crop without a loss in efficiency or yield.
Last year, Clay fully employed section control for spray applications. Not satisfied merely with section control, Mitchell customized the sprayer boom to provide control at the individual nozzle level. In 2007, the headline news for Mitchell is row-by-row planter control.
Clay became aware of the technology late last year — a clutch developed by an Ames, IA company called Tru Count (see sidebar for more about the company). Tru Count was finishing development on the planter clutch, which has the capability of turning sections of the planter on and off based on GPS data, and was completing successful wide-scale testing when Mitchell had company reps out to work on his planters.
"Our planter has all the technology now," says Mitchell. "The machine has RTK implement steering, and every row has a clutch that is RTK controlled."
The Tru Count planter clutch has burst onto the scene as few things do in agriculture, leading to wide-ranging partnerships with most of the top line OEMs. For Mitchell, this has meant that the technology is quickly integrating into a lot of what he was already using in terms of precision equipment.
"We are controlling the planter clutches through our Trimble FieldManager display, so on this one display we can do automatic steering for the tractor, automatic steering for the planter, and coverage mapping in addition to automatic planter row control," explains Mitchell. "And, because of the new Trimble-DICKEY-john partnership, we can put the planter monitor on that same screen."
Only a couple of years ago, when Mitchell added implement steering on the planter for the first time, the planter cab was sporting six monitors. "Now, we're down to one," he says.
"It's A Big Deal"
The sloppiness of planter control is one of those issues that most growers have accepted as a reality of the operation. It's this factor that makes planter row control easy to value out.
"We have 35 miles of boundaries around our waterways, essentially 100 acres worth of land, so simply not planting those acres saves $3,500," he explains. "And then everywhere we would normally have overlap — on headlands or at the end of the field — if we improve planting we improve yield. With corn it is very consistent that we get only about half the yield we would look for."
Mitchell says that it took looking at aerial imagery to see how much overlap they were getting, which he says amounted to about 1% of his acres. "Now when we get to waterways and headlands, the planter shuts off right away, we're not planting five feet into them," he notes. I am harvesting right now, and I can tell you it really matters."
Normally, everywhere there was planter overlap Mitchell has to slow down the machine to a crawl , and sometimes get out and push the corn that gets hung up in the combine into the machine. "Every farmer knows what happens when you get lodging due to double planting," he says. "It completely stops you in your tracks" it's the difference between being able to stay in your machine, and having to get out."
Mitchell speaks with amazement that such a relatively simple addition to his planter has made such a big difference this year. But with the cost of seed continuing to go up and up with the number of traits and stacks being packed into varieties and hybrids, it's really a no-brainer.
"You make big assumptions about overlap when you calculate the benefit of automatic spray control, but with seed, you can basically calculate down to the penny how much you are saving by avoiding overlap. Growers are recognizing that it's a big deal."
For 2008, rumor has it that Clay Mitchell will be working on improving the accuracy of his fertilizer applications. Should be interesting …
Editor's note: This article first appeared in the Winter 2007 issue of PrecisionAg Special Reports.