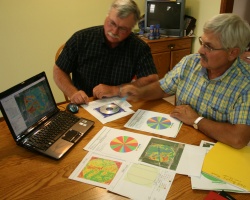 It was the low corner of a good-sized field. Not especially steep, but certainly subject to erosion, and Lon Bohn liked what he was seeing. He took a few steps into the field and stuck his toe into the corn residue created at harvest a week earlier.
"We've had, what, five inches of rain in the past three days," he asked out loud. "And we've got almost no runoff on our farm. On these kind of slopes, that's amazing."
For Lon and his partner and brother-in-law Don Blaschko, the fact that there was no muddy soup in that downhill corner represents a calculated, hard-fought victory over soil erosion.
"Slopes may get as high as 6 percent and so we have a challenge of erosion control, and our efforts are toward saving the soil and getting a better crop," says Blaschko. It's a victory that involves no-till, seed care, GPS, irrigation technology, guidance systems and nutrient management.
It's also an example of how precision farming is, well, more precise. It's not only local, with an individual farmer, field and zone, it's hyper-local, down to an individual seed placed in a certain spot.
Research conducted by the PrecisionAg Institute has shown that more than 80 percent of those adopting precision tools are more profitable than those who don't. But how they achieve that profitability is as different as the number of farmers involved. Precision management is about aligning resources, inputs and technology to be successful as you define success for your operation.
For Bohn and Blaschko at B&B Partners near Gibbon, NE, guidance systems, precision irrigation, seed placement and nutrient management all fit on top of a clear foundation of soil and water conservation.
"In order to keep the soil in place, we need to keep the residue and that's what led us to no-till," says Bohn. "And with the rolling fields we have, a guidance system is critical for us to make the most of our seed."
A customized planter system minimizes skips and avoids soil crust that can hinder root growth. Water capacitance moisture probes make irrigation more precise. Nutrient management is geared to the terrain.
"The old rate controllers were basically a valve that you turned open and you were supposed to take off and go with your tractor and maintain that perfect speed," Lon explains. "But on these hills you may gain half a mile an hour going down hill and going up you might lose one or two mile per hour," he smiles. New equipment now matches the application to GPS, compensates for speed on-the-go and applies according to the nutrients prescribed.
Knowing how much precision technology to apply and plotting the point of diminishing return to data is also key to developing a workable management game plan. But first you must be clear about the business you are in.
At Stoy Farms that means a unique blend of talent, equipment and technology geared to optimize about 13,000 acres near the town of Ashley in northeast Indiana.
"We are in the business of producing commodities," says Kevin Stoy. "We work to be clear about matching our system to economically producing as much grain as we can."
For Kevin and his brothers Ken and Tom, precision technology must fit with that primary mission. The scale of the operation mean larger equipment to deal with the limitations presented by finite windows for planting and harvest. The Stoys, having started with GPS and yield monitors back in the mid-90s, have a level of experience that helps them iron out wrinkles and concentrate on only the data they need.
"We are going to take advantage of GPS, guidance and variable-rate technology," says Stoy, "but we probably aren't going to spend a lot of time breaking fields down into smaller and smaller sections."
That approach contrasts a bit with Don Glenn's. Don farms with his brother Brian near Hillsboro, AL, and it's their intent to grow more without increasing the scale of their operation greatly.
"We're running a three-year rotation," explains Glenn. "We run a full-season corn crop, we follow that with canola, then double-crop soybeans, followed by wheat and double-crop soybeans. That gives us a five crop rotation over three years."
This intensive system, he says, allows the Glenns to remain profitable while farming fewer acres than they might otherwise farm and spread out their cropping seasons to avoid pinch times for people or equipment. Educated as an accountant, Glenn says precision tools and good records are key to making progress under this kind of system. He's not shy about posing difficult questions for himself and other growers.
"Do you know which crop is your most profitable crop?" he asks rhetorically. "Do you know which is your most profitable field? Do you know which field consistently loses you money?"
Glenn continues to refine his recordkeeping in a way that enables him to become more and more precise in optimizing his inputs. He says his area is highly variable in soil type, water holding capacity, and some rolling ground that's highly erodible.
"In my view it's foolish to treat the whole field the same way. We want to optimize our inputs for the productive capability of each part of the field. "Every dollar counts. We try to religiously track all of our costs, look at our return on our dollars. Precision farming, with its data logging capabilities, just fits right into that scenario.
"Not only can we get to a profit and loss look on a field level basis or a crop level basis, but we can even look at individual acres within those fields," he explains. "We know what the cost was on each acre of ground and when we harvest, we know what the gross is and we can get a net income across the field."
In Glenn's system, the immediacy of the data also has value. While others may wait until harvest's end to contemplate the next crop, Glenn is getting set to plant another one – maybe today, tomorrow or the next day.
"At times this year I was literally sitting at the edge of a field as soon as the combine finished, pulling yield maps off the combine and generating prescription maps for fertilizing the next crop," he says. "Within 15 minutes after the time the combine left the field, I was spreading fertilizer based on those new yield maps."