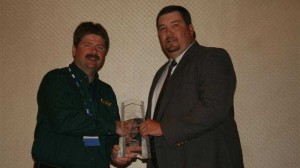 Robert Blair of Kendrick, ID, has been named 2009 Farmer Award winner for Precision Ag Excellence. The awards program is sponsored by the PrecisionAg Institute.
The Farmer award recognizes an individual who has embraced precision technology and techniques in his/her farming operation with demonstrated impacts on production systems through improved yield, input use efficiency, and/or profitability as well as improvements in land stewardship through resource conservation and environmental enhancement. The award is inclusive of all farming enterprises.
Blair was one four enthusiastic precision agriculture luminaries who were honored in front of hundreds of attendees at the InfoAg Conference in July for their superior work in the field of ag technology.
"The technology has really helped me out by reducing costs, saving 2 dollars here and 5 dollars there and, most significantly, 20 dollars by doing variable-rate nitrogen, which is one of our bigger inputs," said Blair. "The next step now is, how can we use the technology available like imagery, yield monitors, and guidance systems to reduce our costs even further."
Blair was part of the third class of recipients of the awards program, which for the first time recognized specific categories related to a primary area of work. Other winners included David Waits (Legacy Award), Quentin Rund (Crop Adviser/Entrepreneur Award) and Dr. David Clay (Educator/Researcher Award).