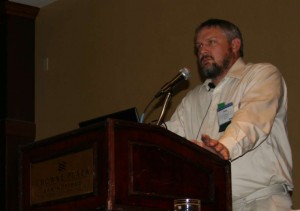 The 2010 Educator/Researcher Award recipient for Precision Ag Excellence is Dr. Terry Griffin.
Griffin serves in Extension, research, and teaching roles in farm management and spatial technologies as a professor of economics at University of Arkansas Division of Agriculture. Griffin has been studying the farm-level and societal benefits of precision agriculture since 1997 but has been contemplating agricultural technology since the late 1970s on his family farm in Northeast Arkansas.
His 1999 MS thesis research from University of Arkansas presented the first results on the adoption and economics of precision agriculture in Arkansas. Prior to returning to Arkansas, Griffin served eight years in the Midwest as an Extension Educator with University of Illinois Extension and then earned his PhD from Purdue University. At University of Illinois, Griffin delivered in-service trainings on GIS, GPS, and collecting site-specific data; becoming the de facto precision agriculture specialist in Illinois while earning two national awards from the National Association of County Agricultural Agents co-sponsored by National Aeronautics and Space Administration (NASA) for his precision agriculture programming.
In 2003 and 2004, Griffin served as the National Science Foundation External Reviewer for the Jackson State Community College Precision Agriculture Program. Griffin has six referred journal articles, one book chapter, 42 conference proceedings, and hundreds of invited presentations.
Griffin has conducted economic analyses such as tracking technology adoption and evaluating farm-level profitability of yield monitors, variable rate applications, and GPS-enabled navigation technologies; but he has also worked with scientists not traditionally associated with precision agriculture such as gerontologists to study how GPS guidance impacts the quality-of-life of older farmers or those who suffer from disabilities.
He is active internationally collaborating as the economist and spatial econometrician with agricultural scientists from Germany, South Africa, Argentina, United Kingdom, and Australia, in addition to his domestic work in Arizona, Arkansas, Indiana, Kentucky, Alabama, Illinois, Tennessee, Oklahoma, Missouri, Texas and Louisiana on analyzing site-specific data.
"Although precision agriculture technologies have been criticized for being relatively less attractive to smaller acreage farms, Griffin's work applies to farms regardless of size," says Dr. Edward Barnes, director of agricultural research at Cotton Incorporated.
Griffin is committed to the science and education of precision agriculture," adds Barnes. "He was among the first scientists to quantify the farm-level profitability of precision agriculture technology, helping advance the adoption and utilization of the technology. He has used a range of analyses including whole-farm linear programming models to ascertain the profitability of automated guidance, spatial statistical methods to analyze yield monitor data, and assess the adoption of precision agricultural technology including a quantitative review of the profitability literature."