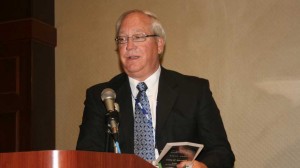 David Waits of SST Software has been named the 2009 Legacy Award winner for Precision Ag Excellence. The awards program is sponsored by the PrecisionAg Institute.
The Legacy award recognizes an individual who has a made extensive contributions to precision agriculture over the course of his/her career.
Waits was one four enthusiastic precision agriculture luminaries who were honored in front of hundreds of attendees at the InfoAg Conference in July for their superior work in the field of ag technology.
"The Internet gave us a whole new world of possibilities, and we began developing the online data processing services that really became the focus of our business the last 7 years," Waits said. "And it has really become the focus of getting to the next level with our clientele. Now we can deal in volumes of data so much easier than before and produce more information products and learn from the data much more than ever before."
Waits was part of the third class of recipients of the awards program, which for the first time recognized specific categories related to a primary area of work. Other winners included Robert Blair (Farmer Award), Quentin Rund (Crop Adviser/Entrepreneur Award) and Dr. David Clay (Educator/Researcher Award).