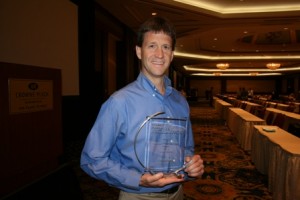 Scott Beck, vice president of Beck's Superior Hybrids, Atlanta, IN, has been named the 2011 Educator/Researcher Award winner for Precision Ag Excellence.
Beck manages and directs the Practical Farm Research facilities that promote agronomic and precision ag technologies and developments. A key goal for Beck and his group is to demonstrate new practices, including precision ag technologies, which allow growers to get a first hand view and understanding on how precision ag technology works. It also helps growers to determine if they will work for their farming operation before any capital investments are made.
Scott's Practical Farm Research program is currently testing the use of weather stations in conjunction with fungicide applications, particularly with soybeans. The program is trying to build a model to determine when it may be the best agronomic time to spray fungicides to achieve optimum performance and profitability. He has also offered a five state companywide program offering the use of Crop Health Imaging. The Crop Health Imaging offers growers the ability to define areas of crop stress, as well as healthy growing plants in each field with sub-meter accuracy.
When growers can be educated on what is happening on an agronomic level in their fields, questions can be asked and answers may be generated to formulate variable rate applications to resolve problems in the field during the growing season.
"Scott Beck is an individual that truly cares about agriculture and the use of practices that can assist farmers to be more profitable or offer ways to be more efficient," says Jason Webster, Beck's Superior Hybrids. "His Practical Farm Research Program is known throughout the Midwest and farmers know that they can rely on sound non-biased agronomic data and testing."
Beck said that his accomplishments as leader of programs to develop best precision practices for grower-customers was a team effort.
"I especially want to recognize Jason Webster, our central Illinois research farm director who has spearheaded a lot of these research projects," Beck said. "We work as a team to bring the education to our farmer-customers, and I am very appreciative of this award."