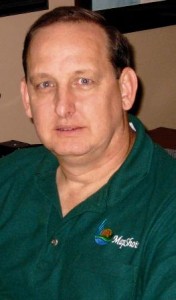 Ted Macy and his wife, Nancy, grew up on farm operations in Indiana. It was as a freshman at Purdue University that Macy's vision of ag data management was born. His programming experiences at Purdue sparked his interest in computers and their potential and practical applications for agriculture. He earned a Masters degree in Ag Mechanization in 1980, and subsequently returned to the Indiana family farm.
On the farm Macy recognized his passion for technology and how it could apply to agronomy, so he started up a company, Applications Mapping, Inc., in partnership with a soil testing company. There, he developed a software program called AgLink, which would eventually become AGRIS following its purchase by John Deere.
He and his wife left AGRIS to start MapShots, Inc. in the fall of 1999, a company they continue to run today. Macy is still committed to advancing the state of ag information systems through the hiring of talented, dedicated people and the development of open architecture usable software tools.