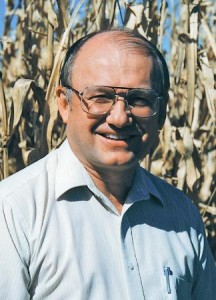 Raised on an Illinois farm, Allen Myers always had a love for the mechanical aspect of farming. This led him to study agricultural engineering at the University of Illinois, where he earned his undergraduate degree.
Myers toiled for two decades at Sundstrand, now known as Sauer-Danfoss, before leaving the company in the mid-1980s to test his own ideas. After considering many potential ideas for products to develop, he settled on the yield monitor, which he set to work developing in 1986. With the support of his father, who let him develop the product on his farm over the course of 6 years, Myers rolled out the first yield monitor in 1992 under the company name Ag Leader Technology.
From this initial success, Ag Leader has become the leading manufacturer of yield monitors, as well as many other equipment control hardware and software products.