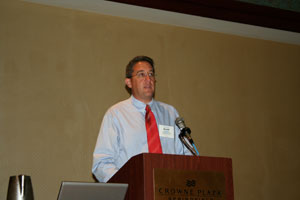 For the past 22 years, Scott A Shearer has worked at the University of Kentucky as an educator, a researcher, a mentor and an innovator. He is a member of the American Society of Agricultural and Biological Engineers (ASABE) and has shown his commitment to precision agriculture through the work he has done individually, with students, and the industry.
"This award provides affirmation to me that we have been doing the right things at the University of Kentucky," says Shearer. "I have the pleasure of working with some of the most innovative producer/cooperators in the country. These individuals deserve most of the credit for what has been accomplished."
Shearer has been instrumental in the development of one of the first college courses on precision agriculture, and he has helped many students branch off into the industry through research and development of products, technology, and tools. The developments and advancements made in the 1990s will help future generations to minimize their impact on the environment as they maximize the quality and productin of crops. Thanks to the leadership of pioneers like Shearer, the future of agriculture looks promising and successful.