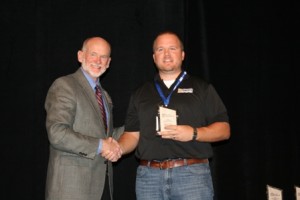 As growers and retailers around the globe further immerse their operations in precision agriculture technologies, one question seems to keep coming up, over and over again: Now that we have captured all of this useful data, how do we use it?
Enter 2012s' Precision Crop Adviser/Entrepreneur of the Year winner Daryl Starr, owner of Lafayette, IN-based Advanced Ag Solutions, a company he formed in 2006 at the age of 25, specializing in precision agronomic data management. Starr, an entrepreneur in every sense of the word, and his team at Advanced Ag Solutions are changing the role of the crop consultant through their innovation and focus on information and its management.
The operation is also, like precision ag itself, still growing: When they launched Starr set an intial goal of 15,000 acres enrolled. Five years later, he is nearing 350,000 acres at some stage of participation.
"AAS has already made a big impact on Midwest agriculture through their innovative approaches," says Bruce Erickson, associate director of Purdue University's Center for Commercial Agriculture, who nominated Starr for the honor. "In the future, more and more new products will be introduced into the marketplace, and farmers will need good ways to evaluate them. AAS's innovations with their Next Level Projects can make that happen.
Starr's Next Level Projects service was released in 2011. According to Erickson, the service is a process which allows a grower client to hire Starr's firm to lay out a large block, geo-spatial field trial on their farm. Then, AAS builds variable rate prescriptions for the plot (when applicable) and then they scout the fields, recording the GPS observations. By season's end, they're able to compile a report summarizing the data and explaining the agronomic lessons and how to utilize the information.
Another notable aspect of AAS is the straight-forward, team approach the company brings to the precision ag world. "They do not profess utmost knowledge in agronomics and they do not sell precision ag equipment," says Erickson. "Their sole focus is precision agronomic data management and they bring equipment suppliers, product manufacturers and clients together in a way that helps the grower learn and grow."
Outreach efforts are also a priority at AAS, as they regularly host roundtables and breakout sessions to facilitate interaction. "Starr feels that it is critical that he and his team try to stay well ahead of their clients and advance the industry for their benefit," says Erickson. "He understands that if we learn from our farmer clients and they learn from each other, and we all get better, we're very likely to outpace our competition."