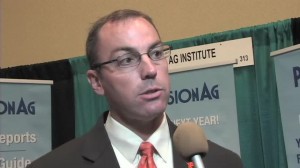 Auburn University's Dr. John Fulton, currently in his tenth year at the University as an associate professor and extension specialist, has been selected as PrecisionAg.com's 2013 Educator of the Year.
Fulton, whose areas of expertise reportedly include farm machinery with an emphasis on advanced granular and liquid applicator and planter technologies, leads the Alabama Precision Ag Team, manages a precision agriculture web page, speaks at numerous engagements around the world, and interacts with growers, extension personnel, and governmental bodies.
Through the Alabama Precision Ag program, Fulton reportedly goes to great lengths to emphasize environmental stewardship and proper placement of fertilizer and chemicals. From his work with variable-rate application of granular organic and inorganic fertilizers to nozzle flow and boom stability issues, Dr. Fulton constantly works to improve application uniformity and efficiency while reducing application in unwanted areas. He also has recently fostered and implemented a program at an extension and research center in Alabama that has the trademarks of becoming an excellent research, teaching and training facility for industry, academia and growers across the nation. He has already partnered with several national industries to conduct new product testing and has hosted several training and field days for growers within the last year.
According to graduate student Jonathan Hall, what sets Fulton apart from other precision agriculture instructors is his "passion for increasing grower and public knowledge, his overall understanding and appreciation of precision agriculture and his focus on environmental stewardship through practical application and technological advancements."
Another unique aspect of Fulton's approach to classroom instruction is his use of a practical systems approach. For instance, according to Hall several of Fulton and his team's research projects have focused on understanding granular fertilizer and poultry litter applicator distribution patterns and improving them with precision agriculture technology. As understanding and knowledge are gained through research, his team collaborates with various industry professionals to work towards better application efficiency through design modification."
Fulton is also a prolific communicator, ensuring research results are shared with various stakeholders throughout the ag world. This holistic approach of fully utilizing, disseminating and putting into practice knowledge gained from research is an excellent example for others to follow, especially as public and private resources continue to become scarce.