Recap: The Ohio State University Explores Ag Tech ROI at Soybean Workshop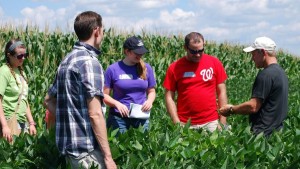 How do soybean producers begin to extract value from the vast selection of digital tools available in agriculture today? At the ROI of Digital Tools for Soybean Producers Workshop on September 8th, nearly 30 individuals including growers, Extension professionals, industry, and university researchers from six states gathered to discuss this question.
The event, organized and hosted by the Digital Ag Team of The Ohio State University and sponsored by the United Soybean Board and The Ohio State University Extension, was held at the Beck's Hybrids in London, OH, in an effort to better understand how growers view the value of these digital tools and services.
According to AgFunder's midyear report for 2016, $1.75B was invested in ag tech. With new and mature companies pushing data and digital services, farmers are faced with a challenge: to understand the digital technologies available and how they could be used successfully. The focus of the day was facilitating conversation between the people who create, sell, and use digital agriculture tools. Understanding what growers need from these tools in order to see a return on their investments for these technologies is crucial for making progress towards finding data solutions that work.
The interactive workshop made it possible for participants to ask questions and respond to survey questions, in real-time throughout the presentations, which ensured the discussion centered around information that matters to soybean producers. The day featured speakers from both industry and academia who presented thoughts and information about digital tools including: data warehousing, production benchmarking, production analysis, in-season monitoring, crop modeling, and recommendations. Workshop participants gained valuable knowledge about the current state of ag technology, on-going research to determine value, and the digital tools within the industry pipeline.
As the day progressed, the challenges hindering grower adoption of digital tools became apparent. A primary concern expressed by the growers are the roadblocks that prevent data from being simple to manage and access. When asked about the limitations of existing digital agriculture technologies, 35% of participants selected "ease of use." However, making digital tools easy to use is not a straightforward task, especially when incoming data is as diverse as the data being generated in agriculture.
Not surprisingly, another commonly mentioned issue that hinders the usability of digital tools was the lack of interoperability and finding ways to eliminate the burden of moving data around to be able to use it.
When asked if digital tools that provide data warehousing would provide value, 87% of participants said "yes."
One participant noted, "There isn't any one way to view all your information. The question is how do we use [digital tools] together to our best ability." Several presenters were ready to demonstrate how these concerns are being addressed. Jay Witkop of John Deere, and Seth Smoot with The Climate Corporation, provided insights into how each company is working towards a smoother data flow and more user-friendly interfaces. Once the ag community finds solutions to the logistical problems of data management, these digital tools will be able to translate data into information that can bring value to growers.
The potential value of digital tools is something participants were able to get excited about. Ninety-one percent of participants agreed with the statement "I would feel more confident in my decisions if I had more accurate, better quality data." Dr. Joe Luck at the University of Nebraska-Lincoln and Dr. Laura Lindsay, a soybean research professor at The Ohio State University, discussed the current applications and opportunities for using data to improve the profitability of soybean production. Both delivered overviews of current research being conducted at land-grant universities that are generating the knowledge necessary to enhance the services digital tools provide.
Mike Hannewald from Beck's Hybrids, explained how they use the Practical On-Farm Research facility as testing grounds to identify the ways data can be used to guide decision-making at the farm level.
Participants also weighed in on what they believed to be key research priorities. The top response was soil fertility, selected by 35% of the participants. Seed recommendations and crop health monitoring were other popular answers, with 26% and 22%, respectively. Despite current research, 30% of the participants feel that the return on investment of digital tools are limited. Jeremy Wilson with CropIMS, thinks the reason for this is because most growers have neglected to collect enough high quality data to set the foundation for their "House of Information." Wilson, who also farms, explained for participants the strategy he uses to uncover and then understand field variation and how managing it differently impacts his bottom line.
At the end of the day, attendees left with a fresh perspective on ag technology. Taking the time to have these in-depth conversations is valuable because it allows representatives from different sectors of agriculture to weigh in on what's important right now, what works well, and what aspects of ag technology still need refinement. The conversations that took place at the workshop helped to better frame the challenges and opportunities growers are facing with digital technologies. With more research and discussion, comes hopes that in the near future there is a better understanding of the value digital technologies can provide farmers.