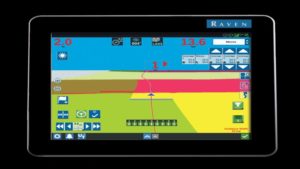 Raven Industries announced the release of a new, larger field computer: the CR12.
Utilizing the same functionality as the CR7 field computer, the CR12 offers an extensive field planning feature for increased efficiencies, claims the company in its latest press release. Built with a durable magnesium waterproof housing and a full glass capacitive touchscreen with high brightness, the CR12 also boasts a wider, 12.1-inch display.
The CR12 joins the CR7 as the latest field computer in the CRX display family. This powerful operating system features easy job set-up, fewer touches and greater efficiencies — empowering the user with extraordinary data management capabilities. A simple widget concept, easily accessible settings, and ISO Universal Terminal and Task Controller capabilities make this mighty unit an affordable, plug-and-play system. Like the CR7, the CR12 is compatible with Slingshot file transfer and remote support, RS1, boom leveling, Raven product control and more.
Uniquely, the CR12 offers an extensive field planning feature, allowing the user to define AB-lines and reference lines of the field boundary. The user can then set up the complete field, including multiple headlands, spray tracks, greening zones and tracks with different working widths.
"The CR12 will fill a large need in the European market," said Rik van Bruggen, European Sales Manager. "Setting up complete fields using the field planning feature saves time and increases efficiency. It also helps to avoid costly errors and is especially helpful when planting potatoes, vegetables or sugar beets."
Raven will debut the CR12, as well as report on future advances, this week at an International Summit at the Raven Europe Headquarters in Middenmeer, NL.