NFMS 2018: Precision Farming, Ag Tech Developments from Louisville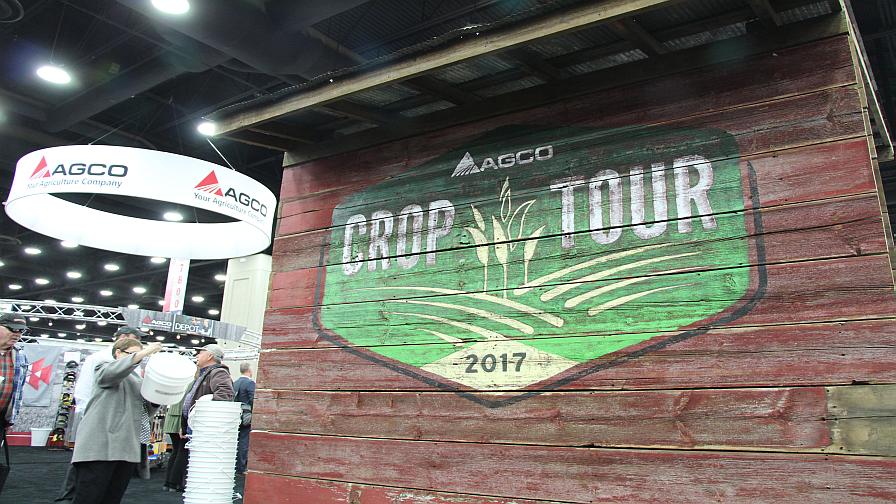 AGCO Crop Tour 2017 Update
Last week's annual National Farm Machinery Show (NFMS) in Louisville, KY, was this author's first experience attending the mid-winter Midwest equipment classic, and although it's not quite on the level of an Agritechnica (another first for me this year), it turned out to be a pretty good show in its own right.
The main difference between the Louisville show and others we attend throughout the year is the direct, almost singular focus on the farmer. Sure, you see a couple sprayers throughout the week and some product launches catered to the ag service provider, but mostly it's a whole lot of planters, harvesters, and tractors.
That said, we did see a few different things that could peak an ag service provider's interest.
Here's a few notable developments to come out of the 2018 NFMS:
MORE BY MATTHEW J. GRASSI
Market Intelligence
June 1, 2019
Drones | UAVs
May 21, 2019
Drones | UAVs
May 6, 2019
AGCO Crop Tour Update
After attending the AGCO Crop Tour stop up in Hastings, MN, this past summer, I wanted to touch based again with Corina Ardelean, Marketing Manager – Commercial Strategic Initiatives, to see how the two ag tech product trials the company had discussed trialing at the Crop Tour throughout the summer had fared. Aglytix, an advanced farm data analytics outfit out of Mankato, MN, and well-known data logistics outfit Farmobile, were the two products the AGCO team tried out.
"So, when it came to Aglytix we had a lot of success with them, but I don't think the customer appetite is there yet for that type of service, partly because of the low commodity prices and also because it's a more long-term play for them around understanding how your crops are doing and make a decision, its more of an ongoing process with that and right now that is very hard to justify for the customer if they're not going to see any return-on-investment in year one," she explains.
"Now Farmobile, I think that we saw that that is a very strong tool for the mixed fleet," Ardelean adds. "The fact that you have the option to sell your data – it's a unique value proposition that nobody else is exploring in this market. It's still to be seen on how many growers are willing to do that, but our approach to Farmobile at AGCO is to use it to help us bridge that mixed fleet environment, to move data seamlessly throughout a customer's fleet."
Going forward into plans for the 2018 tour, Ardelean says the equipment giant is looking at engaging with ag retailers on how best to leverage the Farmobile product among a mixed fleet of professional equipment. "We are going to collect the data that is coming from Farmobile – it's very granular and very detailed, good quality data – and we'll create a Business Intelligence (BI) tool, like a Tableau, and we will help them better see efficiency with the whole entire fleet."
Ardelean says dealer interest in hosting a stop or participating in the 2018 Crop Tour is growing, and the company expects to release details on the upcoming third iteration of the tour in the coming months.
Bravo, Case IH!
A couple developments took precedence at the Case IH booth. First was the companies update on its autonomy in agriculture initiative, sparked on the 2017 summer farm show circuit by interest in the company's snazzy autonomous tractor concept vehicle.
Leo Bose, commercial training manager- Case IH, announced a new in-field evaluation partner for the technology in 2018, mega specialty grower and marketer Bolthouse Farms.
"For 2018 we're collaborating, not only with Case IH, but with a producer in the field – Bolthouse Farms, a leading carrot producer in North America – on just what that next level of autonomy is," he explained.
Not as sexy but probably more impactful is the Racine, WI-company's ongoing love affair with European standard ISOBUS. I talked to Chris Dempsey, AFS marketing manager – NAFTA, about the companies growing reliance on ISOBUS terminals and implications for U.S. ag professionals and their grower-customers.
"As an industry OEMs realize that mixed fleets are a reality," he says. "ISOBUS allows us to transition data within those mixed fleet situations much easier."
Although not necessarily a new effort or initiative (Case announced its foray into ISOBUS back in 2016 with release of its Class Two compliant AFS 300 terminal), AFS's new Soil Command seedbed monitoring technology, which the company launched at NFMS, leverages ISOBUS functionality.
"Soil Command is ISOBUS, so the capabilities to expand that offering as we look at what Class 3 ISOBUS can do – there may be some control potential there – and that's really the future of ISOBUS," Dempsey adds. "We're starting to see ISO Class 3 mature into some other products, that I think that's really where we're headed as an industry. Seamless movement from one machine to another, as well as kind of taking the chaos out of the cab, that's what's driving all of this (ISOBUS adoption)."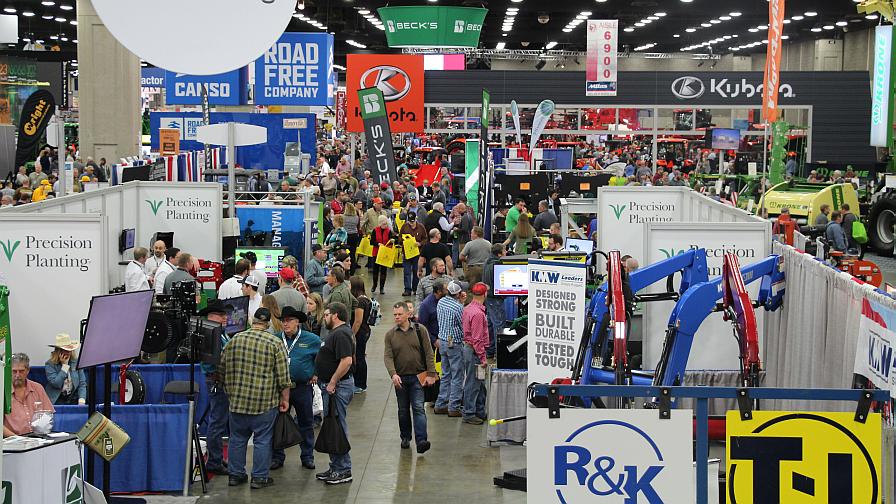 Drone Dearth
Unlike other farm machinery shows where you can't walk five feet without seeing yet another DJI quadcopter tricked up with the latest and greatest NDVI sensor, or some crazy looking new fixed wing drone for ag, NFMS isn't really a big destination for ag drone product news or launches, at least it seemed that way this year, anyway.
AeroViroment, however, did have its bizarre looking vertical takeoff quad/fixed wing mashup Quantix drone at the show. Again, not a new product by any means, but the company smartly invited new Quantix dealer and ag service provider Precision Farming Solutions, an AgLeader/Topcon/Digistar/Raven dealer based in Birdseye, IN, to the show to discuss the drone and its plans for integration into its precision ag services workflow for the 2018 season.
"Right now, it's kind of a grey area for how we want to use it and how we feel it's going to be beneficial for our growers," Precision Ag Specialist James Pate says while standing with his team in the Quantix booth. "If we come to fly for somebody this year we want to give them a recommendation, and whatever we decide to charge for that service, it's got to be balanced to where its beneficial for them to even let us fly. We don't want to fly and just say 'Ok, here's your pictures and here's the bill.'"
I also wanted to find out from Pate how he planned to sell drone imagery as a service to growers, something much of the precision ag community is struggling to figure out as high-frequency satellite imagery products come online to disrupt a yet-to-take-hold drone imagery industry here in the States.
"In today's market price is a big thing, so ROI is always a part of that discussion," he shares. "Cash flow is another, and warranty and service are the next two biggest (concerns for growers). We provide service and install everything we sell, and having good service is above-and-beyond, so we've got to get those three right, right off the bat."
GSI Flex Wave
Louisville was the first time I'd ever beheld anything quite like GSI's new automated grain bin cleanout solution, FlexWave. Basically two giant inflatable liners installed inside the grain bin, while not technically precision ag, the product is an interesting example of yet another process farmers and grain-storing cooperatives are looking to automate.
According to quite a few accidents happen each year from employees having to enter the grain bin to sweep out the remaining grain missed by the auger.
"There's been a lot of interest from many of the commercial operators that safety and things like that tend to be more of a priority for them," says Greg Trame, GSI director of engineering . "For the co-op level it's really a safety issue, so we're eliminating the need to go into that bin and do the manual work they do today. The key here is this system gets us to a true full zero-entry unload system."
Autonomous tractors, self launching and landing drones, and, apparently now we've got autonomous unloading grain storage bins. Okay…
"There's really been very few technological advances in how grain is stored in a long, long time," says Trame. "So this is the first true autonomous unloading system that you would have that really brings some of that technology into the grain storage space."
He also cautions that, while autonomous remote unloading is potentially doable with the FlexWave system as it currently stands, the company is still advising operators keep a couple sets of human eyes on the process.
Syngenta, Farm Shots Deal
Another little bit of news to come out of Louisville was Syngenta's acquisition of Raleigh, NC-area satellite imagery startup Farm Shots.
The Swiss multinational acquired the company, started back in 2014 by a group out of nearby Duke University that includes current CEO Joshua Miller, to bring imagery services to its AgriEdge Excelsior (editor's note: kind of a dorky name for a precision program Syngenta, just sayin').
We talked to an obviously stoked Miller at the Syngenta booth just as news of the acquisition began making the rounds on Twitter.
"This deal is about bringing our technology, our standalone imagery product, to Syngenta and enabling the farmers with that, but we're also focused on making sure we can integrate with Syngenta's digital products, as well," Miller shares.
Miller shares that the company, who lists Bay Area-based satellite imagery outfit Planet Labs as a partner on its website, acquires imagery on 8 million acres today by a fleet mix of about 95% satellite and 5% drone. Ag service providers will be happy to know the startup is keeping them in mind as it integrates with Syngenta's platform.
"Let's say I'm an ag retailer or a consultant," he explains. "I can control what my growers have access too, and I can also go into their account and leave them a report. So the next time the grower logs in and they're able to see 'OK, here's the scouting report that got left for me, here's the prescription I need, all right there on the iPad."
Miller says the integrated imagery products are already live on the AgriEdge platform today and ready for the 2018 growing season. Syngenta representatives present at the show respectfully declined to disclose financial terms of the agreement.