Ivy Tech Students, Helena Collaborate on 'The Field of Knowledge' Harvest & Training Grounds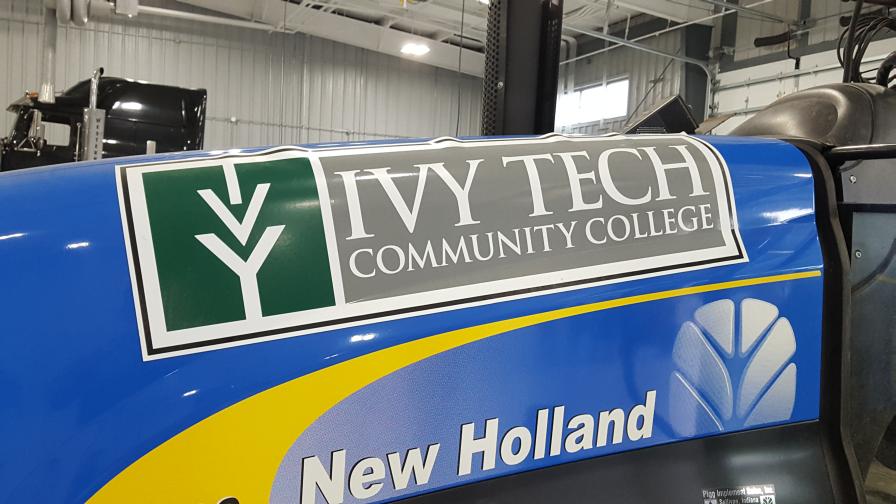 Ivy Tech Community College Center of Excellence Opening, August 8, 2018, Terra Haute, IN
Students in Ivy Tech Community College's Agriculture and Precision Agriculture programs have had an interesting opportunity this growing season to learn at "The Field of Knowledge" sponsored by Helena Agri-Enterprises LLC., according to a press release issued by the school.
On Wednesday (Oct. 3), the 22 acre plot of seed corn that has been a test site for Helena's products, was harvested. Yield data is being recorded – some the old fashioned way by weight of the grain harvested; and some through precision yield monitor technologies the students are learning which measures the grain as it is harvested, capturing the data digitally.
"Collaboration with companies like Helena and Bane Welker provides our students so many opportunities to learn and to work with professionals in Precision Technologies that they wouldn't get anywhere else," said Darin Kohlmeyer, Precision Agriculture Equipment Technology program chair. Ivy Tech's research plot with Helena is one of just four locations Helena has this project.
Katie Carnahan, Gro-Link Technician with Helena Agri-Enterprises, said the fertilizer research plot serves several purposes. "It is a great training ground for students. They can gain hands on experience with combines, tractors, grain carts and learn about field management practices. We also will share the data with them in January, so they can learn what we learned."
MORE BY MATTHEW J. GRASSI
In-Field Technologies
July 16, 2019
Market Intelligence
June 1, 2019
Drones | UAVs
May 21, 2019
She said for the company it is a place where it can put trials together and collect the data. "It is awesome that we have the students here to manage it and learn about the testing we are doing."
An example of a kind of data gathered she said, is a product that was typically applied with a sprayer. "We trialed using it as a starter fertilizer instead." She said that information will be given to customers so that they can make better decisions on their acres.
Finally, the Field of Knowledge is also a place for the company to host customers so that they can better understand Helena's products. Customers would include retail staff at local business and their customers, as well as Ivy Tech's students.
She pointed out the importance of getting the most yield for the money to feed more in the world. "There is a decreasing amount of tillable acres available each year, but ever increasing populations to feed. So plots like this, and the education of tomorrow's farmers and farm-related employers and employees – will help to make sure products and techniques used have the biggest return on investment per acre."
Carnahan said that using precision technologies is an important tool to make a big impact on farmer profit. "Our goal is to align economic input with agronomic input. Helena really strives to promote precision technologies. It makes sense to precisely grow. The planter can place the seed correctly, and with a yield monitor, data can be analyzed acre by acre."
Ivy Tech's students are now using the new Precision Agriculture Equipment Technology Center of Excellence lab, which was opened for classes this fall.