Ivy Tech Opens Center of Excellence to Train Tomorrow's Precision Ag Service Providers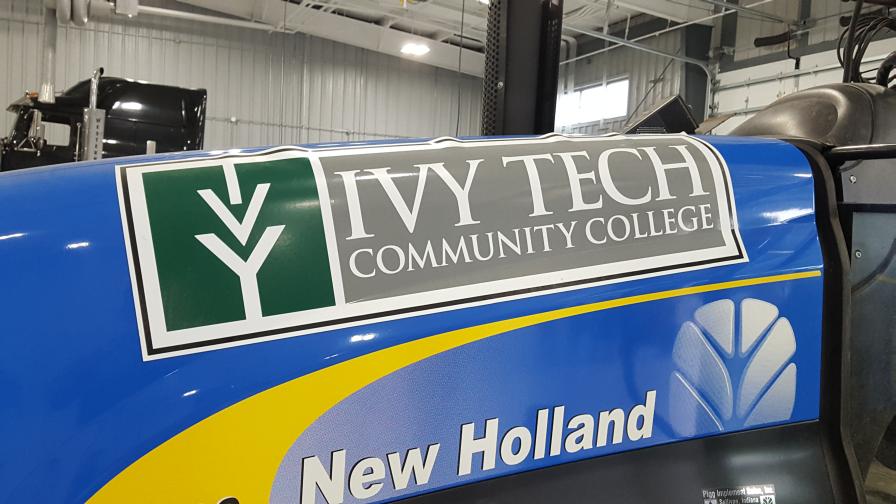 Ivy Tech Community College Center of Excellence Opening, August 8, 2018, Terra Haute, IN
Students interested in careers in precision agriculture equipment technology or diesel technology now have the opportunity to pursue certificates, technical certificates or associate of applied science degrees at the Ivy Tech Community College Terre Haute Campus.
The facility celebrated its opening and ribbon cutting today (Aug. 8). The Center of Excellence for Ivy Tech's Precision Agriculture Equipment Technology program includes a 26,000 sq. ft. laboratory space housing a wide variety of agricultural equipment like tractors, combines, planters, spreaders, and drones, all incorporated with precision technologies for hands-on education for students. It also includes Diesel Technology equipment and training, and lecture and computer lab space for both programs.
Lea Anne Crooks, chancellor of Ivy Tech Terre Haute, said excitement for the programs and the new facility is high at Ivy Tech. Students from throughout the area, and even well beyond have shown interest, she said, adding that the Center of Excellence would not have been a reality had it not been for the many who have provided funding. "Thank you to those who have made this happen like our top donors which include the Economic Development Administration (EDA), Vigo County Redevelopment Commission, Bane Welker Equipment LLC, the United States Department of Agriculture, Waltrin Truck Repair, and the Harlan Family."
Sue Ellspermann, president of Ivy Tech Community College, said she is aware of many of the advances in precision agriculture, from her time as secretary of agriculture and rural affairs overseeing the State Department of Agriculture when she was Lieutenant Governor.
MORE BY MATTHEW J. GRASSI
Drones | UAVs
May 21, 2019
Drones | UAVs
May 6, 2019
Drones | UAVs
May 2, 2019
Ellspermann said she was pleased to announce the Terre Haute campus as the Center of Excellence for Precision Agriculture Equipment Technology in Indiana. "This Center will immediately meet the workforce development needs of not only the Terre Haute service area and the entire state – but also the entire region." She added that there are only five sub-baccalaureate programs in the nation, and Ivy Tech's Precision Agriculture Equipment Technology Center of Excellence is one of them.
Senator Joe Donnelly, current member of the Senate Agriculture Committee, said this program and new lab space is going to be the start of "so many great jobs for years to come.
"I was proud to be able to help kick start this with support during the EDA grant application. Now the beneficiaries (of the funding) will be the workforce," he indicated."This is the future, and this is also the present. You've hit a grand slam on this one."
Dennis Feldenaur with the EDA, said he believes the EDA is moving in the right direction now with how to resource economic development. "They are looking at 'How do we get regional, local, and state governments to work together?'"
Feldenaur said the $1.2 million matching grant Ivy Tech received was part of this initiative. "Here in Central Indiana we see a lot of agriculture needing to look to the future to be more competitive," he said. He pointed out that precision technologies at Ivy Tech are a way to "capitalize on this growth and be a focal point to make a competitive workforce, and the EDA is here to support these kinds of projects."
Renovation of this warehouse space in the rear of Ivy Tech's Technical Learning Achievement Building, located in the Industrial Park at 1650 E. Industrial Drive, began in late January 2018.
According to David Will, dean of the School of Advanced Manufacturing, Engineering & Applied Science, at the Center of Excellence, students can earn one or more of the following stackable degrees:
Technical Certificates
Agriculture Equipment Service Technician; (34 credit hours = 3 semesters)
Precision Agriculture Specialist; (34 credit hours = 3 semesters)
Precision Agriculture Technician; (34 credit hours = 3 semesters)
Associate of Applied Science; (60 credit hours = 5 semesters)
Ellspermann said these technical certificates and Associate of Applied Science degrees uniquely prepare students for career fields currently in high demand with over 3000 job openings predicted annually through 2020. She added that Terre Haute is a great location in Indiana to have this Center of Excellence, as it is in the middle of the Corn Belt, and near major transportation systems.
The need for new agriculture training is great. Indiana is seeing an increase in the average age of its farm workers from 49 in 1950 to now approaching the age of 60. U.S. Department of Agriculture data indicates that farm output over roughly that same period of time increased 2.7 times.
The aging workforce forecasts the need for an influx of workers to take over both traditional and emerging roles in the sector. Research has also show the need to individuals to repair this precision equipment; and for those in retail to have the knowledge for sales and consulting, Will said.
"Precision Ag takes advantage of the available technology," Will said. "One example is a farmer using technology to identify the bests fertility treatment and planting depth for each soil type, then applying that knowledge using variable rate planting and spraying equipment and techniques to maximize the yield."
He said the industry needs both farmers and those in agricultural careers in consulting, sales, and service. Will said that the impact of this new facility and the growth of the Precision Ag program at Ivy tech will mean workforce development for the Wabash Valley.
He identified numerous partners in this process including Randy Pigg from Pigg Implement in Sullivan, who was at the forefront of sharing the future of agriculture and the skills required in his organization with Ivy Tech administrators and faculty many years ago.  "That same message was reinforced with every interaction with industry," Will said. "Phil Bane and the folks at Bane-Welker Equipment worked with us on their original 'Red Program' which was foundational curriculum for our Ag Technician program.
An industry survey went out to more than 360 businesses in Indiana, Ohio, and Illinois. The overwhelming response provided the momentum to continue toward the precision agriculture education, "because 86% of the respondents indicated they would hire an additional 3-4 precision ag technicians within the next five years."
"Acquiring the resources to fund such a unique program and facility was and continues to be vitally important," Will said.  "Acquiring representation through the Economic Development Administration was critical in making today a reality. This EDA grant is the first of its kind to Ivy Tech.
"This project collaborated with local industry, the Federal Government, support from local and state government agencies, and post-secondary education to provide academic programming required to support industry demand and provide Hoosier's a career path to raise a family and stay in their communities.  This project truly exemplifies putting community back in Community College."
For additional information about the programs, go to www.ivytech.edu/precision-agriculture.