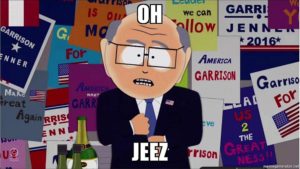 Without getting too far into the weeds, I think it's safe to say that today America feels more divided than ever before (keep in mind I'm an Eighties Baby – so I regrettably missed out on the 1960's).
Our favorite professional and college teams divide us. The brand of phone we use, weird Pepsi commercials, the brands of beer we drink — same thing. And who our favorite pro football team should draft in the upcoming NFL Draft is REALLY dividing some of us (no names please).
When there's nothing else to hold our ever-fleeting attention spans any longer, we bow our heads and use our shiny mobile smartphone internet devices to bicker over nonsense with high school classmates we haven't seen in decades on Facebook, and with complete strangers in the comments sections of articles written by complete strangers, about people that are pretty much complete strangers. Major network news programming is trending rather annoyingly to a format where the host throws out a story and then a panel of talking heads (again, mostly strangers) argue and argue and…argue some more.
From what I understand, this is what gets ratings nowadays (INSERT Grouchy old man shouting "Get Off My Lawn!" meme here).
And through it all, it's about as rare as a sunflower in the desert when anyone capitulates to the other side.
So, allow me to take a moment to defy some social norms on a sunny Midwestern spring morning.
It's no secret I've been pretty hard on our nearing-100-days-in-office President. Frankly, I've been pretty underwhelmed with this so-called progress we keep hearing about from his press corps.
Nevertheless, I must humbly thank President Donald J. Trump after the signing of his Executive Order "Promoting Agriculture and Rural Prosperity in America" on Tuesday night.
In a nut shell, the order instructs freshly-confirmed Secretary of Agriculture Sonny Perdue to establish and chair an "Interagency Task Force on Agriculture and Rural Prosperity."
Perdue's Task Force is then tasked to "identify legislative, regulatory, and policy changes to promote in rural America agriculture, economic development, job growth, infrastructure improvements, technological innovation, energy security, and quality of life…"
And then, you'll have to make sure you don't miss it, but right near the top of a rather long list of actions Trump wants the Task Force to focus on (or they are ALL FIRED), is this little passage:
"…advance the adoption of innovations and technology for agricultural production and long-term, sustainable rural development."
Now, this Executive Order is just that — an order. It's not binding law of the land. It's probably not going to have an immediate impact on our industry. I'm not even entirely sure how the Task Force will endeavor to increase the adoption of precision technology among farmers (do they even realize what a difficult undertaking that is?), especially with commodity prices in the dumps and trade issues with some of our best customers making any near-term leap to across the board profitability seem unlikely. Will it be government incentives in the coming Farm Bill for growers that purchase and implement precision technology that also helps keep fertilizer out of waterways? Tax rebates for tech adopters? Or perhaps this administration will increase government funding of R&D so that our industry can finally find that magic precision technology bullet we've all been lusting after for all these years?
Those answers I don't have, but it should be one hell of a ride watching it all play out in the next four years. President Trump campaigned on promises of a strong, pro-business operating climate here in the states, and if he can deliver on that promise for our industry in particular, we will readily set aside our political differences for a second and give praise where praise is due.
So, this may turn out to be a one-time thing, who knows, but on behalf of Ag Tech (not sure I'm qualified to speak on behalf of Ag Tech, but I'll take the shot anyway): Thanks for the love, President Trump.
…(Now, how about those tax returns?) 🙂