Agritechnica 2017: 5 Quick Takeaways from World's Top Farm Show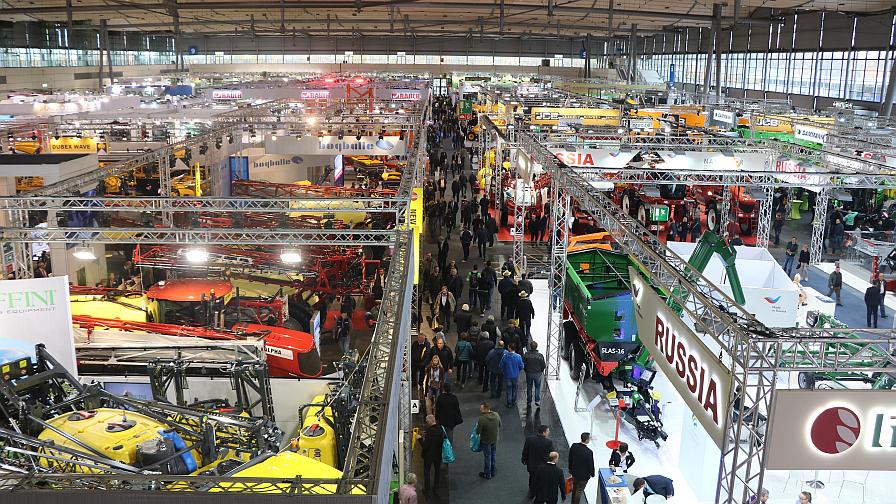 Agritechnica 2017 wrapped up this past weekend, and now with the show in the books and a few days to think about/process everything seen and heard in Hannover, Germany last week, I have but one overriding thought to offer: "WHEW!"
My journey to Agritechnica 2017 was an eye-opening, perspective-changing, hopefully-not-once-in-a-lifetime opportunity, and I'd encourage anyone that's ever expressed an interest in attending the show to, in the iconic words of Nike founder Phil Knight, Just Do It.
Now, without any further ado, I present five observations from my time in Hannover amidst over half a million visitors from across the globe and 2,900 exhibitors from some 52 countries. Keep in mind that over the coming days and weeks we'll be sorting through all of the press packets and interviews to bring you even more insights from the Big Show, but this is just an initial, 30,000 feet snapshot of what's been keeping the wheels moving in this author's mind since landing back in the States.
So, please enjoy these scorching #HotTakes for what they are, and stay tuned for more (perhaps slightly less-hot) takes!
MORE BY MATTHEW J. GRASSI
Drones | UAVs
May 21, 2019
Drones | UAVs
May 6, 2019
Drones | UAVs
May 2, 2019
Robotics – they might be concept now, but they're coming…: There's that saying, everything that is popular in Europe takes about five years to become a trend here in the states. Yeah, that saying is probably pretty accurate here, although some of the crazy advanced robot systems on display at Agritechnica seem more like 10 or even 20 years out. Fendt/AGCO's Project MARS small footprint, interconnected, swarm-able field bots got a lot of play at the show, capturing a silver medal in the Innovation Award category for this year, but there were also interesting "concept" robots like Flourish, a massive automated crop scout/plant specific weed removal robot/UAV mashup that leverages ag drones in a manner unlike anything this author has ever witnessed before, and JATI, which takes the Blue River "Sense & Spray" concept to a whole another level by replacing the crop protection nozzles with high-intensity laser beams that vaporize weeds when they are very tiny. I believe it was Austin Powers' nemesis Doctor Evil who requested "sharks with frickin' laser beams on their heads" back in the 90s, not sure he ever thought about sprayers with frickin laser beams! Some "evil genius" that dude was!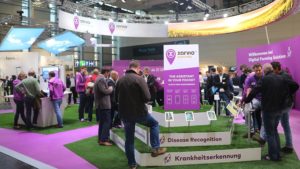 Europe Entering What One Farmer Called the 'Era of the Advisor': One area that Europe is actually following on the U.S. and Canada's heals remains its farmers growing embrace of ag service professionals, something we've (*cough *cough) been advocating stateside for years now. There are also some companies with intriguing offerings coming online that could eventually disrupt the ag service provider in Europe, such as xarvio with its free smartphone-based agronomic scouting tool, as well as Climate Corps. announced foray into the European market. The xarvio scouting app looks especially intriguing in that it is free and provides real-time crop diagnosis information in the time it takes to shoot and submit a picture from your mobile phone. It also bears noting that the digital farming portfolio the recently-acquired-by-Bayer company is putting together looks VERY promising with Bosch's Smart Spraying tech, Planet Lab's high frequency satellite imagery, and its proprietary Field Manager FMIS app rounding out an impressive initial digital offering. Although at the moment specific crop protection product recommendations aren't being made via xarvio, anyone that's been in this business for any amount of time can see the writing on the wall. xarvio representatives on hand in Hannover were vague on when xarvio will make it's North American debut, saying a U.S. release won't be happening until mid-2018 at the earliest. Is xarvio singlehandedly going to take over the world of Ag Tech, one farmer-submitted smartphone image at a time? And when Bayer brings its shiny new toy stateside, how will it play with already established domestic players like Climate and Farmers Edge, or even the independent agronomist making a living identifying and troubleshooting the very problems xarvio is looking to automate? I unfortunately don't know the answer to these questions (*DUCKS), but it's going to be damn fun to watch it all play out…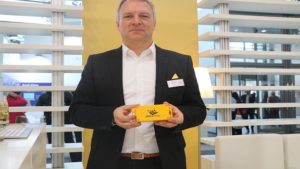 An ISOBUS Driven World: A lot of solutions around ISOBUS were presented at the show, such as German FMIS outfit 365FarmNet.com's new dongle, which is similar to the Farmobile PUC in that it allows various different data sources from mixed-fleets to be collected, normalized and analyzed within the 365FarmNet system. 365FarmNet.com had a busy week, also announcing adoption of the AgGateway ADAPT data standard, as well as cross-compliance reporting with YARA, both of which will help its users streamline the documentation/track and trace processes becoming more and more implicit in producing edible crops for human consumption in 2018. After taking all of this into account, it's clear that how European ag tech outfits and equipment manufacturers have embraced the ISOBUS standard has significantly accelerated the adoption and ease-of-use in using spatial data analysis tools across the pond. Perhaps soon President Trump can tweet out some encouragement for our U.S. brethren to just get it over with and fully embrace ISOBUS standards at the OEM level? SAD!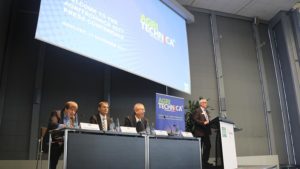 Adoption Driven Bottom Up in Europe: Unlike here in the states, where the threat of not having enough production data to appease the holder of your grain marketing contract is often enough to scare data-wary growers into adopting whatever technology is needed to capture and collect the required data layers, I was surprised to learn that the major food processors (think the Cargills and Walmarts and General Mills of the world) in Europe and other parts of the world aren't a part of the process yet in driving ag tech adoption rates. Indeed, in such a hyper-competitive market, it is return-on-investment at the grower level, as well as just a need to be as efficient as humanly possible at all times in order to stay sustainable, that drives ag tech adoption in Europe. And, according to survey results disseminated among the ag media by conference organizer DLG, those looking to market ag tech solutions to European growers should have a healthy outlook going into 2018 as DLG reports that between 35-50% of farmers are open to ag tech investment in the next 12 months, and two-thirds of European farmers see ag tech investment as an opportunity, versus the one-third that see it as a risk.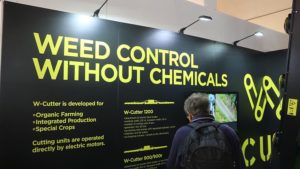 Non-Chemical Weed Control Technologies Are Pretty Sweet: With all the challenges the industry faces in finding new chemical weed control solutions, it's pretty refreshing to see some companies really thinking outside of the box on how we can leverage advanced technologies like sensors and edge computing to help farmers reduce their reliance on pesticides while still maintaining weed free fields. I think this summer's dicamba disaster in the Mid-South clearly demonstrates a need in the coming future for alternatives to intensive herbicide application, just like we've evolved from broadcast fertilizer application to more site-specific, variable rating of crop nutrients. Sure, right this minute it's a lot of pie in the sky stuff, but if things like Bosch's Smart Spray sensor-based application system (eerily similar to Blue River's See & Spray), or the crazy German-engineered field work rig in the Innovations area that variable-applies a mechanical hoe in-furrow while also variable spraying herbicide between the rows, all based on real-time weed sensing information driven by machine learning, become common place, I'd argue it's a better story for those of us in production agriculture, as well as concerned consumers.