AGCO 2017 Crop Tour Highlights Precision Planting Integration, Other Insights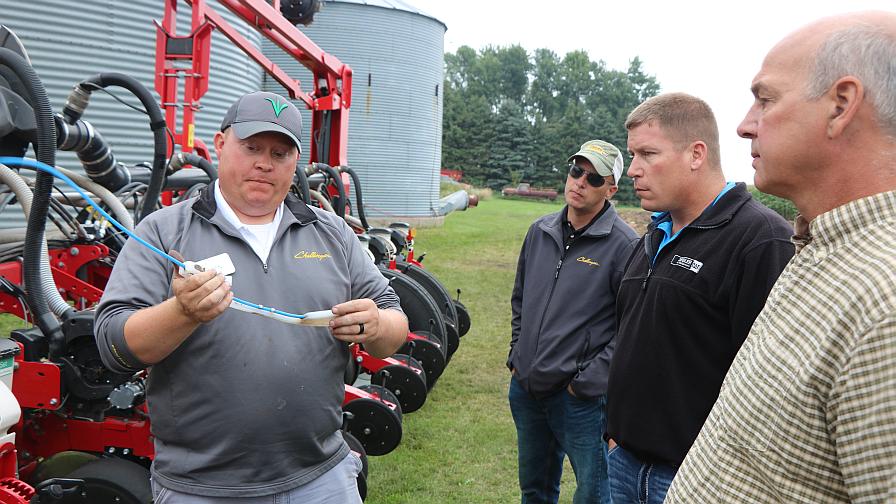 Last week AGCO hosted the Minnesota leg of its second annual summer U.S. Corn Belt Crop Tour at Nelson Farm, a corn and soybean operation on the outskirts of Hanska, MN, which is about an hour southeast of the Twin Cities.
Having been in attendance at InfoAg just a few weeks prior as AGCO triumphantly announced its Hail Mary acquisition of industry darling Precision Planting — along with all the awesome planter tech that accompanies the Tremont, IL-based ag tech outfit as it moves into the AGCO family — a company that perhaps wasn't quite so sure of its long-term future in an incredibly competitive and shrinking large ag equipment market seemed, well, it seemed pretty damn excited about what the future now holds.
"You get one chance a year to plant that seed at the exact right depth, the exact right spacing, the right moisture and at the right time, to give that seed the best chance it has to grow up to be the biggest and most productive corn plant possible," AGCO's Ash Ault, Field Marketing Manager and an Illinois farm kid, shared with the assembled group of local growers.
"What we're really excited about," he continued, "is the AGCO 9800 White Planter VE series with Precision Planting takes care of that. It minimizes all those risks to make sure that seed is exactly where it needs to be at the right time."
MORE BY MATTHEW J. GRASSI
In-Field Technologies
July 16, 2019
Market Intelligence
June 1, 2019
Drones | UAVs
May 21, 2019
Having conducted year-long, on-farm trials of its AGCO equipment alongside some of Precision Planting's most noteworthy aftermarket add-ons, such as SpeedTube, DeltaForce, the 20/20 SeedSense monitor, and so on, the day focused primarily on how the AGCO-Precision Planting duo can help growers maximize their success in four agronomic subject areas: seed singulation and spacing, depth control, and planter down force.
Additionally, the AGCO team that developed and executed the on-farm trials wanted to demonstrate the company's commitment to four industry trends:
Minimizing Mechanical Losses – getting the equipment optimized and efficient.
Minimizing Nutrient Losses – applying nutrients in an efficient and sustainable way.
Adapting to Weather Conditions – changing how we do things agronomically based on Mother Nature.
Maximizing ROI for Growers – truly the end-all-be-all for agronomic service providers; find that grower ROI and your ROI will likely grow, too.
So, now that I've set the setting for you, I'll get right into a few of my thoughts from the event:
Follow the Leader
Having witnessed firsthand the growing acceptance of equipment manufacturers getting into agronomics back in December when Rick Welder and I pointed the rental car north to visit with Grand Rapid, MI, area retailer Green Valley to learn how it was working with local Deere dealer GreenMark Equipment, it doesn't surprise me at all that AGCO is displaying a budding interest in helping deliver agronomic information to its customers. Now, AGCO senior marketing specialist Ken Wagenbach told me at the Crop Tour that the company has "absolutely no intentions" of getting into individual product recommendations, so rest assured there, for now. Still, it begs the question of just how long these big, multi-faceted equipment companies plan to sit on the sidelines and refrain from making a play on the agronomic playing time that ag retailers and service providers are currently gobbling up with growers, a new market force that we've heard from others (mainly, those aligned with the equipment manufacturers) is coming whether our CropLife 100 folks like it or not. Buckle up, agronomic service providers, and get ready to do battle for those acres someday in the perhaps-not-so-distant future with BIG EQUIPMENT.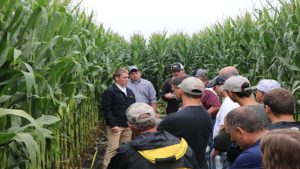 Opening Up The Openness
It was somewhat surprising, however, to learn that AGCO had chosen two independent ag tech companies – both of whom this author staunchly believes are doing some great work in the industry currently – to ground-truth at Nelson Farm for the 2017 season.
Overland, KS-based data telematics startup Farmobile, and Mankato, MN weather and data analytics outfit Aglytix, were the two companies chosen, and from all accounts both products performed up to expectations for the AGCO group. The Farmobile PUC was used for real-time telemetry and planting data visualization, as well as collecting normalized data (Farmobile's EFR) across a mixed fleet, while Aglytix was deployed to generate insights around early season stand counts and weather data for basing nutrient application.
"We can track where the machine is, what it's doing, and things like that," Ault shares of Farmobile. "There's a lot of good data we have there that proves planting faster in certain scenarios can provide as good or better-than singulation, spacing, and downforce, and provide more efficiencies to get the crop in the ground in those tight planting windows."
"With Aglytix," he continues. "Looking at weather data, climate data, and mashing it all together in the computer to figure out what's happening real time, just gives you more data and more innovation."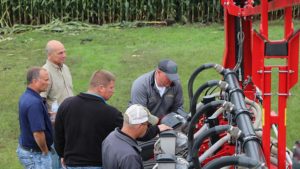 Local Touch
One of my favorite aspects of these regional crop tour events is the chance to meet some of the local, independent retailers and crop advisors that we'd perhaps not have the chance to meet anywhere else.
At this event, that turned out to be United Farmers Cooperative (Winthrop, MN) Master Field Sales Agronomist Jesse Wiant, CCA. My first question for Wiant was the level of precision adoption growers in his territory, which apparently is pretty damn high.
"Maybe upwards of about 80% of our growers are doing something – whether it's variable rate seeding, variable rate fertilizer, or using some of the newer technologies like drone imagery or satellite imagery," he guessed. "Either way, it's a pretty high adoption rate."
United Insight is United Farmers Cooperative's branded, in-house precision ag program. I asked Wiant what services offered through that program had really been taking off with growers adoption-wise.
"Variable rate seeding has probably been the biggest thing," he shared. "Most of our growers have been doing variable rate fertilizer for a while now, and they've had the technology available on their planters but maybe didn't know how to use it, or didn't want to use it, or even some might've been a little bit scared to use it.
We're kind of pushing the borders right? Trying to get them uncomfortable, try something new. You've already got the tech so why not use it.
"There's a little bit of buzz around the drones – but no pun intended there I guess – we're still in that process of, ok, we've got these images, now how do we use them? We still don't fully understand how to use them, where with variable rate seeding it's a little bit easier to walk a grower through that."
Lastly, being a large independent cooperative in the era of consolidation, I wondered how that whole deal has been playing out in the Land of a Thousand Lakes.
"We're seeing it (increased consolidation) at the retail level, and even to the grower level, to a point," Wiant says. "I think it does affect us, luckily we're at a situation now where we've got a strong balance sheet and we can kind of fight off some of the buzz in the neighborhood, I guess you could call it. And again, that goes back to the value that the cooperative or ag retailer can actually bring to that grower. From a manufacturer standpoint, I think there will be some changes at the basic level that we can't do anything about, but it's going to be about how do we sell through that? How do we learn with them, through these new ventures, to try to continue to be that trusted advisor on the farm?"