Netafim PDMI System Slated For Great Plains Debut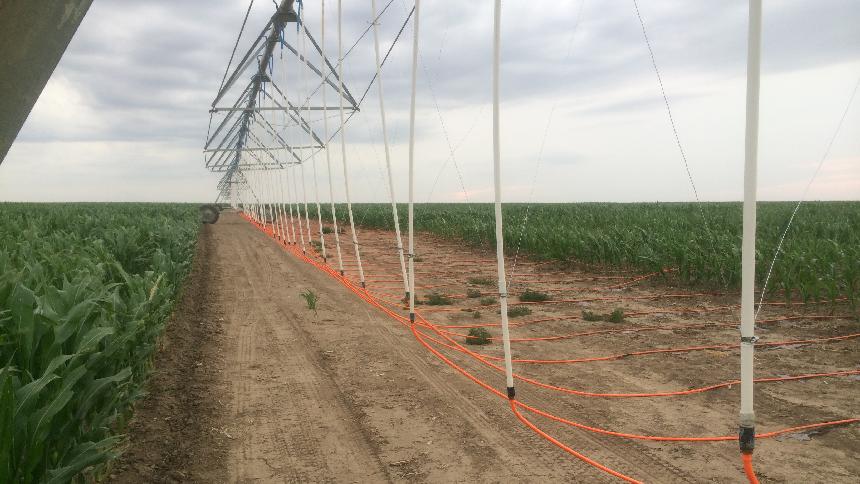 In a major step forward for growers in the water-stressed Great Plains, Netafim USA has joined efforts with Teeter Irrigation, Inc. to provide Western Kansas and Eastern Colorado growers with access to the groundbreaking Precision Mobile Drip Irrigation (PMDI) technology, according to a recent Business Wire news release.
Melding the benefits of a center pivot irrigation system with the unmatched water-efficiency and uniformity of Netafim's drip irrigation technology, the PMDI system provides growers with a water-efficient irrigation solution for existing and new center pivot applications. In addition to holding exclusive distribution rights in western Kansas and eastern Colorado, Teeter Irrigation, with its WISH group affiliates, will offer the patented PMDI process and technology to growers nationwide as part of their Dragon-Line system offering.
Netafim USA national sales and marketing director Ze'ev Barylka says the number one benefit of adopting the PDMI technology (opposed to traditional center pivot irrigation) is the uniformity of application in water deficit conditions.
"With this system you get 99% uniformity of application, at any flow rate," he says during a phone interview. "This simply cannot be accomplished with sprinklers."
MORE BY MATTHEW J. GRASSI
Market Intelligence
June 1, 2019
Drones | UAVs
May 21, 2019
Drones | UAVs
May 6, 2019
Transforming the landscape of center pivot irrigation, the PMDI solution consists of Netafim's industry leading DripNet PC dripline pulled through the field by a center pivot or linear move irrigation system. As the driplines are pulled behind the system, the integrated emitters deliver a uniform water pattern across the full length of the irrigated area. Because the driplines deliver water directly to the soil surface, evaporation and wind drift are virtually eliminated, allowing for more water to reach the soil surface and deeper percolation to the plant's root zone.
Barylka cites a recent trial on the PMDI system undertaken at Colorado State University that found the system can deliver the same amount of yield as a crop grown with pivot irrigation using 30% less water."
"The great news is that you don't have to replace the entire pivot to get that 30% water savings, just the sprinkler package," he adds. "Our top priority for this product is around the Ogallala Aquifer because of the scarcity of water and the large practice of using center pivots throughout that region."
Additionally, an independent, proprietary study shows a 16% yield increase (plus the 30% savings on water usage) when using the PDMI tech in a liquid fertilizer application situation.
"The overall point here is that this is an extremely flexible and adaptable technology," Barylka says. "Tell me how many GPM (Gallons per minute) you have, and we will provide the system that makes sense for your well and achieves full uniformity. Uniformity equals increased yields."
For Ze'ev and his colleagues at Netafim, the PDMI system represents a changing of the guard in precision irrigation for row crop production.
"We thought 'revolution is fun, but lets talk evolution,'" he says. "The evolution from center pivot to PMDI, it's just a natural fit. Sub-surface drip irrigation provides better yields, the best savings and its a better long term decision. But a lot of people don't want to jump right away into a long-term commitment. With this PMDI system it's a short-term, low cost investment, and you still get a tremendous amount of water savings – which is the number one goal of every water district in Kansas and Nebraska."
The rest of the press release
"Recent trials have shown that a PMDI system such as our Dragon-Line system is capable of boosting yields substantially, while using significantly less water than is typically applied by a conventional center pivot system," said Monty Teeter, CEO of Teeter Irrigation. "It is a remarkable technology that allows growers to precisely match the application of water and nutrients with soil intake. It keeps water off of leaves and stalks, delivering it directly to the surface where it can be banked in the soil before it is lost to evaporation. Furthermore, because the water is applied behind the center pivot wheels, growers are able to eliminate deep wheel tracks and soil compaction that occurs with a traditional pivot system."
Originally patented by T-L Irrigation Company, Netafim is the exclusive provider of drip irrigation technology for the PMDI system, and holds the North American rights to commercialize the system as part of its comprehensive drip irrigation system offering. Dragon-Line is a trademarked term for a system developed by Teeter Irrigation that utilizes the patented PMDI process and technology.
More information on the PMDI process and technology is available by visiting www.netafimusa.com or www.dragonline.net