SLANTRANGE Announces 3p Multispectral Drone Sensor
SLANTRANGE, Inc., announced today the release of their new 3p multispectral sensor system for agriculture drones. The 3p is built on Qualcomm Snapdragon Flight technology, an integrated suite of hardware and software designed for advanced drone and IoT applications, which provides the 3p with the most powerful on-board processing power in the industry.
"The 3p provides powerful new on-board analytics," said Michael Ritter, CEO of SLANTRANGE, "and the Snapdragon is the ideal platform to provide the processing horsepower required to enable this capability."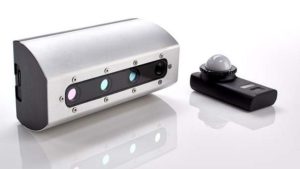 The 3p harnesses the power of the Snapdragon processor to provide quantitative metrics about the status, health, and yield potential of crops immediately after a drone flight, enabling growers, agronomists, and drone service providers to scale their operations anywhere in the world, with no dependence on high-bandwidth network infrastructure or high-end computing power. The 3p also incorporates SLANTRANGE's patented technique for delivering accurate crop measurements under changing sunlight conditions, a critical prerequisite for trend analysis and yield forecasting.
The 3p continues to build on the power of SlantView, the in-field software analytics solution developed by SLANTRANGE, which will soon be available with a variety of flexible processing options meet the needs of all users, from academic researchers to global enterprise customers to the smallest of farmers.
MORE BY MATTHEW J. GRASSI
Vision Conference
December 9, 2019
Drones | UAVs
November 6, 2019
In-Field Technologies
July 16, 2019
"The 3p is the first platform to push aerial imaging analytics directly to the farm, so the value of aerial crop measurement can truly benefit all of the world's farming acres, not just the small fraction of acres with high-bandwidth network access," said Ritter. "The 3p is the most efficient and effective collection and analytics solution for the agriculture drone market and provides a scalable platform for growth and expansion to address the massive market for aerial agricultural imaging."
The 3p will be on display and available for demos at the Commodity Classic tradeshow in San Antonio, TX, from March 2 to March 4, Booth 1927. The 3p will be available through the SLANTRANGE online store or from any of SLANTRANGE's global distributors.