2019 State of the Industry: Aerial Imagery Market Evolving, Embracing Efficiencies
Like the flying objects that convey its precious sensing payloads, the aerial imagery industry in ag is as fast moving, at times, as it is downright bewildering.
Initially regarded by most as three separate and mutually exclusive acquisition methods — satellites, fixed-wing aircraft flights, and drones — experts are now in near-unanimous agreement that the three separate classes of imagery should and eventually will play a complementary role alongside each other. Think starting off with a satellite image, seeing something that needs further exploration, then ordering up a fixed-wing or drone fly-over for a higher-resolution or multi-spectral shot of the problem. Perhaps you can manage and problem solve without even stepping foot into that field.
If there's not value in that for you, then I don't know where you are going to find it. But any ways …
What else is new in imagery? Higher spectral resolutions than ever before (Israeli firm Taranis made its U.S. market debut via resolutions 1,400 times greater than former startup Mavrx' UHR imagery), increased acquisition frequency (Planet Labs and Airbus are seemingly leading the way here), and exciting new analytics and real-time processing engines to derive insights from the data in mere seconds post-flight. Maybe ag service providers haven't re-invented the wheel just yet as far as deriving revenue from pixels, but as technology and capabilities continue to advance, imagery seems to have a pretty darn high ceiling as far as its potential in farming.
MORE BY MATTHEW J. GRASSI
Vision Conference
December 9, 2019
Drones | UAVs
November 6, 2019
In-Field Technologies
July 16, 2019
For this feature, we tapped many of our industry contacts to give us a snapshot of what they are seeing in aerial imagery right now. From fixed-wing (GeoG2) to drone (AeroVironment & senseFly) to longtime satellite proponents SatShot, we wanted to capture as well-rounded a representation of the space and its various players as possible.
Satellites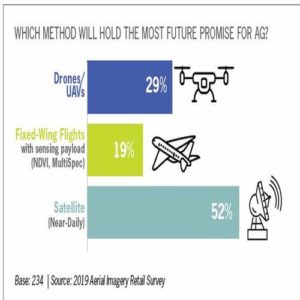 Satshot's Nathan Faleide, the CEO and son of company President Lanny Faleide, argues that imagery in agriculture is going through a bit of a transformative phase currently, with seemingly all corners of the industry angling for a piece of the pie. If you follow our sister site, PrecisionAg.com, you know the younger Faleide has been quite prolific as a contributing writer on the site, dispensing hot takes like the satellites SatShot tasks spit out data.
"There seems to still be a lot of confusion surrounding how imagery can help and how to actually use it," Faleide states. "There is also still this unfortunate competition between the various providers of imagery like with aerial (fixed wing), UAVs, or satellites. This is a major reason for confusion in the ag space, especially with retailers and trusted advisors. What everyone needs to understand is that they all can work together, and all have their various pluses and minuses, depending on the job."
Having known Faleide and his outspoken father for some time now, I've come to trust their views of the technology and makeup of the industry as grounded in reality. For years, both father and son have conveyed to me the importance of being able to pair advanced agronomic knowledge with images. Or else it's all just pretty pictures, right?
"You really need regional groups that know the agronomic issues locally," the younger Faleide argues. "Some are having success at this, but many just don't understand imagery well enough to provide something scalable that still shows legitimate ROI right away. Many (providers) are creating algorithms to decipher the data, but there are so many different micro-variables that determine different factors in a field that it's almost impossible for imagery alone to help solve and help manage everything in a field, regardless of timing or resolution."
Asked what he sees happening with the space in the near future, Faleide cautions that is a tricky proposition.
"While some will say the daily imagery or satellites like Sentinel being free changed the game, the real next big thing will have to do with processes behind the scenes that make sense of this data in a variety of different ways," he says. "No one group will take over this space, but as mentioned before, it will be done by different groups within their own sectors of ag. What really needs to happen is a way to keep each different process simple and usable in a standard form."
Fixed-Wing Flights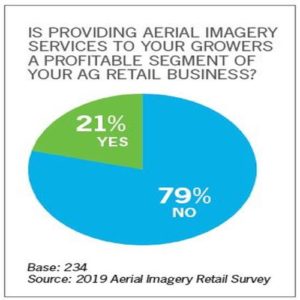 When I first began diving into this aerial imagery game in 2013, at the time a greener-than-green Assistant Editor fresh off my first media job as a Sports Editor in Northern Michigan, GeoG2 Solution's Kevin Spry was one of the first people to reach out and offer his help to a sports nut who knew next to nothing about photogrammetry.
Spry's crew operates fixed-wing flights out of Moffet Field, an old military airstrip in Santa Clara County, CA, throughout the growing season, capturing ¾-resolution multi-spec imagery across 1.5 million acres a day. Speaking with Spry recently, it sounds like GeoG2's bread-and-butter is serving up data to the large, sophisticated specialty crop growers in California's Central Valley, where Spry says it's a little bit of a different business model than providing imagery for the Midwest row crop set.
"We're still working on once-a-month delivery, and right now we're looking to bring that up to 21 days," the always-loquacious Spry admits. "Looking at the Midwest, we'd have to have a very different model there. I think you'd be looking at having to get a late April/early May image pre-plant, then as you get into June we'd probably go to a 10-to-14-day acquisition schedule. Then you get into July, and by then the cake is pretty baked, as they say, so you can go to a 21-day cycle at that point."
Spry's birds shoot what he calls "pretty simple" 8-class NDVI imagery, then individual fields are broken out and delivered to customers as shape files. He says user sophistication is currently all over the board — from those who simply use the pictures to direct weekly scouting trips, to those who incorporate the data into a full suite of analytics and digital decision-making tools.
One area that Spry says is starting to get attention in his specialty crop-intense home state is using imagery to satisfy food safety regulators' constant thirst for production data.
"Working with the food safety guys, what they want is an ultra-high-resolution image of a field. It's kind of a situational awareness thing where they want to know, 'Was there anything wrong with that field?' Maybe there was, and I didn't catch it, and it took a yield hit, those types of things. I was in the fresh produce business for 20-plus years, and we'd always run into lettuce (heads) with no legs. When you're putting lettuce in a bag and shipping it across the country, it's got to have legs. Is there a tell in the imagery to see which heads have legs and which ones don't?"
Like Faleide and most who we talked to for this feature, Spry agrees that imagery without agronomic intelligence tied in is near worthless to today's producer.
"It's like one of these VC companies telling you they can tell you when to irrigate," Spry argues. "What happens when you're wrong? Growers see that Ph.D. next to their name, and they go, 'Yeah, OK.' And once again I don't think these guys are bad guys, it's just that they came out of Stanford, I don't think they understand the liability of making a mistake in farming, I really don't."
Drones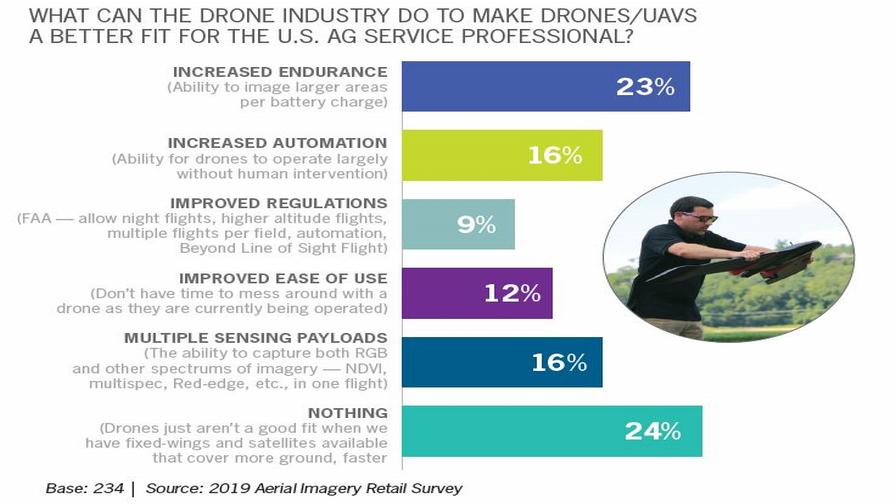 Once thought to be the end-all-be-all to remote sensing in ag, drones have gone through a sort of come-back-to-earth phase in the past couple years. Still, advances in automation and some expected easing of FAA flight restrictions here in the U.S. have shed light on how drones — when done right — can be just as passive an acquisition method as its segment brethren.
AeroVironment (AV) is a well-respected innovator in that regard, as any amateur drone pilot like myself can tell you. Its Quantix drone and AV DSS flight control and post-processing suite display a level of automation and ease-of-use not typically seen in the world of flying quads and fixed-wings.
"We really focused the whole experience around Quantix to being highly automated, and we look forward to — when FAA regulations change and evolve over the next two to three to five years — staying in touch with that regulatory framework and adding more automation as it becomes available," explains Jeff Rodrian, Director of AeroVironment's Commercial Information Solutions. "There are efforts already underway and opportunities to do more automated flights and data collection in ag, and I think over the next three-ish years as FAA streamlines drone integration, we'll see more of that open up."
Allowing more Beyond Visual Line Of Sight (BVLOS) and higher altitude operations would also help drones scale more effectively in ag, Rodrian agrees, though he notes the company is committed to safety and operating within FAA regulations until that day.
With the typical turnaround on AV DSS-processed RGB, NDVI, and GNDVI imagery hovering around 12 to 24 hours after the data has been uploaded (Quantix offers an immediate Quick-Look lower resolution post-flight view for quick decisions), Rodrian says two data layers are proving particularly useful among agronomists he's spoken with who use the drone.
"There's an Anomaly Layer, which highlights areas in a field that are performing either below or above average, giving the user the ability to really draw out the variability in individual fields," he explains. "Then we also have a Canopy Coverage map that calculates each grid in the field and how developed the canopy is."
Currently, AV DSS has data APIs with John Deere for MyJohnDeere and AgLeader for its ubiquitous SMS program.
Meanwhile, overseas competitor senseFly launched its latest version of its popular eBee fixed-wing drone, the eBee X Drone, which features less automation than the Quantix but can cover a remarkable 1,000-plus acres in a single flight.
Nathan Stein, Ag Solutions Manager for the France-based aerospace innovator, says choosing an aerial imagery solution is always a balancing act.
"Having the proper tool for the job is always a balance of functionality, efficiency, and timeliness," Stein allows. "It is undeniable to say that manned aircraft, UAS (fixed wing and multi-rotor) and satellite imagery all have their place. It's also very clear that one system cannot solve the equation totally. In fact, multiple forms are often required to deliver the best solution to the user."
Stein says he and his senseFly counterparts describe the drone workflow in ag as "Map. Scout. Act."
"By measuring crop health with calibrated maps, we know the severity and size of an issue, which prioritizes our efforts, providing efficiency," he explains. "Then, scouting is ultimately what yields the 'why of the NDVI.' When we know that we can properly react to the situation with a comprehensive solution, even utilizing the map (with great accuracy) to generate the treatment, all together these pieces provide not only savings from efficiency but also a treatment that is comprehensive and effective. This is how we make the user money."
Stein also agrees with his AV counterpart in that the drone industry needs more automation to get more professionals in ag on-board with adoption.
"What would make things more efficient is truly unmanned missions, no human required," he says. "This is undeniably efficient because it saves the operator time, but it will take a strong business case and time to build trust with the FAA. BVLOS is something we are actively working toward with every safe flight we complete in the airspace and every collaborative effort we make with the FAA. This is only a matter of time, I believe, especially given our recent advancements and record of safety."
Another area senseFly and you can bet its competitors are actively monitoring is in other spectral indexes that could have application in farming, such as LiDAR and thermal imaging.
"Thermal continues to be an area of ground-breaking research, and we are seeing service providers getting ready to offer some new solutions," Stein shares. "We saw the potential early and were the first manufacturer to bring a thermal payload for mapping to our customers. Keep watching this area, because thermal has many uses in agriculture. The area of most impact is using thermal data to monitor and determine evapotranspiration and create water prescriptions, which could have huge implications for much of the world. The other creative use includes looking at soil temperatures, which can help determine drainage as well as help create prescriptions for planting. It could also help those looking to further refine soil zones and build better recommendations."
Additionally, after posting some of the initial results of our 2019 Aerial Imagery Ag Retail Survey on the professional networking site LinkedIn, I received a request to connect from representatives of Deveron UAS, a drones-as-a-service company that is headquartered up in Toronto, Ontario.
David MacMillan is Deveron's President and CEO, and helps the outfit craft its strategies for U.S. ag adoption. I wanted to specifically get MacMillan to talk about how imagery companies are seeing more end-users add both satellite and drone imagery to their scouting workflows, whereas in the early days of imagery in ag everyone was looking at using one single method of acquisition and optimizing it.
"That is one way people are using imagery today, absolutely; satellite and drone imagery are viewed as very complinmentary, and we think it is all going to work together to drive decision making," MacMillan explains. "Satelittes, we see them as a prioritization tool. The intelligence says focus on these fields this week, then the drone can go in and give you a higher resolution snapshot of that field."
As for how Deveron sees the ag retailer, or ag service provider, fitting into the imagery/directed scouting workflow, he agrees that the agronomist of tomorrow (or perhaps tomorrow is already here, and we're talking about the agronomist of today?) will have to lead the charge in educating growers on the many ways integrating imagery can help them farm more efficiently.
"It's incumbent on service providers to educate growers on the value and ROI on using precision ag," he continues. "That's probably around 50% of the time what we're spending time doing, just educating co-ops or growers on what they are doing (with imagery) and how they can do it more efficiently. We get this question all of the time when we're out at farm shows or other industry events: 'Is imagery valuable?'
"Well, certainly from our standpoint, it is, we just have to show them how."

2018 Imagery Companies Ranked by Venture Capital Funding
Source: Finistere Ventures & The Mixing Bowl
AeroVironment (Simi Valley, CA) Market Cap $1.77B (UAVs)
PrecisionHawk (Raleigh, NC) $106.8M (UAVs)
DroneDeploy (San Francisco, CA) $56.0M (UAVs)
Satellogic (Buenos Aires, ARG) $49.0M (Satellite)
Ceres Imaging (Oakland, CA) $35.4M (Fixed Wing)
Resson (Fredericton, NB, Canada) $30.1M (Satellite & UAVs)
Taranis (Tel Aviv, Israel) $29.5M (Fixed Wing & UAVs)
Sentera (Minneapolis, MN) $27.5M (UAVs)
Prospera (Tel Aviv, Israel) $22M (Sensors & Analytics)
TerrAvion (San Leandro, CA) $13.8M (Fixed Wing)
Hangar (Austin, TX) $12.5M (UAVs)
EDITOR'S NOTE (1/10/19): For another perspective on the current state VC-funded aerial imagery providers in precision ag, check out this Q&A with Amara Kukutai of Finistere Ventures.