2018 Retail Precision Ag Programs: At-A-Glance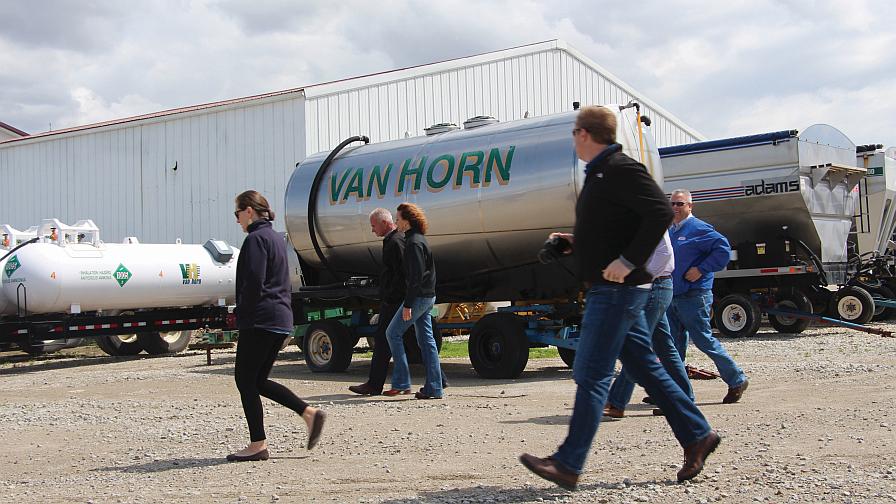 Deep in the midst of December downtime, we reached out to three retailers well-versed in running a grower-facing precision ag department and asked them to share what's worked at their outlets and with their sales teams in driving grower buy-in.
Garden City Co-op (Garden City, KS)
How is Garden City's precision ag department staffed?
"Garden City Co-op, Inc. currently has three precision agriculture specialists on staff with one acting as the department manager. The specialists provide support to the current sales agronomists involved with seed, crop protection, and crop nutrient sales within the cooperative. The precision ag team works on providing a simple ag technology solution that is both understandable and adoptable for the both the agronomist and the grower."
What equipment does Garden City primarily utilize?
"The core of our precision agriculture platform starts with Veris EC and RTK elevation mapping of fields. That data is then coupled with satellite and or yield data using FieldReveal to derive management zones for our growers. We then soil sample those management zones and build fertility recommendations for pre-plant, starter, and side-dress applications of fertilizer. Additionally, for growers interested in variable rate seeding, we can provide tailored prescriptions working with our seed specialist to meet their needs. We also offer soil moisture monitoring for irrigation scheduling."
What's your strategy for selling precision ag services to the grower?
"We network with our sales agronomist regarding precision agriculture prospects and work in conjunction with their efforts with on-farm sales calls. Most of our sales effort involves on farm calls where we try to touch the customer at least monthly on our services and follow up with additional support and questions as they utilize the tools within our program. As we service the grower with recommendations we involve the sales agronomist as much as possible for prescription writing and desired fertility equations for each individual grower."
MORE BY MATTHEW J. GRASSI
Drones | UAVs
November 6, 2019
In-Field Technologies
July 16, 2019
Market Intelligence
June 1, 2019
AgView FS (Princeton, IL)
How is AgView FS' precision ag department staffed?
"We have three people in our precision department: One: A person who sells and services aftermarket planter parts and monitors (Precision Planting and Ag Leader); Two: A person who handles all of the data from soil sampling, yield data, and creates variable rate prescriptions in addition to researching new precision ag software; Three: A person who manages our scouting and in-house soil sampling programs. Going forward, I see our scouting program shifting from a traditional "scout every field every week" type of program to a central dispatch type of program where we use technology to see where our fields are that need attention."
What equipment does AgView FS primarily utilize?
"We are a dealer for Precision Planting, Ag Leader, and Digi Farm. We primarily use FS AIS for our mapping needs, but we also utilize SMS and to a lesser extent SST Summit. We utilize telematics for wireless data transfer in our fertilizer and lime spreaders, which we utilize MyJohnDeere.com in our Deere machines and Raven Slingshot in our Ag Chem machines. Also, as an Asgrow/DeKalb dealer, we fully support the Climate FieldView platform. We also utilize imagery from Mavrx, profitability analysis through Profit Zone Manager, and scouting through ScoutPro."
What's your strategy for selling precision ag services to the grower?
Our Crops Specialists are pretty good at selling soil sampling and keeping their customer bases on four-year cycles. However, with as much as our other products and services have changed over a short period, they need some help. So we hold winter meetings where we talk to several growers at once, which does a pretty good job of selling things like our scouting programs. When it comes to selling our Precision Planting or Ag Leader products, we have our full-time sales representative contact the grower directly. This works great because our Crops Specialists can focus on selling seed, chemicals, and other inputs while we keep a foot in the door by starting and maintaining digital relationships with growers. And one new avenue we are exploring is email marketing. If we are getting more into the data space, doesn't it only make sense to communicate with growers digitally?"
Van Horn, Inc. (Cerro Gordo, IL)
How is Van Horn's precision ag department staffed?
"We currently have five employees in the Precision Department. The Lead (Trainor) sets the direction of the department through the services we offer and the products we support. We have one in sales working on with the Lead to help location managers and salesman promote the product. We also employee three support techs."
What equipment does Van Horn primarily utilize?
"A few of our many program partners are Precision Planting, 360 Yield Center, Climate Corp., and Crop Copter on the drone side. I'd say over a third of our retail equipment has variable-rate application technology on it. We are working with different equipment to collect the data necessary to build VR maps. We are using multi-year yield analaysis, combining that with soil Electro Conductivity (EC) data, and then incorporating data from the NRCS basic Surgo soil maps. There is a wide range of solutions we can use, depending on how deep the growers would like to go."
What's your strategy for selling precision ag services to the grower?
For us, the biggest part of selling continues to be education. We've got to have our sales team working with the growers to make sure they understand our program and various offerings, and can see the value we are offering them."