Why VRA Fertilizer Is Still A Tough Sell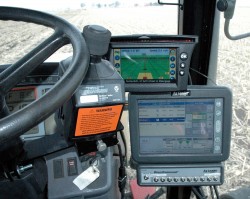 Precision agriculture was built on a foundation of variable rate application fertilizer. In the mid-1980s, early personal computer technology and radar-based GPS were employed to demonstrate the concept of map-based VRA which, while economically not viable at the time, proved it would work.
So it's a bit ironic that nearly 30 years later, the industry has not more fully embraced the technology at the farm level. That said, there are plenty of rational reasons why it's not more generally accepted among the farming community.
First off, the benefits of VRA are not enjoyed evenly across all fields. Karen Scanlon of the Conservation Technology Information Center says that return on investment from VRA phosphorus (P) and potassium (K) is easiest to demonstrate when soil variability is high.
MORE BY PAUL SCHRIMPF
Industry News
June 17, 2019
Drones | UAVs
June 10, 2019
Digital Farming
June 10, 2019
"The grower gets a higher ROI if the field contains significant high areas and low areas — that is, if there is large variability of soil types in a field," says Scanlon. "A field with fairly uniform P and K levels has less need for variable rate applications. P and K are usually not yield limiting unless there are very low areas."
A general lack of understanding, some fear and a dose of skepticism about  adopting the technology also keeps farmers away, says Brent Weisenburger, who coordinates the precision agriculture progam at cooperative South Dakota Wheat Growers.
"I feel growers have held back because they are afraid of the learning curve to get involved, says Weisenburger. "Depending on the level of service delivered by providers in the area, they may not have local expertise to even help them get going in the right direction. They may feel it's easier to fall back on traditional applications methods than dealing with all of the "technology."
Weisenburger says that about 30% of the acreage SDWG services uses VRA, and it requires superior service and a "turnkey" solution approach to entice growers to user the service.
Dave Coppess of Heartland Coop in West Des Moines, IA says that growth of VRA has been continuous but exceedingly slow — about 11% of customers are ona a four-year grids sampling program with the cooperative.
"Most of these acres are also provided with variable rate nutrient recommendations, but our goal would be to have 25% to 30% of the acres enrolled in this process."
Coppess says there's still an issue with "traditional" farmers simply not wanting to change their ways, and at the current level of profitability that exists, having conversations about changing agronomic course is a difficult. And often, the recommendations that come from a sampling and VRA plan challenge the intuition and experience of the farmer.
On the business side, Coppess says demonstrating a clear payback is a definitely a roadblock. Also, costly upgrades to application equipment may cause both farmers and retailers to balk at making a significant change.
"Equipment limitations and cost factors are certainly part of the equation," agrees Scanlon. "If a grower has to upgrade a planter or fertilizer delivery system to adopt variable rate application, cost becomes a factor."
Finally, acquiring the data layers necessary to generate a valuable VRA recommendation is also a limiting factor, adds Scanlon.