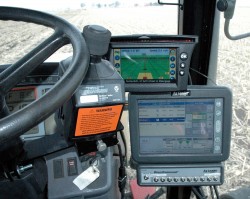 There are many factors driving increased interest in variable-rate fertilizer application (VRA) south of the Mason-Dixon Line. According to John Fulton, Auburn Univeristy associate professor and extension specialist, Biosystems Engineering, much of that amplified attention is the result of more Southeastern growers moving away from cotton to currently more-profitable grain crops.
"I think just looking at our crop diversity, there's more grain crops being grown today in the southeast, particularly corn and soybeans," says Fulton. "When you look at those crops, fertility is critical to maximize profitability. And so when we transitioned to more of those grain crops, corn being a very good example, nitrogen is a requirement. You have got to have the right amount of nitrogen for whatever yield goals that you have.
"So, all of the sudden, maybe I hadn't had to worry about nitrogen so much in some of the other crops I was growing," he continues. "But now you have to have the right nutrient package that addresses grain crops and I think the proliferation of those crops in the south has brought recognition to the fact that nutrient levels are critical."
MORE BY MATTHEW J. GRASSI
Drones | UAVs
May 6, 2019
Drones | UAVs
May 2, 2019
Drones | UAVs
April 29, 2019
Soil type variability and the size of most southern farming operations are two additional factors driving VRA adoption, according to Fulton.
"Generally speaking, what growers have found most beneficial is the ability to tailor their fertility program to better address soil type variability," he says. "We've come a long way – whether it's been 10 or 15 or 20 years we've been at this – to really allow them to focus on input stewardship.
"And when we speak about VRA fertilizer, really that's synonymous with grid or zone management," Fulton continues. "We've seen a tremendous increase of that practice here in the southeast, and particularly we're starting to see more small farmers (between 800 and 1500 acres) start to take advantage of that."
Many of these small growers have been pleasantly surprised by the results of implementing VRA in their operations, says Fulton.
"A lot of producers have been very surprised about, not only the variability that has been present in their fields that they had not known of prior, but also what the right amount of fertilizer is that they actually need to put out there," he says. "For example, traditionally you might see someone putting down what they call a maintenance blanket application of P and K and, in reality in some areas that's really been over-applied, so they've been able to back off those applications and see the savings. We want them to see VRA more as a long-term investment to maximize profitability and yield."