Raven Announces Enhancements To Product Lines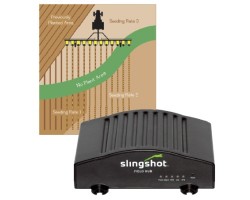 From development efforts driven by customer feedback, Raven Industries has announced important enhancements to its SmarTrax and Slingshot product lines that "will help our customers in the global marketplace we serve," said Matt Burkhart, vice president and general manager for Raven Industries Applied Technology Division.
First, SmarTrax MD is a new simple-to-install mechanical drive steering system that allows growers throughout Raven's global markets to seamlessly transfer the ability to steer automatically across their fleet of vehicles, including multiple tractors, combines, windrowers and more. Customers will also benefit from the added torque for faster operating speeds, increase accuracy, and reduced noise.  SmarTrax MD is ISOBUS compatible providing even more convenience for customers with a compatible virtual terminal already in the cab.
Second, Slingshot Online 2.0 will offer a more streamlined user experience through several enhancements to help simplify the way customers manage and share their data. These include various improvements to the Slingshot Portal, the API platform, and RTK streaming solutions; plus a Wi-Fi enabled version of the Slingshot Field Hub, which will be compatible with major cell carriers throughout global markets. The Wi-Fi Field Hub will create a hot spot, allowing up to five devices to connect at one time, and are a great fit for customers needing to utilize wireless internet on their laptop or mobile device in the field.
MORE BY MATT HOPKINS
Digital Farming
June 24, 2019
Market Intelligence
September 10, 2018
Farm to Fork
July 2, 2018
These product enhancements will be available this spring and summer of 2013. Contact a local Raven dealer for more information.