Next-Gen SeedCommand Coming This Summer
Ag Leader has announced an anticipated Summer 2016 release date for its next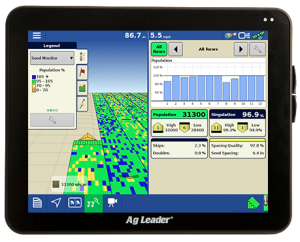 generation SeedCommand product line with new features that the company says will  enhance the functionality and productivity of planting operations for farmers.
An all-encompassing planting solution, the next generation SeedCommand products feature electric drives and individual row control for hydraulic down force, among other new tools and features. Paired with the InCommand 1200 display, growers gain added visibility into planter performance with row-by-row detail, split-screen view, and additional features.
Electric drives are in important feature of the next generation units, allowing growers to gain precise control of planter meter performance and to incorporate variable-rate planting and row shut-off. Farmers also have the ability to instantly adjust population rates and maintain consistent seed spacing despite changes in the field, changes to planter speed, or on curves and headlands, according to the company.
The electric drives are built to install on most major planter brands on the market, and the high torque, low power consumption electric drive motor isn't tied to a specific brand or type of seed meter making it flexible to work on the meter and planter a farmer already owns.
MORE BY PAUL SCHRIMPF
Industry News
June 17, 2019
Drones | UAVs
June 10, 2019
Digital Farming
June 10, 2019
Row-by-row hydraulic down force ensures the row unit is maintaining proper soil contact in every row. This results in ideal seed depth placement and uniform emergence. Row level sensing and control allows the system to monitor and respond to the down force needs of each row, in order to account for frequent variations in soil types and vehicle traffic compaction. The system also uses Ag Leader actuator technology with built-in nitrogen accumulator, which acts as a cushion to reduce stress and bounce on row units.
"The next generation of SeedCommand products is the best choice and value for the grower looking to add the newest technology to their planter," says Roger Zielke, Product Manager. "SeedCommand first perfected row clutch operation and we're excited to bring the same high quality and proven performance to the next generation of planter tools in only a way Ag Leader could."