InfoAg 2015: 5 Things I Think About The Week That Was In St. Louis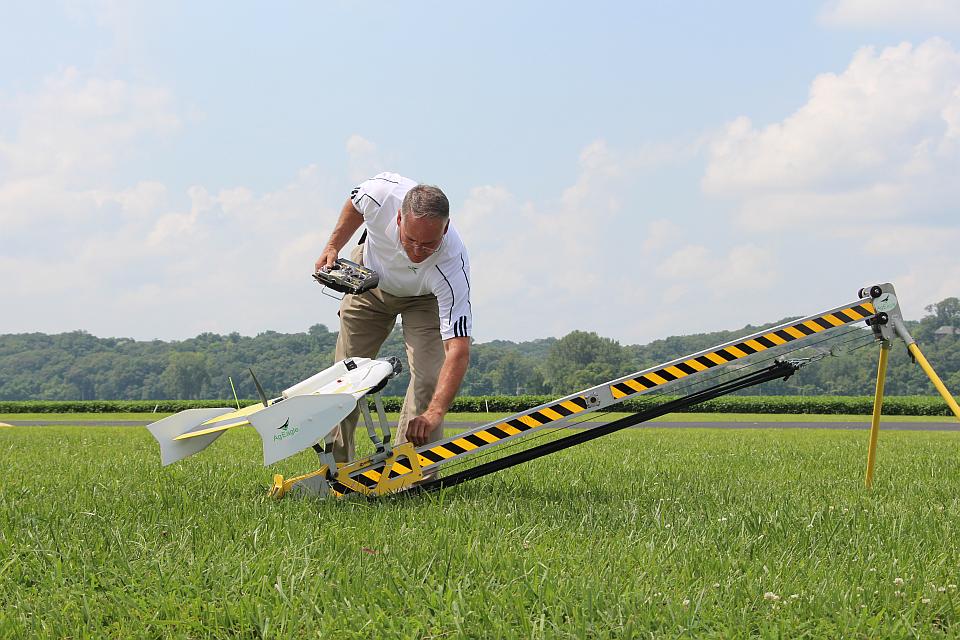 #1: UAV Quality Over Quantity
The eager hands have all been shaken and the introductions made, the drinks with colleagues sipped and the banner stands are all packed away until the next show. InfoAg 2015, occuring during a year of widespread uncertainty in just what the future holds for domestic agriculture in general, was, by all accounts, a resounding success.
The now-annual event, having taken place throughout last week at the historic Union Station Hotel in downtown St. Louis, MO, featured a literally jam-packed trade show floor (more exhibitors, same space as last year) and standing-room only educational sessions (seriously, there were people everywhere – sitting on the floor, standing in the back/in the doorway, etc.) touching on a wide variety of expert-level topics. And let us not forget about the part where the real business gets done at shows like these: the hotel bar, of which the InfoAg host hotel (in my opinion) offers one of the premier nighttime atmospheres for collaboration and networking in the business.
Let's just say a lot of good work was accomplished during the day, and a ton of fun was had by all.
With all of that being said, here are five takeaways from my week at the show:
MORE BY MATTHEW J. GRASSI
Drones | UAVs
May 6, 2019
Drones | UAVs
May 2, 2019
Drones | UAVs
April 29, 2019
#1: UAV Quality Over Quantity
I believe it was my colleague and online editor Matt Hopkins that declared InfoAg 2013 as the "Year Of The Drone" show, and he was dead-on right. There were probably between 15-20 different drone industry stakeholders at that swan song show in Springfield, IL – from the hardware manufacturers themselves to a bunch of rookie startup service providers hoping to get an early foot in the door. This year saw a significant pullback from those numbers, with Boulder, CO-based Agribotix, Kansas-based AgEagle and French aviation giant Parrot-backed SenseFly being the only UAV-specific exhibitors taking the time to trek out to St. Louis.
On the pre-show tour stop at a local RC-airplane enthusiasts club that featured its own runway, it became clear why these three companies have seemingly risen to the top. First and foremost this author, having covered the UAV industry for the last 2 years now for PrecisionAg.com, was blown away by the AgEagle and its level of sophistication and ease-of-use in autonomous, real-time flight and data collection. Owner/creator Bret Chilcott is certainly proud of his AgEagle RAPID system, and he has good reason to be. The product simply delivers on its marketing promises, and it looks damn good doing it too. Not to be outdone, Agribotix and SenseFly were also impressive during their allotted demonstration time during the tour, but I just can't get over the AgEagle and how seamlessly it operates. AgEagle is undoubtedly a company to keep an eye on going forward in the ag drone space.
#2: Making Use Of What We Already Got
Since its inception in 2006 The Precision Ag Institute and its member companies (WinField, SST, Esri, to name just a few) hold a morning roundtable each year at the show to discuss industry trends and exchange intel. This year's forum, moderated by Executive Editor Paul Schrimpf, featured a presentation from Millennium Research's Jan Johnson regarding a precision survey the outfit does each year for Institute members.
One of my big takeaways from my first time sitting in on this meeting was the conclusion from the survey data that "adopters of precision technology don't want more products and more new innovations, they want to use the technologies they have already invested in to their full capabilities." Perhaps this points to an absence of some higher level precision technology training or education that is sorely needed in the industry – another topic that came up during a brief talk on the show floor with retired-educator Terry Brase, who is consulting on a new precision agriculture-focused two-year degree curriculum. It seems that whoever can come up with a solution to fill this knowledge vacuum in the industry will be well-positioned as an industry thought-leader throughout the coming years.
#3: VRA Seeding Remains A Mythical Creature
Throughout the year we hear tons about variable-rate seeding and its theoretical standing as the "next big thing" in precision ag, and those folks aren't wrong, necessarily. However, most of my discussions at InfoAg with folks in the know regarding this promising technology indicates that the level of data required (aerial, yield and spatial data) to implement VRA seeding is still a somewhat significant barrier to adoption. A Deere rep that attended the Institute Roundtable confirmed as much, saying the transition to VRA seeding has been "a slower transition" than Deere (and probably the other equipment manufacturers too) had originally thought.
Multi-hybrid planting, however, is seeing an increase in adoption at the farm level. Growers are using historical yield map data to know where to plant "defensive" hybrids (that simply maintain yield levels in poor yielding areas) versus where to place the top-line, offensive hybrids to increase yields in the high-yielding areas of the field. It's almost like in football, you have the defensive line grunts toiling away in the trenches (defensive hybrids) while the glory boy quarterbacks and wide receivers (offensive hybrids) get all the headlines. A cool (and practical) concept.
#4: Software War Heating Up
Perhaps filling some of the booths left behind by the now-erstwhile drone companies that skipped 2015, data management outfits like AgWorks, SST, iCropTrak and others made up a large contingent of solutions focused on helping growers and professional agronomists handle the mountains of data being compiled during the season.
Specifically, AgWorks President Greg Duhachek's presentation "From Precision To Decision" urging a standardization of data collection procedures across the industry for cleaner data, struck a chord with this author. As Duhachek himself stated, if our internal processes for collecting data are not the same across the industry, how do we expect to make informed decisions based on data that isn't consistent? Then there's iCropTrak, with its new D.I.R.T (Digital Information Reporting Tool) and its 100% localized data processing power on the iPad (no Internet, WiFi, or cellular network connections needed), looking like another player that looks primed for a breakout performance in 2016.
#5: Platforms vs. Solutions
SST Software CEO Matt Waits presentation also got this author thinking, as Waits discussed what it is in his mind that defines a data platform and how to differentiate a platform from "individual solutions that talk with each other." It seems this is the direction the data management companies are all heading, with all of them hoping to arrive first and be the one that creates the first all-encompassing (agronomy, logistics, financial, inventory, equipment monitoring, etc.) platform that will unite an entire cooperative or retailer's arsenal under one software product.