Deere Launches Plethora of Precision Ag Products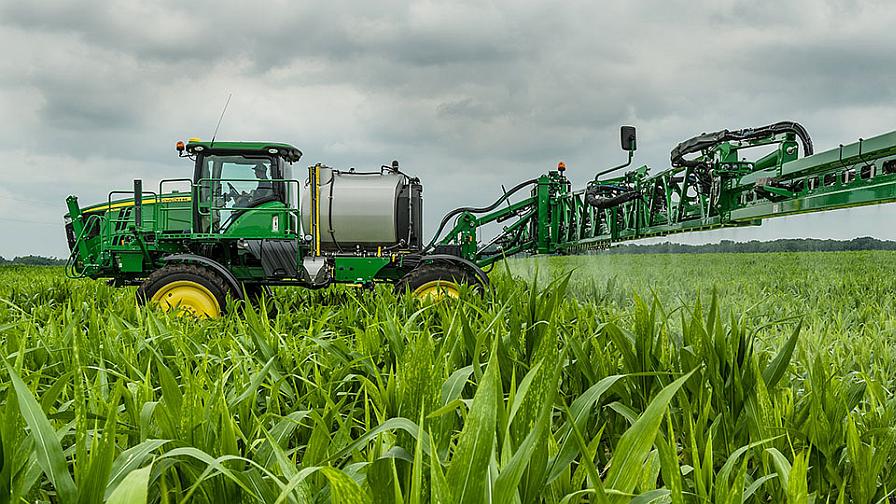 Two new row guidance products available for John Deere sprayers
Two new AutoTrac products are available to help row crop producers and ag service providers more accurately navigate row-crop fields when making postemergence sprayer applications.
AutoTrac Vision utilizes a single-lens camera to detect crop rows and help steer the sprayer down the center of the row for early postemergence applications. AutoTrac RowSense uses a row sensor similar to that used on combines to detect crop rows and steer the sprayer to the center of the row for later season post applications.
Doug Felter, product marketing manager for John Deere, says the introduction of these two new AutoTrac guidance products is designed to help large-scale row-crop producers and ag service providers work more quickly, cover more acres and reduce run-over damage to crops when spraying in the fields.
"Because of field terrain, planter drift, or irregular planting without guidance, spraying in row crops can present challenges for sprayer operators making post emerge applications," Felter explains. "These two new guidance applications help sprayers track more accurately between the rows, resulting in reduced crop damage, less operator fatigue and more effective field applications."
MORE BY MATT HOPKINS
Digital Farming
June 24, 2019
Market Intelligence
September 10, 2018
Farm to Fork
July 2, 2018
New AutoTrac Vison uses a monocular camera mounted on the front of the sprayer to detect crop rows and to steer the vehicle between the rows for early season postemerge applications. It is currently approved for use in corn, soybeans and cotton planted in 30-inch rows starting when the crop is at least 6 inches tall. It can be used until there is at least 3 inches of soil showing between rows or up to 90 percent canopy closure.
AutoTrac RowSense uses a sensor paddle mounted on the sprayer wheel to detect crop rows and to help steer the machine down the center of the row. Designed to be used later in the growing season, RowSense is currently approved for use in corn at least 4 feet tall planted in 30-inch rows.
"While these two sprayer guidance systems are completely separate and are to be used one at a time, both have performed well in a variety of field conditions and crops," Felter adds. "Both automated vehicle steering systems allow the operator to spray at faster speeds with little manual steering and cover more acres per day with less damage to crops."
Both systems are available as field-installed kits on currently operating machines or from the factory on new John Deere R4023, R4030, R4038 and R4045 Sprayers. A GS3 AutoTrac RowSense activation is required.
For more information on the new John Deere AutoTrac Vision and RowSense sprayer guidance systems for 4 Series Sprayers, contact your local John Deere dealer or visit JohnDeere.com/ag.
John Deere introduces more precision with the StarFire 6000 Receiver
Nearly 16 years ago, John Deere changed farming when it introduced the StarFire guidance system. Improvements were made in the following years with StarFire iTC and StarFire 3000 receivers. Now, the company takes satellite-based guidance to even higher levels of accuracy, repeatability and signal pull-in speed with the introduction of the StarFire 6000 receiver and SF3 signal.
According to Mike Moeller, John Deere Intelligent Solutions Group, the new StarFire 6000 receiver has been designed to give customers greater precision capabilities, accuracy and uptime. "The StarFire 6000 Receiver offers a full range of differential correction levels, from the base SF1 satellite-delivered signal to the premium RTK option," Moeller explains. "And to optimize the performance of the StarFire 6000 receiver, we're offering the all-new SF3 correction level, which delivers 40 percent greater pass-to-pass accuracy, new in-season repeatability and 66 percent faster pull-in time than the previous SF2 correction level."
With the combination of the StarFire 6000 Receiver and SF3 signal, customers can get RTK-like accuracy without having to invest in an RTK system, or if they are operating in fields without an RTK network.
"StarFire 6000 with SF3 is a great solution when RTK is not available and customers want in-season repeatable accuracy to 1.2 inches," he says. "SF3 customers can use the same guidance lines for multiple passes throughout the growing season which allows precise placement of seed and nutrients without shifting lines or remapping boundaries."
In addition to improved accuracy and repeatability, the StarFire 6000 also delivers improved uptime that keeps precision ag systems running in challenging conditions. By using the latest navigation algorithms, the StarFire 6000 can track up to three StarFire satellite signals at once, intelligently choose the one that will deliver the best performance, and automatically switch to an alternate signal to help maintain accuracy and performance if the primary signal is blocked.
An improved Rapid Recovery feature allows for a quicker return to high-accuracy performance if the GNSS signals are lost due to shading from trees, buildings or terrain. StarFire 6000 RTK customers also receive up to 14 days of RTK Extend, which allows machinery to keep operating with guidance even with a lost or interrupted signal.
In addition, the StarFire 6000 Receiver has a built-in USB port to more quickly and easily install software updates in about 3 minutes compared to more than 20 minutes with the previous receivers. The receiver also has a built-in 8GB data-logger to capture and store data for improved trouble shooting and diagnostics.
Deere has maintained its plug-and-play integration of the new receiver, making it compatible with current and former displays and other technologies that customers are using on their equipment.
"The new StarFire 6000 Receiver, paired with the new SF3 signal, make this package a real game changer in the industry," adds Moeller. "With 1.2-inch accuracy, 66 percent faster pull-in time, faster recovery from shading, and new in-season repeatability, customers will experience more precision, accuracy and uptime with this new precision technology system."
Current StarFire iTC and Starfire 3000 customers can easily upgrade to the new StarFire 6000 Receiver and SF3 signal this year. This newest guidance technology can be factory installed on Model year 2017 sprayers, combines, tractors and other platforms.
For more information on the new StarFire 6000 Receiver and SF3 signal, as well as the full line of John Deere precision guidance products, contact your local John Deere dealer.
New High Capacity Nutrient Applicator available from John Deere
To help ag service providers and large-scale producers apply fertilizer and lime to more acres per day during short, busy application seasons, John Deere introduces the F4365 High Capacity Nutrient Applicator.
This new machine offers increased capacity with a 330-cubic foot New Leader dry spinner spreader that can apply fertilizer at rates up to 1,100 lbs. per acre and lime at rates up to 6,600 lbs. per acre. Another important feature is the machine's ability to variable-rate apply up to four different products during a single pass, with spreader widths of 60 to 90 feet.
The F4365 High Capacity Nutrient Applicator is powered by a John Deere PowerTech PSS 9L engine and features an IVT transmission. These machines integrate the latest in technology, including a new Generation 4 CommandCenter Display with SpreadStar, AutoTrac, and Section Control at your fingertips.
These machines are also equipped with JDLink Connect with Service Advisor Remote and Wireless Data Transfer to connect your fleet. AgLogic is available to optimize the machine with the tendering fleet and maximize productivity. All this is designed to ensure accurate product placement and make it seamless and easy to collect and transfer important data.
"We've designed the F4365 to be the best-in-class high capacity nutrient applicator in terms of performance and productivity in the field," says Dave Mulder, product manager with John Deere Crop Care. "We've improved the overall durability, ride quality, and operation of this machine, and extended service intervals to make service and maintenance easier – all to increase uptime in the field."
In addition, John Deere has enlarged and enhanced the operator environment with a CommandView III cab, making it more comfortable and quieter for operators spending long days running over rough field conditions. Plus, the company has improved seat swivel and added cameras to give operators better visibility to the field, dry box and rear spreader pattern. These new machines have a 46 mph road transport speed and up to a 30 mph application speed, reducing the time it takes to get between fields and over fields.
"The versatility, dependability and productivity of the F4365 applicator is what sets it apart from other self-propelled applicators," Mulder adds. "Service providers and large-scale producers can cover more acres faster, and in greater comfort, with the ability to variable-rate apply up to four different fertilizers in a single pass."
For more information on the new F4365 High Capacity Nutrient Applicator, contact your local John Deere dealer.