15 Precision Agriculture Companies To Watch In 2016 (Opinion)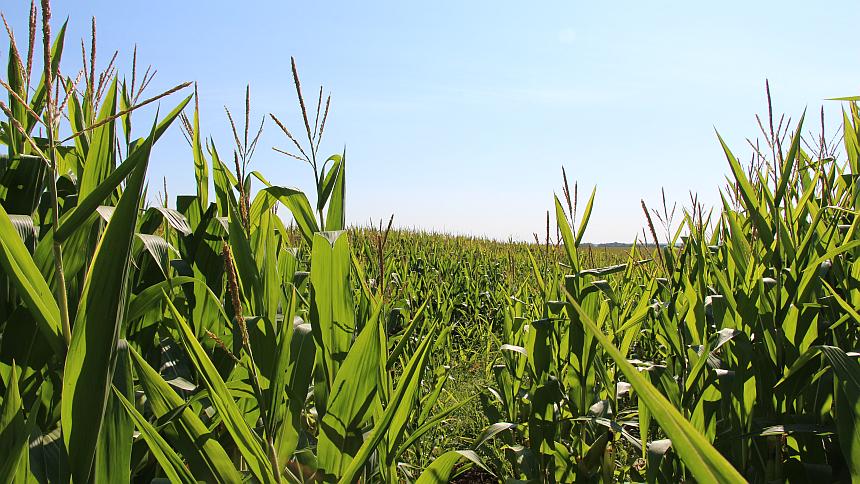 PRECISION TECHNOLOGY seems to evolve at the speed of an Olympic sprinter these days (Usain Bolt is still REALLY fast, in case anyone forgot). It seems like every other day we get word of a hot new startup out of Silicon Valley getting into the business of yield maps and variable-rate fertilizer data or some cool new product that growers "must-have" to optimize their yields and return-on-investment.
Staying on top of it all can be a bit of a pain-in-the-you-know-what. Yet, as a wise man (or woman) once said, "a smooth sea never made a skillful sailor."
With that being said, we've gone back through our notes from the past six months of travel for PrecisionAg.com and have come up with some of the top companies we feel growers and retailers need to keep tabs on going into the new year. We also solicited some help from some of our more tuned-in industry friends, who were more than happy to oblige (as long as their comments remain anonymous).
So, without further ado, here are 15 precision agriculture companies that we feel will continue to advance the cause of precision farming in the next 12 months:
MORE BY MATTHEW J. GRASSI
In-Field Technologies
July 16, 2019
Market Intelligence
June 1, 2019
Drones | UAVs
May 21, 2019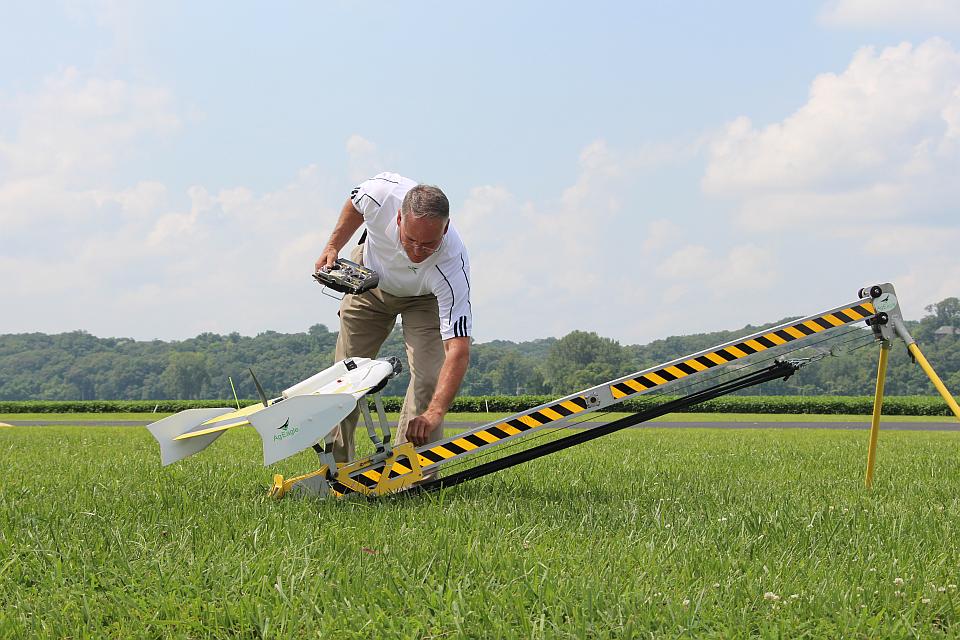 AgEagle (Neodesha, KS)
We've discussed AgEagle and founder Bret Chilcott before, so it should be no surprise to see the ag-focused drone company make the list. After witnessing the AgEagle and its newest flight control and post image processing interface, AgEagle RAPID, in action during the InfoAg 2015 pre-show tour UAV demonstration, we are firm believers that the company will be one of the winners in the race to develop and market the top drone for agriculture. AgEagle.com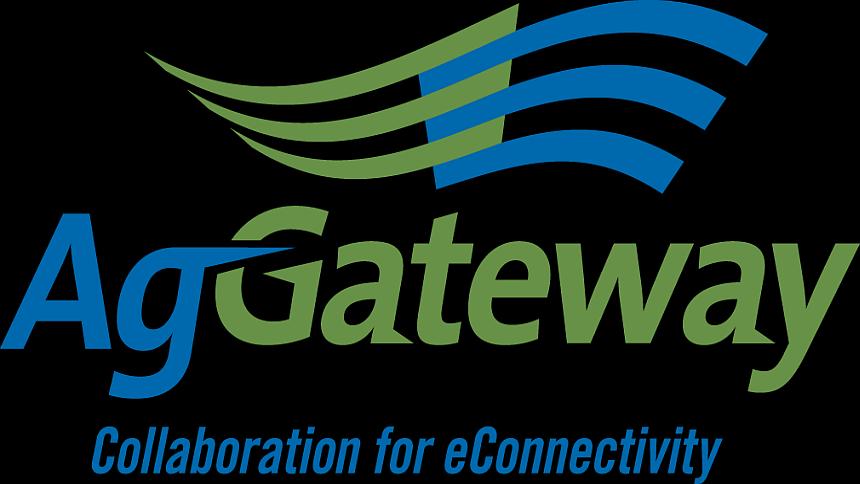 AgGateway (Washington, D.C.)
Veering off a bit from the main purpose of this list, we still felt the work the folks at AgGateway have been doing deserves recognition. For those that may not know, AgGateway is a non-profit consortium of businesses serving the agriculture industry, with the mission to promote, enable and expand eBusiness in agriculture. Keep an eye out for the results of AgGateway's Seed Connectivity SC-II and Crop Nutrient CNC-II projects over the next few months and its Standardized Precision Ag Data Exchange (SPADE) project, which is working on addressing the problem of moving data from machine systems to farm management information systems (FMIS) and to other FMIS, so the farmer and ag retailer can improve decision-making and improve productivity. AgGateway.org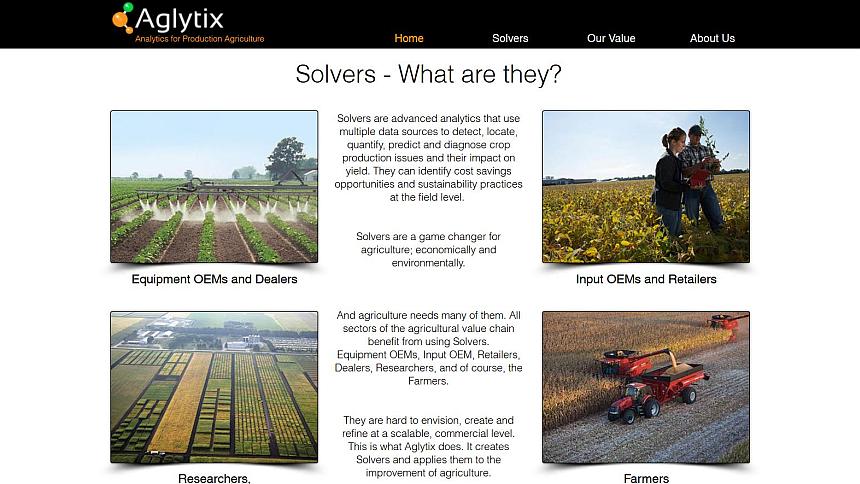 Aglytix (Mankato, MN)
Aglytix is an advanced analytics outfit out of Minnesota that advocates the use of "solvers" in agronomic data analysis. According to the company's website, Solvers are advanced analytics that use multiple data sources to detect, locate, quantify, predict and diagnose crop production issues and their impact on yield. They can identify cost savings opportunities and sustainability practices at the field level. Solvers are a game changer for agriculture; economically and environmentally. One of our industry consultants that we spoke with for this piece – who will remain anonymous – had this to say about Aglytix during the nomination process: "I think the Aglytix guys with the image solvers is something new and possibly game changing as well." Aglytix.com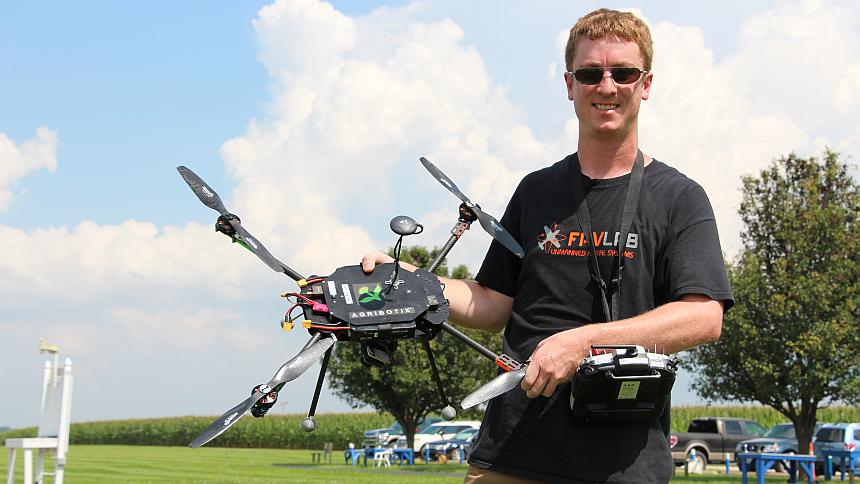 Agribotix (Boulder, CO)
Another ag-focused drone company that we've been following for some time, Agribotix is a solid outfit that continues to make waves with its unique and cost-effective "Bring Your Own Drone" approach. And the company was featured recently on the CBS Sunday Morning news program drone expose. Noteworthy new developments at Agribotix include the company's new FarmLens image processing and analytics solution and the Field Health Reports they are producing for customers using drone imagery. Agribotix also presented at InfoAg 2015 during the off-site UAV demo. Agribotix.com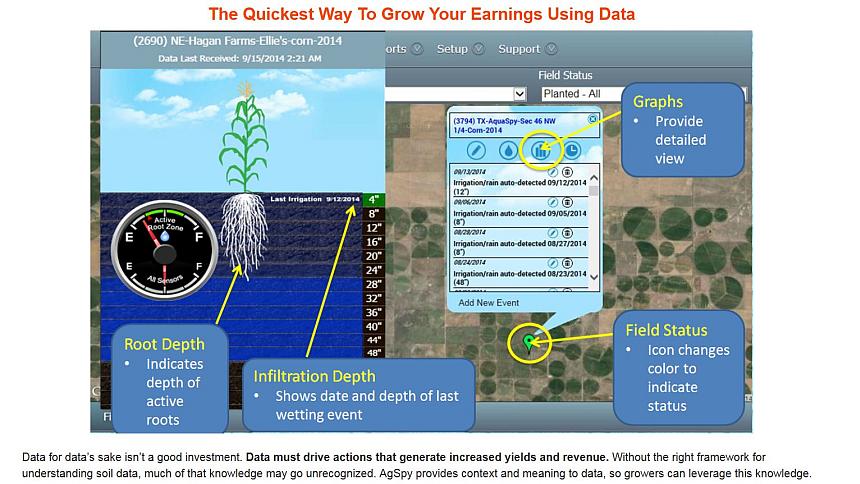 AquaSpy (San Diego, CA)
AquaSpy's Vector Probe "is the first multi-sensor probe in the world to accurately separate moisture from conductivity," according to the company. They claim the implanted soil moisture sensors communicate with plant roots every fifteen minutes, and as a subscriber growers will receive loads of data allowing them to make informed decisions, saving money and improving yields. AquaSpy also offers data and analytics processing services for the data its dual soil moisture gauges collect. AquaSpy.com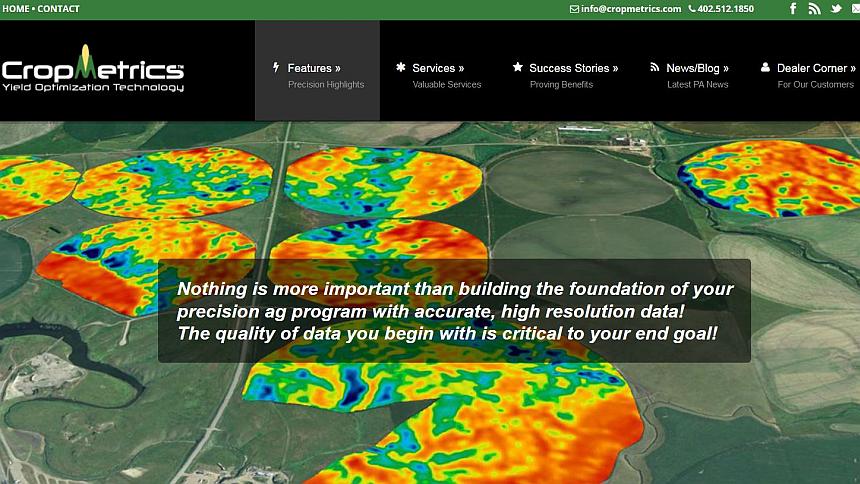 CropMetrics (North Bend, NE)
Besides its VRI Optimization, Soil Moisture Monitoring and Virtual Agronomist services, CropMetric's new Virtual Optimizer (VO) water management tool is its newest and hottest technology. According to the companies' website, the simple to use interface provides instant feedback to changing conditions and environments throughout a growing season resulting in a higher degree of value-added implementation. Season long irrigation forecasting updated with real time site specific data can be customized to fit any crop management situation. This is the first automated irrigation scheduling system that combines seamless integration of real time soil sensing technology with interactive weather forecasting and crop modeling, according to CropMetrics. And, it's currently free to sign up for a VO account. VirtualOptimizer.com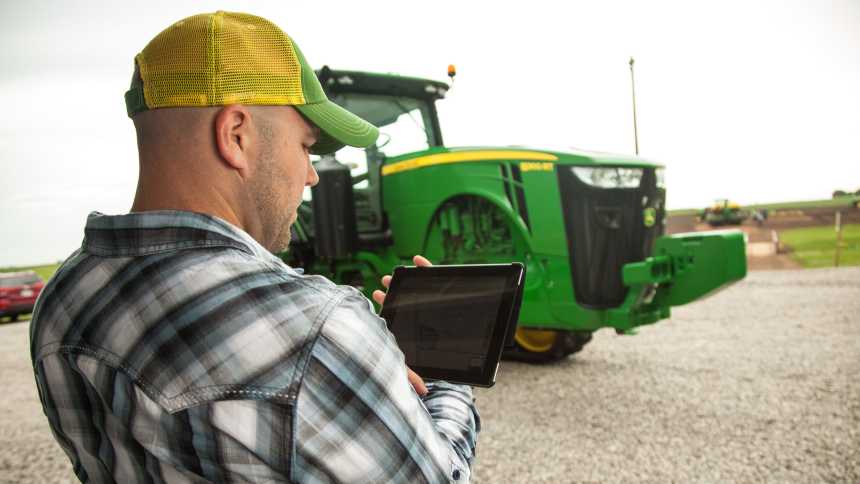 John Deere (Moline, IL)
Although the equipment giant recently announced a round of unfortunate layoffs at its Quad Cities region headquarters, nobody really expects a behemoth like Deere to stay down for too long. Our best guess is the company is just right-sizing operations and bracing for some tough times ahead in the heavy equipment sector. But don't expect them to go quiet in 2016, rather Deere will likely focus more resources on new precision agriculture technologies and increasing API connectivity between its fleet of green and yellow earth movers (recent CropLife 100 surveys have Deere's fleet at about 4% larger than nearest competitor Case IH in overall market share) and data management software in agriculture. Deere.com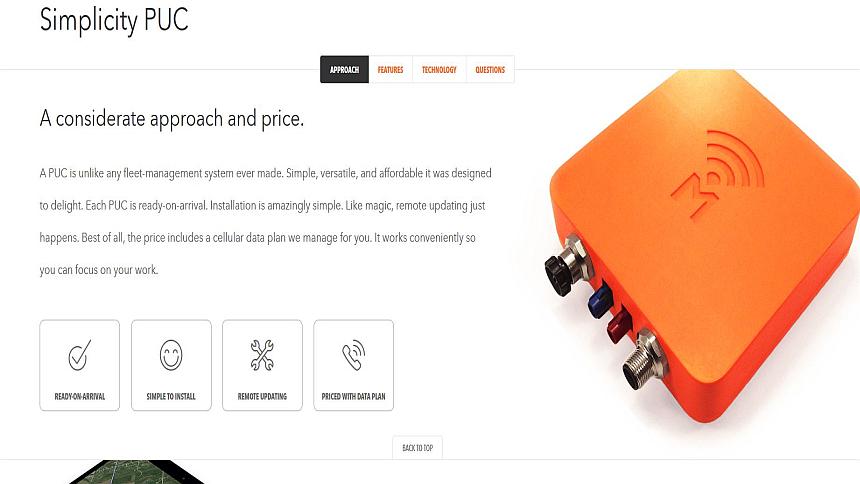 Farmobile (Overland Park, KS)
Farmobile's whole product pitch is centered around simplicity, and in an industry that seems to be in a constant data management struggle there is definite value in making things easy for the grower. With its neon-orange ISOBUS-powered PUC, data is collected – no matter the color of the fleet – and moved into a growers Electronic Farm Record (EFR), which can be analyzed and manipulated on the most-ubiquitous piece of hardware in agriculture these days: the iPad. Our anonymous consultant is intrigued: "I think Farmobile is about to wake a bunch of people up with its color independent tractor iso-bus device and web efforts. They took a different route then Monsanto (with 640 labs) and the Canadian guys." Farmobile.com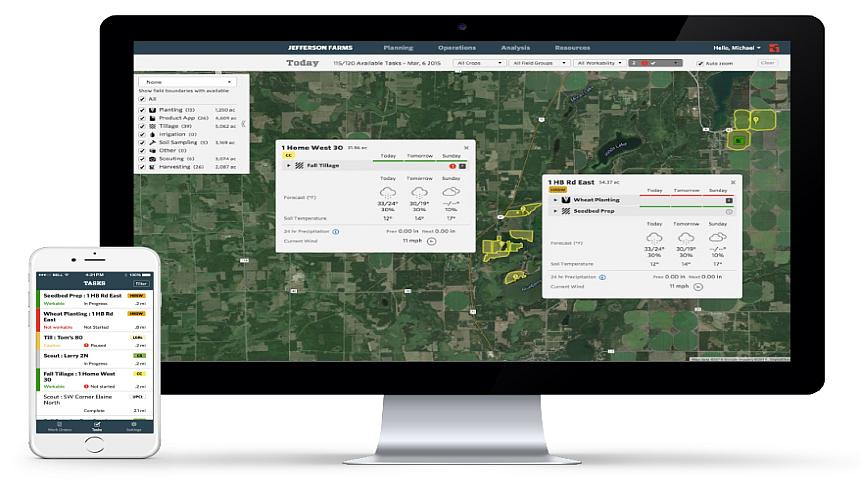 Granular (San Francisco, CA)
I stumbled across these guys back in June and got to have a phone conversation with CEO Sid Gorham, then in July I met members of the Granular team at our InfoAg 2015 show in St. Louis. Every step of the way I have been pretty impressed with its approach. Granular doesn't make any bones that it is not a traditional agriculture company ("The best software developers in the country, they're right where we are in San Francisco," Gorham told me back in June. "The best farmers in the world are of course in the Midwest. We want to connect the two and be very customer-focused in everything that we do.), so it naturally has some skeptics in the industry wondering if the company is for real, but with the right game plan and execution over the next 12 months, plus a stocked talent pool of Silicon Valley software developers, Granular has a chance to make some major noise in the Big Data game. Granular.ag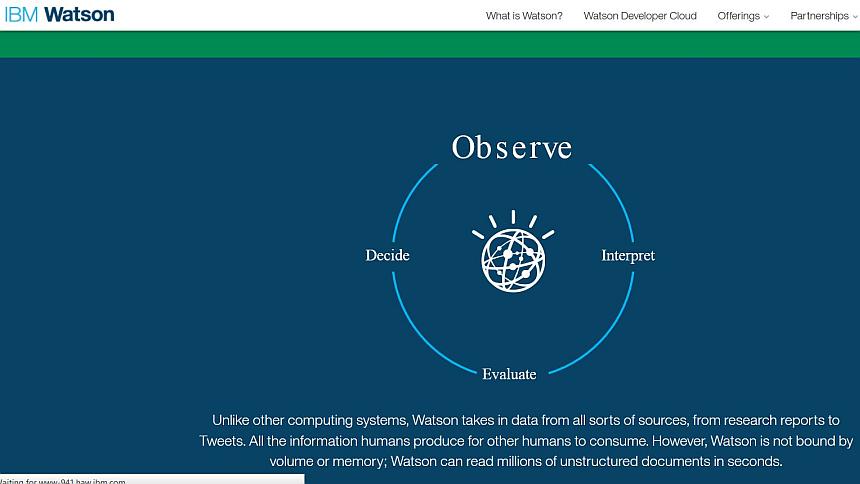 IBM Watson (Armonk, NY)
At our recent PACE meeting (a 21-year industry initiative put on by our sister publication CropLife Magazine) there was a lot of buzz among the panelists on what computing giant IBM and its Watson computer intelligence platform could mean to precision agriculture. Said one attendee: "IBM's Watson and what they're doing with predictive analytics in other industries such as health care – I could see that same principle being applied to agriculture. IBM has a unique skill-set, a different mindset from a lot of the other ag technology companies. It could be a game-changer." ibm.com/smarterplanet/us/en/ibmwatson/
iCropTrak (Tucson, AZ)
We've had a nice relationship with iCropTrak and its founder Aaron Hutchinson, as well as charismatic sales manager Leon Zinck, for a couple years now from hanging out with the guys at various farm shows. We also believe strongly in the iCropTrak platform, which brings offline computing power of immense proportions to the iPad. iCropTrak recently released another intriguing addition to its arsenal, the new Farm Engine tool, which Hutchinson describes as "kind of like having a crop consultant in your hand." He says the tool will change the market since it will allow the farmer, crop consultant, extension office, etc. to setup best practices, refine them over time, and it removes the need for the farmer to memorize the ever-changing best practices, since mistakes are money. iCropTrak.com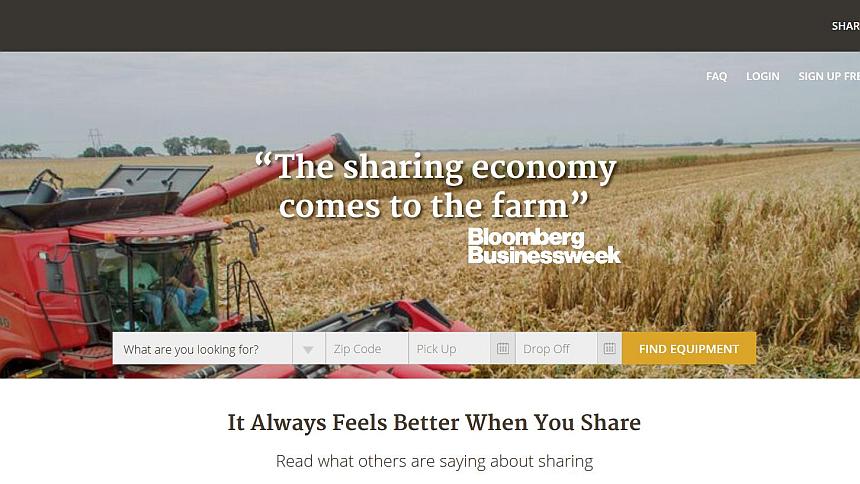 Machinery Link Solutions (Kansas City, MO)
A FarmLink product, Machinery Link could be viewed as a potentially disruptive technology advancement by the big equipment manufacturers. According to our anonymous nominator, "the 'rent your used equipment on the lot while you try to sell it' model is going to change things at equipment dealers. It will make carry cost cheaper, but in the end it might move people from outright ownership to just-in-time leasing, which is even worse for people like Deere. Think if everyone used Uber versus buying a car and what the impact of that would be on Ford or GM." MachineryLink.com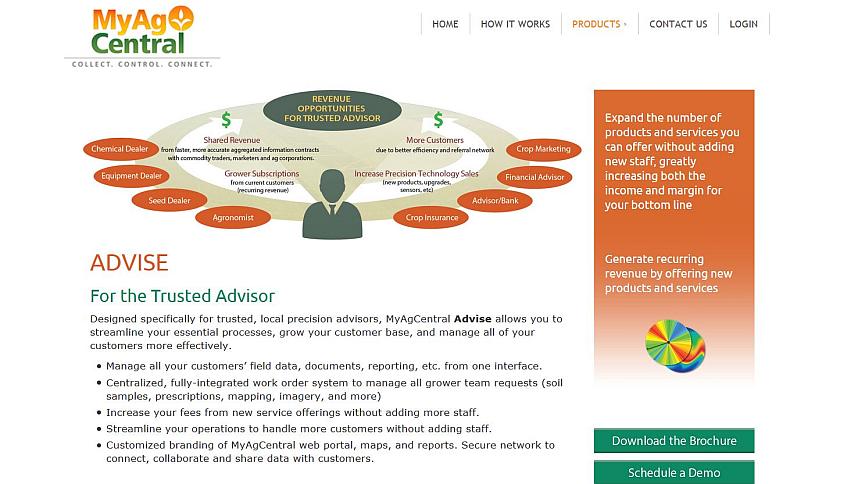 MyAgCentral/DN2K (Denver, CO)
MyAgCentral, DN2K's cloud-based data management service, recently made waves with its announcement of a successful API implementation with Deere. You know you've done something right when one of your competitors nominates you as a company to watch going forward, as our consultant reluctantly found himself doing: "I hate to say it, but the efforts by my competitor MyAgCentral working with Deere is going to be a game changing technology for row crop guys. The ease of getting things into a Farm Management Information System (FMIS) for guys using Deere equipment is going to be hard to resist." MyAgCentral.com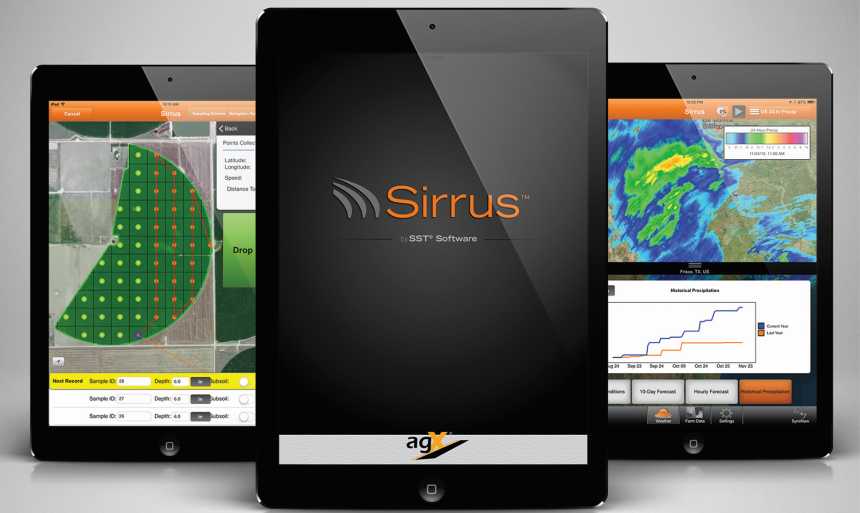 SST Software (Stillwater, OK)
Another outfit that we have a pretty close relationship with is PrecisionAg Institute partner SST Software. We've worked with CEO Matt Waits on a variety of projects over the years, and we feel the company's vision strongly positions it for continued success into 2016. One of the main reasons we feel that way is SST's openness to working with partners in making sure data flows freely between various systems and SST's suite of software products. Making that happen is the agX platform, which SST announced way back in 2009 at InfoAg with an initial integration with Raven's field computers. agX continues to drive the bus on data integration, and it quite possibly opened a certain equipment giant's eyes to the value of playing nicely with others. For that, SST makes for a solid company to keep an eye on going forward.  SSTSoftware.com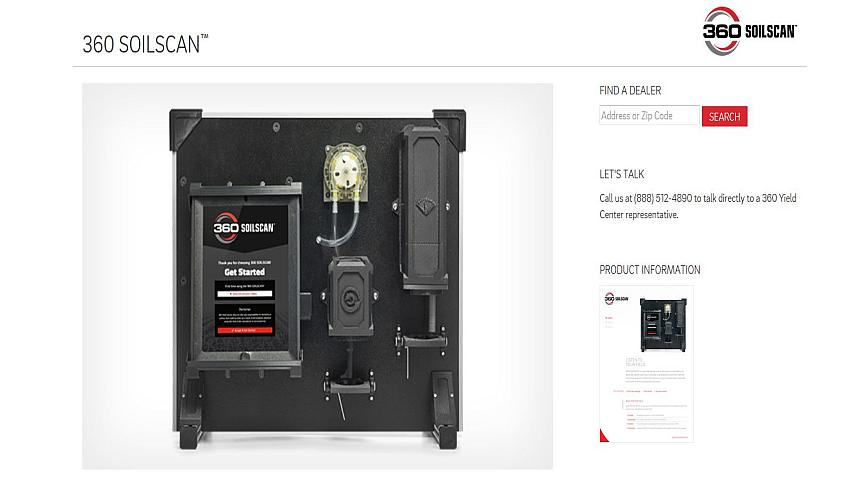 360 Yield Center (Morton, IL)
We saw these guys at InfoAg, and then again this past September at the Ohio Farm Science Review where colleague Paul Schrimpf and I watched a product demonstration of its new 360 SoilScan on-demand nitrate testing system. Schrimpf compared the system to what Keurig has done with its single-cup coffee makers, scaling-down a larger technology, making it easier and more intuitive for the end-user. The system runs off the iPad as well, giving growers an ease-of-use up front (since most already own iPads or at least know how to manipulate one) that many new products just can't match. It's 360 Y-Drop application technology is also pretty neat considering all of the issues the industry is having with spray drift and nitrogen off-target movement. 360YieldCenter.com
EDITOR'S NOTE
So, there you have it. That's my list and I'm sticking to it! In all seriousness though, this list is purely opinion-based, so if there is a company that we may have missed (nobody's perfect) or one that you would like us to look into for a possible 2017 Top Companies To Watch In Precision Agriculture list, please leave us a message in the comments section or email me at [email protected]