Farmers Business Network: Farming in the Fast Lane? (F2F Conference Coverage)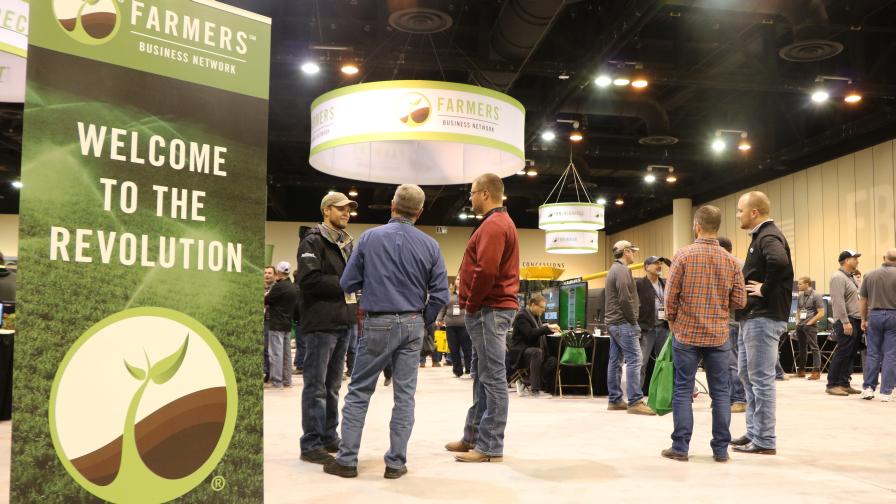 Farmers Business Network Fourth Annual Farmer2Farmer Conference 2018, Omaha, NE
"Life in the fast lane
Surely make you lose your mind
Life in the fast lane, yeah"
Last week in Omaha, NE, was this author's inaugural (hopefully not the last?) trip to Farmers Business Network's annual all-things-pro-farmer blowout, Farmer2Farmer, which this year was the fourth installment in the series of FBN member meetings.
Anyways, I know the real reason why you're here, dear reader. You want the latest dirt on FBN, so I'll cut the crap and get to dishing it.
My thoughts?
MORE BY MATTHEW J. GRASSI
Drones | UAVs
November 6, 2019
In-Field Technologies
July 16, 2019
Market Intelligence
June 1, 2019
First off, F2F was without a doubt the youngest, most Millenial-ist event I've attended in ag since, well, since ever. There were moments last week – at the sparkly new CHI Health Center Arena (great arena, all Omaha needs now is a team for it..) – where I wasn't sure whether I was still at a Midwest farm gathering or telepathically transported back to the days of my youth, kicking around Phish or a Grateful Dead cover band parking lot before a show. Where usually you see a lot of suspenders, Rascal Scooters, and walking sticks at farm shows, at F2F its more flannel, beards, skinny jeans and vape pens. Craft Beer vs. the Bud Light crowd, if you will…
Secondly, after my initial shock of just physically being at an official FBN event wore off (FBN and I have had a rather torrid, love-hate relationship in the past), I was impressed with the overall tone of the event. Whereas at many traditional ag events there are unwritten rules governing the fact that there are just some subjects you don't broach (skepticism of GMOs, anti-Trump sentiments, does glyphosate really cause cancer?, etc.), the overarching theme of F2F is one of openness and, at times, brutal honesty, and its backed up by FBN leadership, who will seemingly discuss any and all subjects at the show, political correctness BE DAMNED! That brings another positive from the week: the level of access granted to FBN members with FBN's leadership team throughout the week, was really impressive. I witnessed farmers grill Head of Seed Ron Wulfkuhle about the new seed venture and what its genetics can deliver (spoiler: Wulfkuhle held his own), and another farmer venture up to Head of Data Matt Meisner to talk data standardization efforts in ag and where FBN stands. Very cool stuff, and refreshing to see a company put its leadership out there to organically mix with its users. And it didn't feel forced or fake at all.
Throughout the week, I couldn't help but keep flashing back to this article from two years ago, when an anonymous retailer from the PNW called me to talk about FBN and its dastardly, evil plans to use grower submitted data to attempt to usurp the traditional retail chain and deliver crop protection products direct-to-farmer. O, THE SHEER HORROR OF IT ALL! Anyways, my takeaway there is that the FBN I witnessed and interacted with in December 2018 in Omaha is VASTLY evolved from the FBN that Deep Throat-esque tipster called in the middle of the night about back in 2016. What started as a pure farm data play and then grew into a crop inputs e-commerce portal, has really become just so much more than that. For all the criticism of FBN and its market-approach, and there's been an endless supply of it in the ag world, it must be noted the impressive ecosystem of data products and services that they've crafted for members, all based on aggregated, anonymous, farmer-submitted and owned data. Health insurance deals for farmers, special partnerships with e-commerce giant Amazon, imagery, Seed and chemical price transparency, you've got to admit its one of the better offerings across the entire industry, especially when you consider it only costs $700 a year to join up.
Now, for the bad: I'm not a huge fan of the week's theme, "Take Control." Take control of what, exactly, FBN? Because most of the crop input service providers and Big Ag Industry reps I've met – guys like Connor Lankford with Valley Agronomics, or Dave Coppess with Heartland Coop, or John Mann over at Deere – I don't think for one second those guys have a single shred of delusion that they will ever have complete control of a growers operation, no matter how much marked-up glyphosate or $325K sprayers a grower decides to purchase from one of their dealers. Growers, no matter how entwined with Big Ag and ag retail they become, will always have sovereignty to plant what crops they want, purchase what color tractors they want, and adopt whatever technology they choose to (or choose not to). I get what FBN is trying to convey, that by buying into the FBN network a farmer gains bargaining leverage that a sole proprietor on its own could never wield in today's market, yet the "Take Control" theme seemed a little like pandering to me, but again, when it comes to branding and marketing and all that (PUKE!), what exactly do I know?
I also picked up on a bit of an underlying theme in some of Baron's opening remarks from the second day, which highlighted all the ways FBN is engaging in the renaissance of Rural America. "We've opened a 250k square foot warehouse in Newton, IA!," they told us. "We hired 100 people last year – THOSE JOBS ARE JOBS IN RURAL AMERICA!" I've seen this play before, and I know how it ends. If FBN wanted my opinion, I'd tell them portraying the "Big Fancy Silicon Valley Firm Here To Save You Hicks In Rural America" card isn't the best path to get Midwest farmers on board. But hey, they keep adding more and more farms, particularly in the Midwest, as they showed on a nifty time lapse map of farmer adoption at the event, every time we hear from them, so maybe that message is resonating.
All of that brings me back to those italicized Eagles lyrics at the top of the page.
Just before Co-founder Charles Baron took the stage on night one to introduce Capt Sully Sullenberger (and likely unbeknownst to him at the time, kick off a fiery Twitter debate about Sully's speaking fees and whether paying those for a 45 minute speech was truly a Farmers First move), my ears picked up that well-known chorus playing over the event speakers.
"Life in the fast lane
Surely make you lose your mind
Life in the fast lane, yeah"
Is being an FBN member "farming in the fast lane?"
Is farming more fun with FBN around, vs. them going away forever (say, if perhaps Amazon were to want a bigger piece of the Ag pie?) – an occurrence traditional ag chem and retail would shed nary a tear over?
To be honest, I've spent the last week since F2F thinking about that very premise, and no, I still don't have a final answer, Regis. But I damn sure want to find out…
Now, for some actual news/journalism stuff from F2F:
Current State of FBN Update: Baron shared that FBN currently consists of 7,465 member farms, 183+ million acre events of data processed by the FBN servers (at the start of 2018 that number was 68 million), and 91,000 seed and chemical invoices submitted by farmers throughout the U.S. and Canada.
New Developments: After debuting yield predictions in corn in 2018 in 9 states, FBN will look to expand that service to other states and crops, with soybeans being first up for the yield prediction treatment in 2019. FBN's yield prediction analysis uses planting data, seed variety data, local weather, imagery, and other data layers to give its members something to benchmark, or measure against, in season. As far as FBN Direct is concerned, the group opened up a 250K square foot fulfillment warehouse in Newton, IA, in 2018, doubling FBN's crop inputs warehousing capacity. It's a refurbished former Maytag washing machine factory. New products for FBN Direct in 2019 will include 3 adjuvants, a biostimulant, and more certified organic products. Additionally, a partnership with Midwest Labs provides FBN growers with a 25% discount on soil sampling analysis services from the Omaha, NE-based soil lab.
Big News Makers: The big news from the week was a partnership with Amazon Business, which I wrote about as soon as I could, here. Also the group announced the forming of FBN Health, which leverages the farmer network's power to provide health insurance rates at a discount to its farmer-members, a group that reportedly really struggles with finding affordable health care (it was reported that somewhere around 60% of farmers take a job off-farm for the health benefits only). While health insurance is not something we cover or typically spend a lot of time thinking about here at PrecisionAg.com, it's a neat example of FBN being nimble and taking a directive from its members and delivering a product back to those members, as health insurance was cited by FBN members at F2F last year as their number one pain point.
Now, for the interviews:
Asked what "Take Control" should mean to FBN's farmer-members, Co-Founder Baron did not mince words: "Since 2013, you all have suffered a 46% income decline," he shared. "And in some sectors, like dairy and others, its hit predictably harder. So, if we want to turn these numbers around, if we want to return profitability to the farm, it is essential that you start getting more control of more aspects of your business. More control of your inputs, more control of marketing, more control of all of the other costs that affect your income. As we've said, you're battling. You know it, and so do we. You guys feel it every day, you're the ones that experience all the consequences in the market every day. The key thing when you're battling is to not battle on your own."
I grabbed Matt Meisner, FBN Head of Data, on the trade show floor on the first night, to get his general impressions of where we are currently with data in ag. "The point is to use data so that you have confidence in the decisions you're making, rather than what the salesman suggested or what you've always done or what seems like the best deal," Meisner told me. "Actually have the data that gives you full confidence that you're not just doing the right thing, but also have a lot of confidence that you're getting the best price, you're selecting the right trait, you're selling at the best price. All things which data helps a lot with, and that's in my mind how it connects to the 'Take Control' theme." I followed up with a question for Meisner on data silos in ag, fully knowing FBN's data-openness philosophy and expecting an interesting answer. Meisner did not disappoint. "I think that's definitely true, there's farmers who have a lot of different data sets in different formats, or farmers who have different types of equipment, and it definitely creates challenges to merge it all together," he explained. "That's why our approach is to do whatever we can to work with farmers who have any type of data, or sometimes none at all. Some of our farmers have John Deere equipment, others have Case, or a Trimble display, or whatever it may be. We try to work with all of them. We know farmers are really busy. They don't have all that free time on their hands to do data standardation work on their own, it would be totally unreasonable to expect them to have time to do that, and do all the other things they have to do everyday. Our approach is to take data in whatever form the farmer has, and then we'll do all of the work we can on our end as far as standardizing it, so we'll work with any type of equipment."
Sitting at one of the Crop Circles networking events, right before we'd hear from MythBusters' Adam Savage on Day Two, I spoke with an engaging, bespectacled FBN grower in a Kansas City Chiefs hat (the Chiefs would fall that evening to the Chargers on Thursday Night Football), Missouri farmer Brent Rendel. The super-friendly Rendel is an interesting cat: he still farms the same Oklahoma homestead his family established before Oklahoma was granted statehood, tilling about 4,000+ acres of double crop winter wheat, winter canola, soybeans, and corn ("If I get really crazy some years," he said with an gleam, "there might be some sunflowers out there!") in the states remote Northeast corner. Rendel goes way back with FBN, having been at the first F2F conference when it was literally a small meeting of growers in a hotel lobby. His initial draw to FBN was the data and analytics, he told me. "Initially, everybody that I knew was talking about the benchmarking, but I was never really all that attracted to the benchmarking (aspect)," Rendel semi-shouted over the background music. "To me, and it's not unique to FBN, but FBN is the first company who went around and basically turned it over back to the data owners. The power that farmers generate in data is INSANE! We're generating terra-bytes a day in data. And there are companies out there – everyone is struggling to figure out what the true value of that data is. Those are great companies because they put a value on your data and let you see it in black and white. FBN, and if you look at it, membership is only about $700 bucks. Just look around you at this conference. Admission to this is included with your FBN membership, and I think it's pretty easy to see that they're spending that much money per-member alone, just for this conference." Rendel was quick to point out that, yes he does use the FBN Direct portal to procure some crop protection products each year, yet he doesn't see himself ever completely abandoning his local advisor network. "They have a depth of knowledge, but the one thing I've always asked of them (retail) is, 'Hey, let's look at what you're providing me over-and-above just the products', because when I get it from FBN, I bought it, I own it. That's it, it's mine, and there's no going back," he explained. "With my local retailer its, 'O boy, my corn is rained out. I need to return $20K in corn chemicals and convert that to $20K in soybean chemicals. Right now that's not really an option with FBN. There are some things that they can do, but in anything you've got to give something up, there are trade offs. So, I am willing to trade down in price but also give up some service. Now, there are some things I won't give up the service on. My fertilizer inputs are going to be purchased locally, that's just how it is. But even then, I'm going to choose between my local providers who is going to provide me the best application ROI." Asked his thoughts on this once-little ag data company now punching up a bunch of weight classes and making deals with industry giants like Amazon, or dabbling in the crazy complicated health insurance game, Rendel says its exactly that type of entrepreneurial, do-it-all spirit that keeps him plunking down another $700 bucks every year. "One of the neatest parts of FBN is, it's kind of like teenagers: They don't know they can do something, you don't know they can do it either. Then, they just turn around and do it," he exclaimed. "I have a lot of companies that I do business with, but I am not a member of John Deere. I am not a member of DeKalb. I'm a member of FBN. It's a different relationship."
Another intriguing aspect of FBN lately is the companies' meteoric rise in Canada, where FBN Canada was just established around six months ago. I attended the 'O, Canada' panel – hosted by the actually-kind-of-funny GM of FBN Canada, Tom Staples – and besides being wowed by the awesome FBN Farmer First custom hockey sweaters a large group of members from Saskatchewan sported, I was impressed with how much traction the outfit has garnered up North in such a relatively short time. I asked one of the Canadian growers on the panel, Kristjan Hebert, his thoughts on the last six months and why FBN seems to be resonating in his neighborhood. "I haven't talked to a lot of guys about it, but I think a lot of it has to do with how much value is being extracted from the farmer by the manufacturers," he shared. "And it's not that we don't want anybody besides farmers making money, we just want to know how much money they're making, because right now they all have a pretty good idea what we're doing and we have no idea what is going on up the chain. So I think it's that philosophy that Canadian farmers are embracing." I also asked Hebert whether he found it odd that FBN was making such dramatic in-roads in Canada, while a somewhat similar Canadian outfit (Farmers Edge) had yet, to our knowledge anyways, to make a similar splash down in the states. "Well, I mean, I guess I don't know enough about the two companies to make a real comparison," he answered. "The one thing I will say is, FBN is a yearly, whatever it is now, it's a flat $700 subscription, while Farmers Edge is a per-acre subscription, not to mention its an entirely different service. My opinion is the world does too much comparing of the two. I honestly don't think they're trying to do much of the same thing, they just compete for investment money in ag, so everybody thinks they compete, you know what I mean?" Touche, Kristjan. Touche.